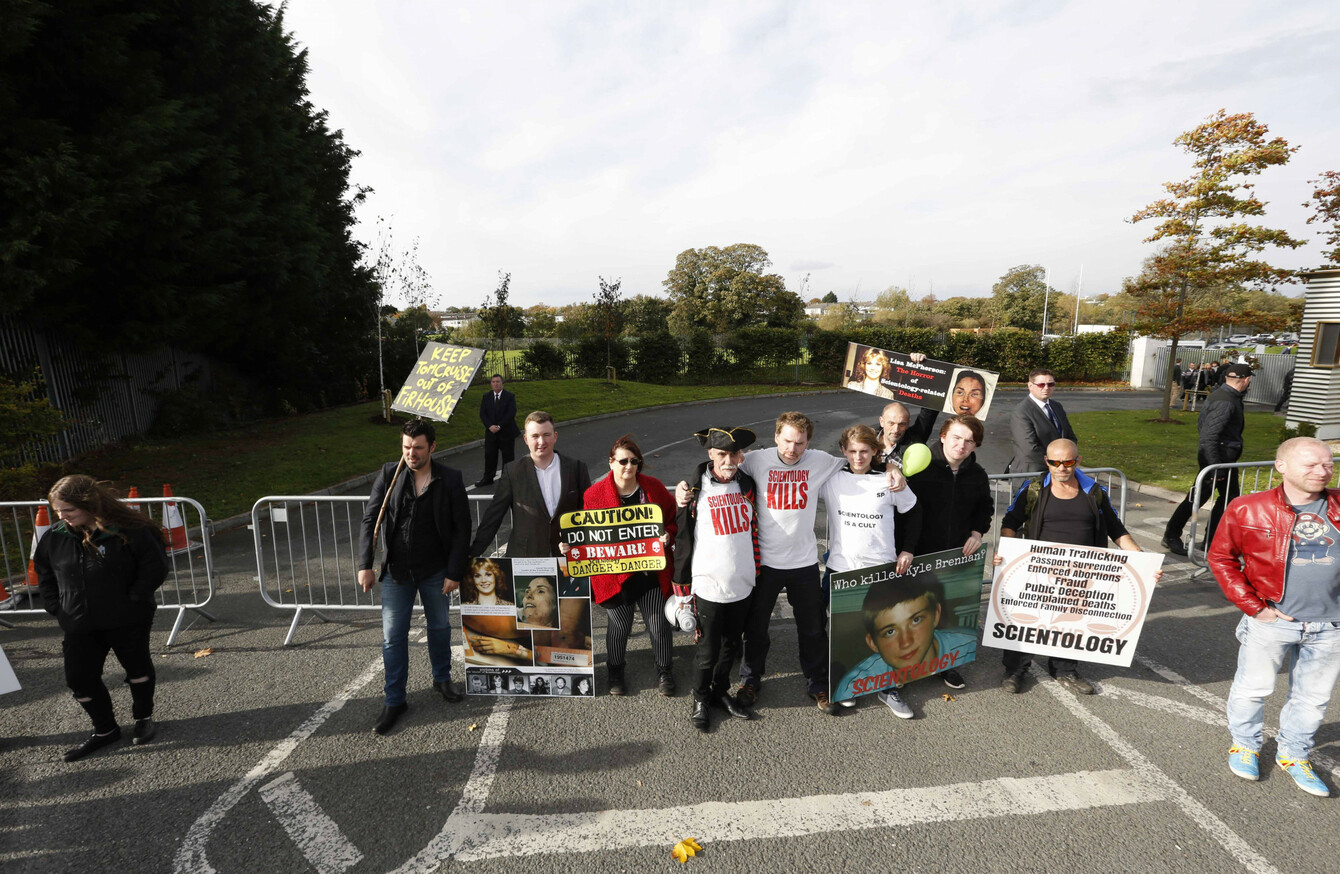 Protesters outside the centre last weekend.
Image: RollingNews.ie
Protesters outside the centre last weekend.
Image: RollingNews.ie
A MEMBER OF An Garda Síochána attempted to have members of an anti-drug task force distribute Church of Scientology-backed leaflets in a bid to dissuade young people from using drugs, TheJournal.ie has discovered.
Community activists attending the meeting, which occurred in Dublin nearly two weeks ago prior to the Church of Scientology's grand opening in Firhouse, were told that the leaflets contained good information and should be handed out in schools and also placed in public places such as post offices or local supermarkets.
Gardaí said they would be making no comment on the action of the individual garda.
The news comes as both the HSE and Sports Against Racism Ireland (Sari) distanced themselves from Scientology as representatives of both spoke at the opening of the centre.
One HSE staff member was quoted on the Scientology Ireland website as saying she was in favour of Scientology's Drug Free World programme.
The HSE told TheJournal.ie late last week that their employee "was not attending the event in her capacity as a HSE outreach worker, she was attending as a member of the community in her personal capacity".
It added:
The HSE does not endorse the Scientology Drug Free World Programme.
In the case of Sari, TheJournal.ie made repeated inquiries on Friday for a comment on why a member of the group spoke at the opening.
The group released a statement today which reads:
"Sport Against Racism Ireland (Sari) was invited to speak by Youth For Human Rights International in Firhouse, Tallaght on Saturday 14 October 2017. Sari was specifically invited to speak on the topic of human rights and Amina Moustafa, a Sari Young Leader and volunteer represented the organisation.
"Sari accepted the invitation to speak at a community event in good faith as Sari is dedicated to raising awareness about human rights as it has been for the past 21 years.  Sari is not affiliated to any church or religion and neither Sari nor Amina Moustafa were paid by the community centre, the Church of Scientology or Youth For Human Rights International.
"Sari, founded in 1997, is a not-for-profit volunteer driven social enterprise which charitable status,  dedicated to using sport as a medium to promote social inclusion, cultural integration, global development and peace building at home and abroad; while addressing the issues that violate human rights such as racism, sectarianism, homophobia, conflict and all forms of discrimination."
Ireland's 'struggles'
The leaflets, which the member of gardaí wished to be distributed were produced by the Church of Scientology through its organisation called the Foundation For A Drug Free World.
According to the group: "Ireland's own struggles with street and prescription drug abuse are as significant as those anywhere across the globe.
"News stories from the island's population centres frequently recount the horrors of overdoses and deaths, heroin needles littering community streets and the insidious destruction of productive lives. All are symptoms of this plague."
TDs and councillors from the local area had been invited to the centre's unveiling on Saturday which featured the group's leader David Miscavige.
#Open journalism No news is bad news Support The Journal

Your contributions will help us continue to deliver the stories that are important to you

Support us now
HSE worker
However, it was the appearance of a HSE outreach worker, which caused controversy amongst some Scientology protesters.
A transcript of her speech published on Scientology's official page read: "Your Drug-Free-World programme is straight-talking and speaks to everyone. And I have already seen it grow in use – both here in Dublin and right down to Cork.
You've reached out your hand to addicts, the homeless, at-risk youths, immigrant families and Irish people of every background. In fact, nothing need more be said when you've already given over 500,000 people of Ireland the Truth About Drugs (the group's anti-drug pamphlet).
Earlier this year, TheJournal.ie revealed that the Victory Centre in Firhouse was to become Scientology's European base after it was bought by the international group last year.
The church has already had two small hubs operating in Dublin city centre for a number of years. However, their opening of a site which can house thousands of people has irked a number of former members of the group.
Irish hub
The group's leader, David Miscavige, spoke at the opening of the new centre in Firhouse on Saturday. The new centre boasts a 1,050-seat state-of-the-art auditorium, sports pitches, meeting rooms and a full service cafe.
Scientology has been in Ireland since 1956 when the creator of the pseudo-religion L Ron Hubbard opened an office in Dublin.
In his speech on Saturday, Miscavige said: "Today we make good on a pledge to honour a land our Founder, L Ron Hubbard, so loved, and a people he described as wonderfully warm, even if the weather is occasionally not. And if that doesn't say it, then allow me to quote from your own Mr Yeats: 'Many times Man lives and dies between his two eternities… And ancient Ireland knew it all'.
"So to Ireland eternal, Ireland transcendent: You kept literature alive for 500 years. You built America, and possibly even discovered it. You taught mankind equality and how to live with dignity in the absence thereof. And, you taught us there is no commodity so precious as beauty, for which you stand. All of which is why we're proud to stand by you, as we open this new Church of Scientology and Community Centre of Dublin."
More of our coverage of Scientology in Ireland: