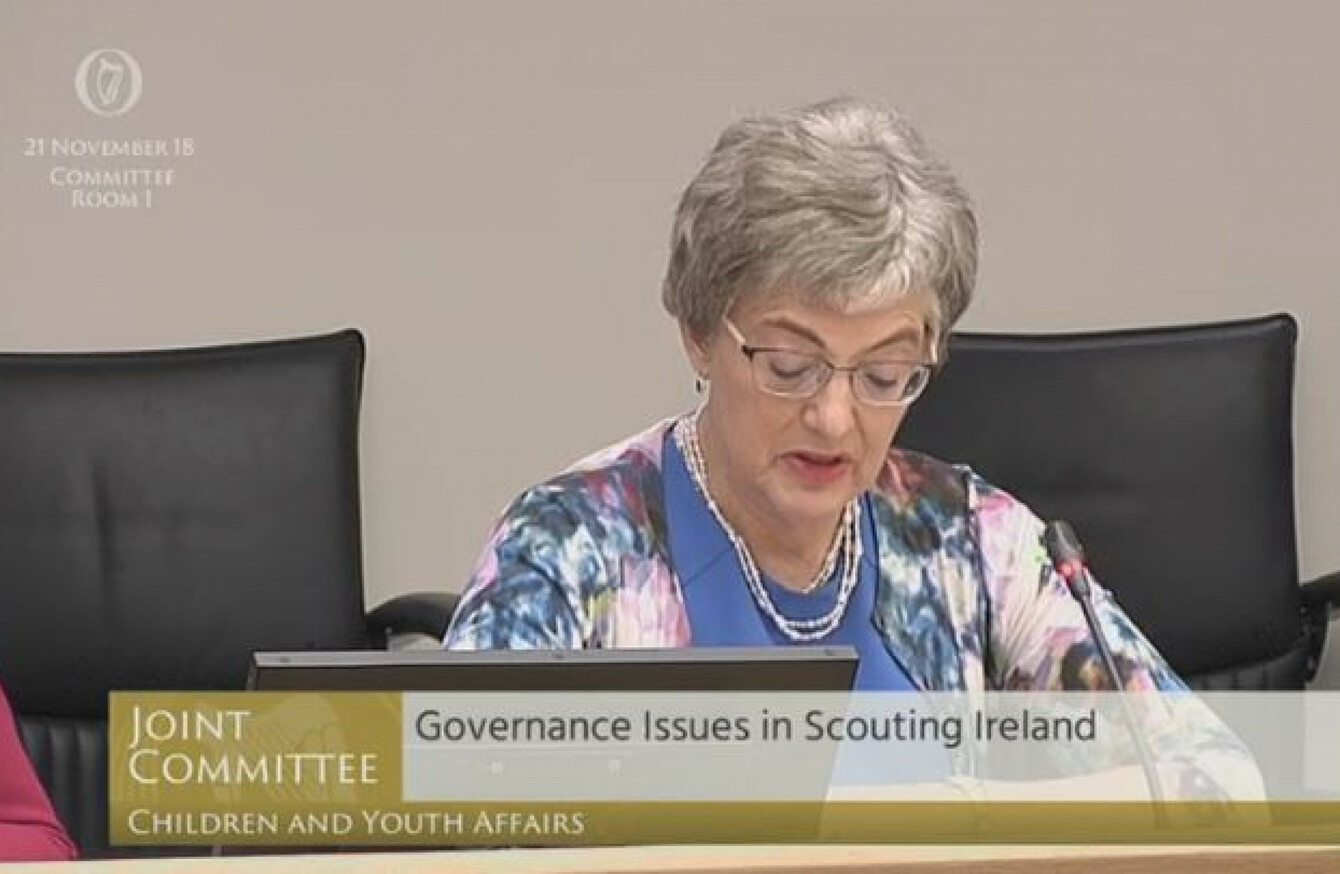 Image: Oireachtas TV
Image: Oireachtas TV
Updated Nov 21st 2018, 11:05 AM
THERE IS EVIDENCE that there were as many as 71 alleged abusers at Scouting Ireland according to an ongoing review, the Joint Committee on Children and Youth Affairs heard this morning.
Minister for Children Katherine Zappone said that she received the information verbally last night, ahead of her committee appearance.
A review has so far found evidence of 71 alleged abusers and 108 alleged victims based on the work to date, with most cases dating between the 1960s and 1980s, although there may be one from an earlier period, she told the committee.
She said that her understanding was that those alleged abusers were no longer working at the organisation, and that the CEO of Scouting Ireland confirmed to her that reports have been made to An Garda Síochána and Tusla.
 Safeguarding expert Ian Elliott, who's the former chief executive of the National Board for Safeguarding Children in the Catholic Church in Ireland, told the committee that the latest revelations have come from a number of sources including "an increasing number of people coming forward".
"The reason they're doing this is because they have a confidence in the process," he told the committee.
That is 108 people who suffered, and who are suffering today because they were exposed to conditions that they never should have been exposed to.
I do not believe that the figures I'm sharing you at this time will be the final figures – I believe they will increase.
He added that of the 71 alleged abusers, 14 are thought to have had more than one victim. He said that the majority of those accused of abuse are deceased; those that aren't have been reported to the appropriate authorities.
Some of the 71 are living in Northern Ireland, and others are living abroad, he added.
There's been a discovery of a very serious perpetrator for which we did not have a file. This came from a victim, and we were not aware that that person was not a perpetrator – a simple review of the paperwork is not enough.
He said that the interviews with alleged victims have been emotionally taxing, and said that it's like "meeting a 10 or 11 year old boy who is in the body of a middle-aged man".
In 2017, Scouting Ireland commissioned Elliott to carry out a case review into the organisation's handling of a rape allegation on an adult volunteer by another adult volunteer.
The alleged assault took place in 2009, and was reported to the organisation in 2016.
Following Elliot's report, an independent barrister began an investigation that would examine the handling of the matter by four senior volunteers, three of whom were on the Board of Scouting Ireland at the time of Elliott's report.
Following Zappone's statement, Scouting Ireland interim chairperson Aisling Kelly apologised again for "what has happened".
She said that the allegations of past abuse was "emerging from the former organisations that merged to form Scouting Ireland some sixteen years ago". She continued:
No adult volunteer wants to hear that of their organisation which forms more than a hobby for them, but rather a way of life. 
"Personally, as a mother of two very young children, this fills me with deep sadness."
She added that new governance changes and board changes would add to "a new era of openness, integrity, transparency and, most importantly, accountability".
These changes include: the executive and non-executive boards are no longer enmeshed; voting in a new board in early October; and advertising for a safeguarding manager.
Jillian van Turnhout, as an independent expert, was commissioned by the government to examine the governance and related issues within Scouting Ireland. The report's recommendations are in the process of being implemented by Scouting Ireland, the committee was told.
Funding
On 27 September, Katherine Zappone announced that her department would freeze funding worth €900,000 a year after the organisation's board reinstated chief scout Christy McCann to chair an upcoming meeting.
#Open journalism No news is bad news Support The Journal

Your contributions will help us continue to deliver the stories that are important to you

Support us now
McCann is one of four volunteers who were criticised in Elliott's report over Scouting Ireland's handling of the 2016 rape allegation. He later said that he would not chair the meeting, adding that he believed his re-appointment was "the wrong decision".
In her opening statement today, Zappone said she felt McCann's reappointment was "unacceptable" as he is a "respondent in the ongoing independent barrister's investigation".
Earlier this month, a new board was elected to "work with the CEO and executive team on implementing the new governance structures" and "engage with the Department of Children and Youth Affairs to discuss future funding for the organisation".
Zappone told the committee that she had made a decision last month to restore funding to Scouting Ireland until April next year based on changes at governance level and the appointment of a new board.
"The funding has not been restored in the same way that it was before," Zappone added.
Fianna Fáil TD Anne Rabbitte told the committee that she was called by "one of the 108″ victims this morning.
"He proceeded to tell me about the trauma of his life because his was one of the files that was investigated… but he does believe that [this investigation] has been a game-changer for his life."
She said that the support being offered to victims should be praised.
The Chairman of the Joint Committee, Alan Farrell, said that its members were "dismayed and shocked" at the revelations this morning. 
"This information revealed today to the Committee significantly broadens and deepens the critical context as we address the need for root-and-branch reform within Scouting Ireland," he said.
The Committee will carefully weigh today's assurances from Scouting Ireland leaders that all is being done now to build strong child safeguarding policies within their institution.