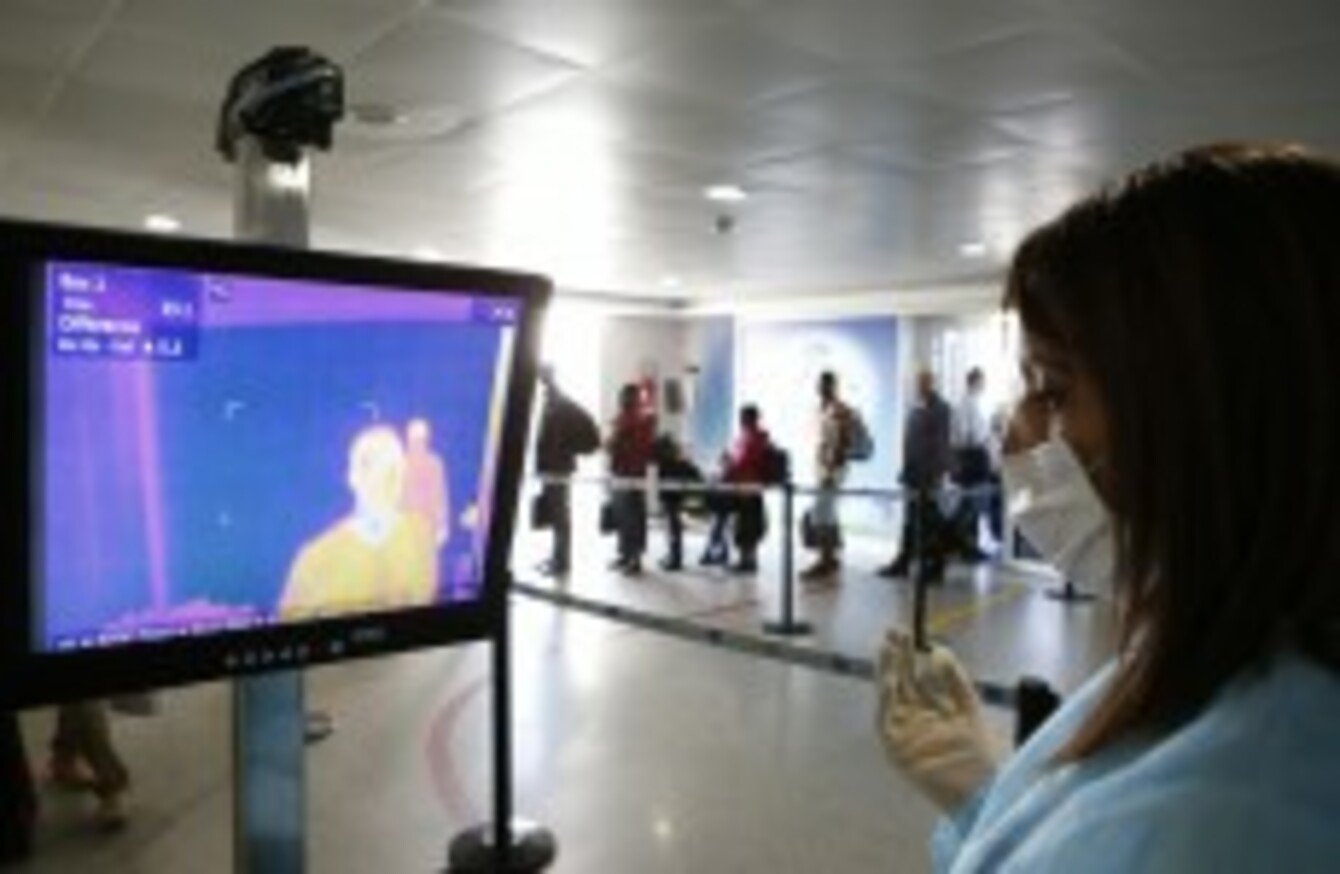 Moroccan health screening team dressed in protective gear uses a thermometer on passengers at the arrivals hall of the Mohammed V airport in Casablanca
Moroccan health screening team dressed in protective gear uses a thermometer on passengers at the arrivals hall of the Mohammed V airport in Casablanca
HEATHROW AIRPORT IS to begin screening passengers for signs of Ebola today.
The announcement was made by Downing St last week, with a spokesperson saying that advice from the Chief Medical Officer was that "enhanced screening arrangements at the UK's main ports of entry for people travelling from the affected regions – Liberia, Sierra Leone and Guinea – will offer an additional level of protection to the UK".
Heathrow has not officially commented today on whether delays should be expected due to the new screening.
This enhanced screening was earmarked for implementation at Heathrow and Gatwick airports in London and Eurostar terminals.
Yesterday, the UK's Secretary of State for Health Jeremy Hunt told the House of Commons that the screening measures will begin at Heathrow today, beginning with Terminal 1.
They will be expanded by the end of next week to arrivals into Gatwick and on the Eurostar.
Enhanced assessment
It will involve assessing:
Passengers' recent travel history
Who they have been in contact with
Onward travel arrangements
It will also involve a possible medical assessment by trained medical personnel.
Passengers will have their temperature taken and complete a questionnaire. If neither of these raises concerns, they will be given advice on how to contact the NHS if they develop symptoms.
Hunt said:
Any passenger who reports recent exposure to people who may have Ebola, or symptoms, or who has a raised temperature will undergo a clinical assessment and, if necessary, will be transferred to hospital.
#Open journalism No news is bad news Support The Journal

Your contributions will help us continue to deliver the stories that are important to you

Support us now
He said they expect the measures to reach 89% of travellers who have come to the UK from the affected region "on tickets booked for the UK" but he cautioned that "no screening procedure will be able to identify 100% of the people arriving from Ebola-affected countries".
He explained this was due in large part to the fact that not all passengers leaving the countries will take connecting routes to the UK.
Downing St said that the overall risk to the public in the UK "continues to be very low".
Meanwhile, the US and UN leaders called yesterday for "more robust" international efforts to tackle Ebola, after medics in Liberia demanded danger money to treat patients, AFP reports.