SEAN MORONEY RETURNED to his hometown of Balbriggan in north Dublin two years ago, after almost a decade in the US.
"I wanted to settle down at home, so I came back," he told us, before Christmas
I didn't realise it was as bad as it was.
After a run of bad luck on the job-seeking front (the start-date a course he'd signed up for had just been postponed) the former moving-company manager had taken to standing at the side of the road each morning, with a 'for hire' sign.
A passer-by snapped the pic below, and sent it to TheJournal.ie — and the 36-year-old said he was inundated with offers, the day after we called to ask why he'd decided to take such an unusually direct approach to job-hunting.
"Coming back to Ireland is probably the sorriest thing I've ever done," Sean said, in that initial call.
It was a rude awakening.
His mood was buoyant all the same… His job-seeking campaign had been embarrassing "for around the first hour" but it felt "great to be doing something".
By the following night, his story had pretty much gone viral —- Sean had had "150, maybe 200 calls" he told us as he settled down with his girlfriend Yvonne to watch the Late Late Toy Show.
He hadn't been able to sleep properly as a result of what had happened, he said. Already, he had a few interviews lined-up.
So what's the latest, you're no-doubt wondering.
Did any of those employers come through with their offers?
Well… yes.
Yes they did.
Source: Garrett White
We were delighted to hear from Sean again this week — and even more delighted to hear he was knocking it out of the park, two weeks into his new job.
"I'm feeling great. Busy," he said, as he hurried in to start his Friday.
After five concrete job offers before Christmas, Sean took up a sales role with Dundrum-based merchandising firm the Lites Group at the start of January.
I just liked them. I liked what they were about.
The company is working with Glanbia on a 'bring back your local milkman' project. Essentially, Sean hooks householders up with local self-employed milkmen via this website.
"I wish we had more like him," Lites regional manager Dave O'Connor said.
He got 12 sales in one day this week — in this weather! We ask people to aim for five.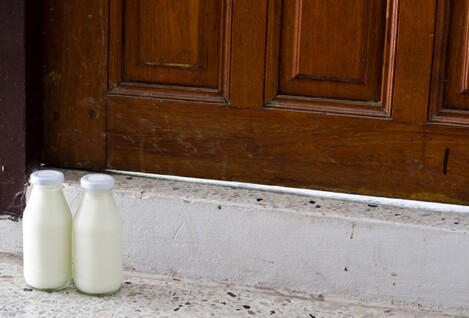 Source: Shutterstock/Iamnao
As it happens, the company's decision to call Sean for an interview had nothing to do with all the internet attention he'd generated.
"I had a job up on Jobs.ie," O'Connor said.
Sean applied through that… I asked in the interview, as you do, if he had any background in sales. He didn't, but then he mentioned this thing on Facebook — it caught my interest straight away.
"It's not the sort of thing you normally come across in an interview.
You have to say — fair play to him… Anyone with the balls to stand out on the side of the road in an Irish winter has to have something going for him. We were glad to have him on board.
Sean, meanwhile, is finally planning for the future again, after what's been a frustrating two years since his Irish homecoming.
He's getting used to all the attention too — he may be coming soon to screen near you, in fact, after MovieExtras.ie called offering to sign him up for the next 12 months.
"I've never not worked before, so it's fantastic. It's great being so busy."
The girlfriend's even putting the hold on me for a proposal this year, after all this.
PS: Dave asked us to mention that they're still looking for people. If you're interested, maybe drop him an email.