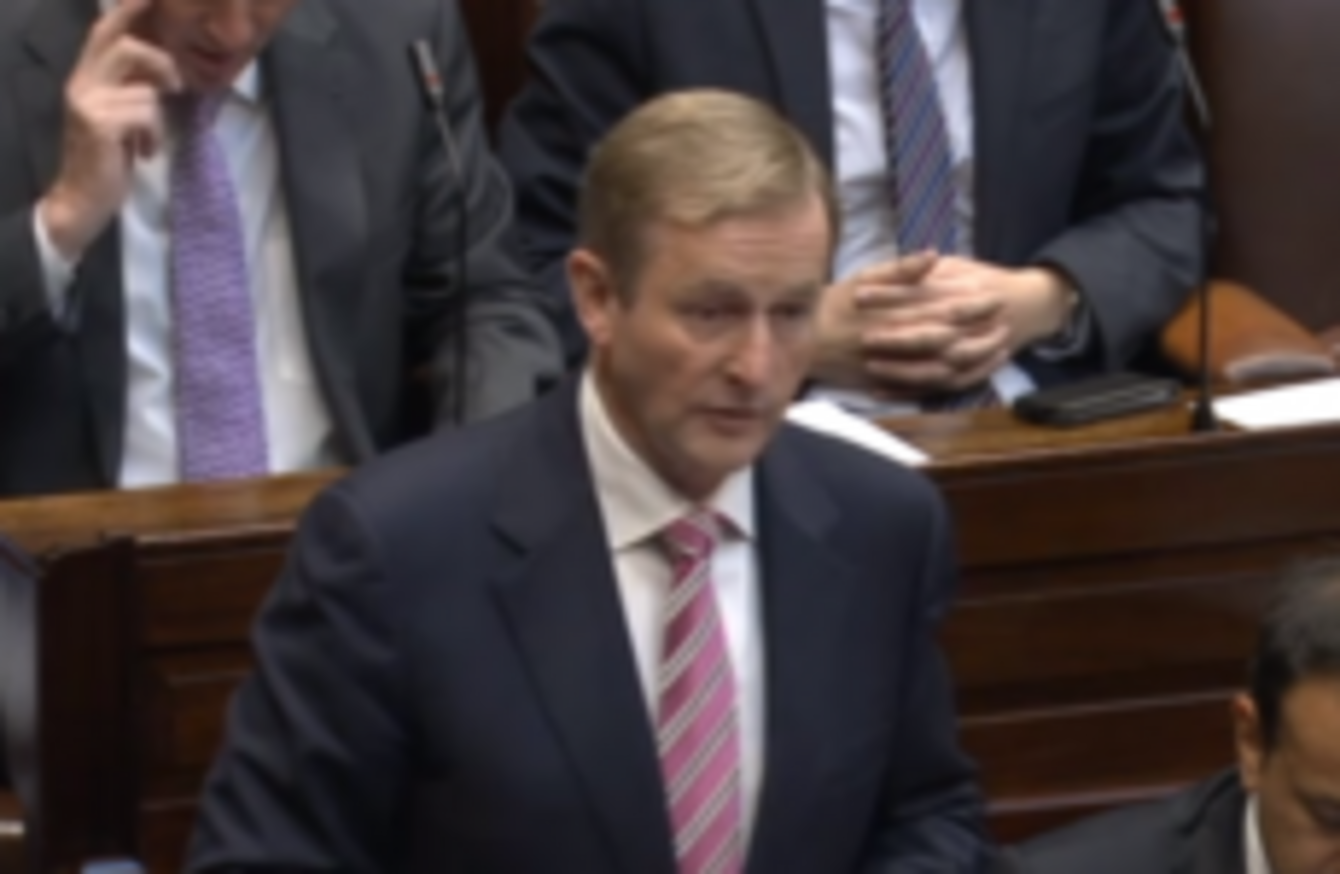 Enda Kenny in the Dáil this morning
Image: Oireachtas TV
Enda Kenny in the Dáil this morning
Image: Oireachtas TV
ENDA KENNY HAS rejected claims he or his department leaked a story about a Fine Gael TD's dispute over a €10,000 diamond ring.
The Taoiseach was responding to criticism from Fianna Fáil leader Micheál Martin who said that the emergence of the story in yesterday's Irish Independent marked "a sinister turn in our politics".
The story by Philip Ryan claimed that an antique dealer wrote to the Taoiseach asking him to intervene in her dispute with Fine Gael TD Seán Conlan over a €10,000 diamond and ruby ring.
Conlan claimed that the story was leaked in the wake of his criticism of the Taoiseach and Arts Minister Heather Humphreys over the John McNulty Seanad controversy.
The issue was raise by Martin during the Order of Business in the Dáil this morning when he said he had "to go to great lengths" to get information from the Department of the Taoiseach using Freedom of Information.
By contrast the information of private citizens "can come out of your office at the drop of a hat with serious implications for Dáil deputies or for anybody who crosses you," he said.
"It's a serious matter because citizens would like to think they can write to the Taoiseach's office in confidentiality and I think it suggests a sinister turn in our politics," Martin said.
He asked the Taoiseach where the information came from and how it got into the public domain, saying that "people are afraid to speak out" for fear of being leaked against.
In a brief response, Kenny said he rejected "completely" any assertion that information was leaked from the Department of the Taoiseach.
And he quipped: "I didn't know you'd become a private investigator."