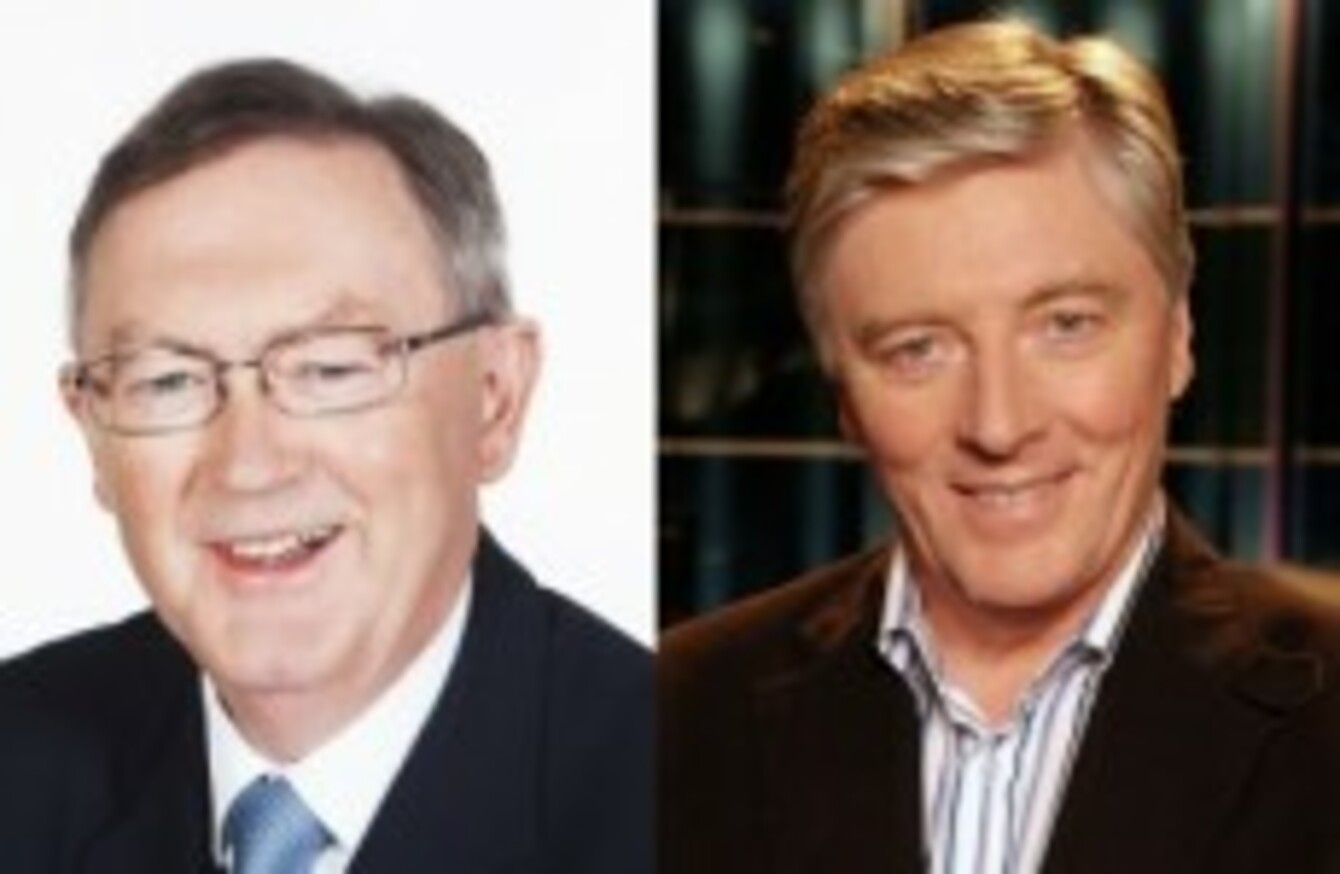 Image: RTÉ
Image: RTÉ
Updated 23:19
IRELAND IS A radio nation, they proclaimed. And, today, its king will be crowned.
Well, it wasn't that dramatic but this morning's talk-based radio stations were psyched up for a big day on the airwaves as the first day of the autumn season saw RTÉ's Seán O'Rourke go head-to-head with his old colleague Pat Kenny over on the young pretender, Newstalk.
"Move that dial," said the new Marconi House resident, while RTÉ promised all the day's news brought to you at a "measured pace" (huh?).
There was lots of talk this morning on social media from people trying to listen in to both O'Rourke and Kenny but even with today's technologies, that can prove difficult.
For your recapping pleasures, TheJournal.ie examines all the important aspects – including the theme tunes, the opening words and the first guests.
Plus, we captured those vital first 90 seconds for archival purposes.
O'Rourke mentioned his predecessor during the first moments on his new radio timeslot but Pat Kenny has truly left his RTÉ Radio One days behind him, welcoming loyal listeners to his new show on Newstalk without a peep about the past.
"Good morning and welcome and wherever you are, thank you very much for joining me for my first show on Newstalk," he said.
A special welcome to those who have moved the dial. And to those who normally listen to the station at this time, my aim is to keep you entertained as well.
Meanwhile, back on RTÉ Radio One, O'Rourke was positively upbeat.
"It's good to be back as intended on the 2 September but not quite as expected – three hours earlier than usual and for two hours every weekday. What a prospect.
I've been asked to follow a good act and today I send my very best wishes to Pat Kenny.
Listen back here
(For mobile users, click here)
(For mobile users, click here)
Keen ears will have heard a slight difference to the Today theme tune, confirmed by a radio producer following questions on Twitter.
(Even one from our own Michael Freeman)
The new version is, indeed, a bit jazzier.
The outfits
We know, we know. It's radio so it is a tad unfair to include the category but first impressions and all that.
Pat unleashed the bit of the rebel in him, forgoing the suit jacket and tie, while Seán has the look of the First Years in school with his perfect tie and highlighter at the ready.
#Open journalism No news is bad news Support The Journal

Your contributions will help us continue to deliver the stories that are important to you

Support us now
Image: Brian McEvoy
Jason Clarke Photography
The Guests
It was a mixed reaction to Pat's guests. Some were unimpressed that the Bono interview was a pre-record. Others were just unimpressed by Bono.
But, there was general kudos given to him for the hard-hitting interview with 'bankruptcy tourist' and soon-to-be colleague Ivan Yates.
On the other side, Seán had a lovely chat with author Edna O'Brien about the late and great Seamus Heaney before Oliver Callan did some of his funny business.
During his piece, he referred to poor Pat as the 'Dalkey Donkey'. Which seemed to go down quite well.
And raise the question of, who can Newstalk get to keep up?
So, that's what all the fuss was about. Now then, who gets your vote?

Originally published 16:05