Liveblog
TONIGHT, RICHARD BRUTON and Micheal Martin went toe to toe on the RTÉ stage.
Debating the merits of the Seanad, the two were joined by a live audience of campaigners and, for a while, things got feisty.
Miriam O'Callaghan managed to keep them on topic for a while, though.
Here's how it played out:
To kick us off, here's what the UPC box has to say we can expect:
To kick us off, here's what the UPC box has to say we can expect:
Before the real business gets underway, there may be some of you out there a little bit lost on what Friday's vote actually means. No problem, swing over here and get all the facts.
There are two referendums (yes, referendums) on Friday, of course, but the Seanad is sexier than the court of appeal, it appears.
The Seanad being the more glamorous of any topic is rarefied ground and the upper house is lapping up its moment in the sun.
But will it be a lap of honour?
Miriam O'Callaghan is here in blue and white, while Bruton and Martin both look ready to rumble. Let's get it on.
A Led-Zeppelin soundtracked package from RTÉ. Tune.
In the blue (tied) corner: Richard Bruton urges Ireland to "do more with less".
We will manage our affairs better with less politicians.
"The Seanad is deeply undemocratic and ineffective," he says.
He wants a stronger role for committees and Dáil members, as well as outside groups and experts.
He says that Ireland must move into the 21st century.
In the red (tied) corner is Micheal Martin.
The Fianna Fáil leader says that the abolition of the Seanad would give the government more power than it has now.
I'm voting no because a reformed Seanad can give the better expertise that Ireland needs
The only way to force real reform is to vote No on Friday.
RB: We have an obsolete institution in the Seanad. The last time it even delayed legislation was in 1964.
All legislation will go to public hearings. That means that the public shapes the legislation from the get-go.
MM: Removing the Seanad will halve our parliament and take out the opportunity for alternative voices.
The fundamental element of democracy is debate.
Martin says that the Dáil has not lost many bills in 50 years, sparking the first real barbs of the night. Miriam is straight in to separate the two. Feisty opening.
Here's the scene: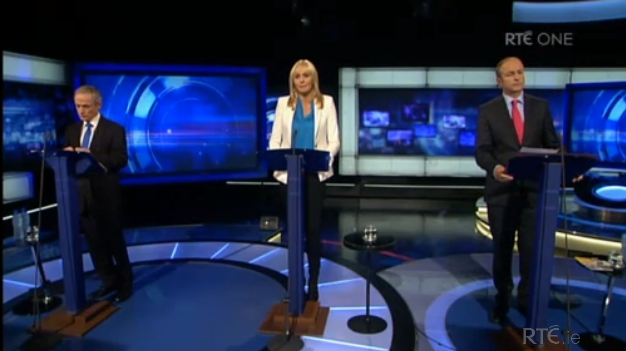 Micheal Martin hits back at the notion that he is arguing for a No vote to get on the TV.
I've never had a problem getting on programmes like this.
Once again, Bruton interrupts and Miriam is now exasperated.
"Don't talk over each, it's pointless," she says. She's right.
RB: The Dáil will now have powers to investigate in the public interest.
Bruton fires the first "financial collapse" shot across Martin's bows.
Bruton wants to talk about when his opponent was in cabinet, but Miriam is having none of it. She wants to keep it on track.
Micheal Martin was in a government that received a number of reports on Seanad reform, so why is he now arguing for reform from the opposition benches?
"The government chose not to give the people the choice of reform."
Would a reformed Seanad lead to a situation like the US government shutdown? Micheal Martin says no.
"It would not be comparable.
"When other countries abolished their second houses, it was accompanied by stronger regional assemblies and constitutional change.
"What is happening on Friday is unique in Western Democracy. We are being asked to vote on a change without any constitutional protection."
Eoin Morris is in the audience, he says that abolishing the Seanad is "an attack on democracy".
He makes the point that "just because a fire escape is never used, you don't tear it down."
Eugene McCormack, another audience member, says that he hopes that this argument will focus the minds of politicians on political reform.
Professor John Crown, who is a senator, says that the Taoiseach should be here.
He says that we are being told "lie after lie after lie" about the Seanad.
The Seanad has made 550 amendments to legislation this term alone. One third of legislation on our books originated in the Seanad.
Why isn't the Taoiseach here?
Richard Bruton doesn't think it's relevant.
It's not a personality contest. It's your vote and your Seanad.
Eamon Delaney from One House is in the audience.
He says that the Seanad attendance record is reason enough to abolish it, pointing out that Fianna Fáil's senators are some of the worst offenders.
However, Micheal Martin says that is "attack politics".
That's the kind of debate the Yes campaign has been at. Playing the man, not the ball.
The issue of cost is dominating now. Richard Bruton says that it will be up to the Government to deliver the savings of €20 million that has been a cornerstone of the Yes campaign.
He says that Oireachtas staff can be redeployed under the Haddington Road Agreement.
We would give a right arm for some of the people that could be redeployed.
Martin fires back that "nobody in officialdom has endorsed that figure".
Matt Carthy, a Sinn Féin councillor, says that the big lie f the campaign is that a No vote would lead to reform, saying that Martin cannot advocate a No vote given his history.
The Seanad has been a plaything for Fianna Fáil. As it stands, it must be abolished.
Joe O'Connor from the Union of Students in Ireland, says that experts are being removed from Oireachtas committees and, as such, the government did not have the "credit worthiness" needed on the Seanad issue.
Michael Martin is in on the attack against the notion of his party using the upper house as a "creche and retirement home".
"Gerry Adams, as early as last July, said that this was a power grab. He called it a democratic coup d'etat."
Matt Carthy says that if Micheal Martin wanted to debate the Sinn Féin leader, he should have accepted his offer to debate.
And we're gone to break for the first time.
Who's winning? Has your mind been changed? Email paulhosford@thejournal.ie, tweet @PTHosford or @TheJournal_ie
Here's Richard Bruton's stack of notes. He came prepared.
Barrister Anne Fitzpatrick is in the audience voting No.
She says for two reasons: "What next? And why the rush?"
"We are being asked to change our constitution when there is no proven Dáil reform in place.
We could have had this debate when we'd seen whether the Seanad was fit for purpose.
Independent Tullamore councillor Sean O'Brien does not like the Seanad, not one bit.
"I don't care if it is €20 million, €6 million or 1 million it is too much.
It is a nursery for budding politicians and nursing home for failed politicians.
Glenna Lynch from Democracy Matters says that the "dishonest and cynical posters around are the wrapping paper around a hand grenade that is being dropped on the constitution".
She finishes "power corrupts and absolute power corrupts absolutely".
Martina Devlin of One House says that reform is "an alluring concept" but simply won't happen.
Richard Bruton says that the No campaign has "50 shades" of what they want the Seanad to be.
He says that the No campaign wants the Seanad to remain undemocratic.
This, via @gavreilly, is what Fianna Fáil had to say about the Seanad in 2011:
Micheal Martin denies that the very existence of the Seanad "shames" the country.
The two are talking over each other again and Miriam is deeply, deeply unimpressed.
Miriam asks Richard Bruton is he just looking to abolish the Seanad because it is a "nuisance".
He says no and that the chamber is built to be controlled by the Government.
"But you also control the Dáil," says Martin, to chuckles from the audience.
Fergal Reid says:

If that's what you're into, Fergal…
Bruton maintains that committees and public hearings would allow experts more access to shaping legislation.
If you are having a debate on harbours, you want an expert on harbours, not a professor of poetry.
Patricia McKenna, the former Green Party MEP, is here for Democracy Matters.
She says that there will be no protection from Europe without the Seanad.
Blair Horan of One House says that universal suffrage is not an answer for the Seanad.
Sarah Jane Hennelly is a No voter who is not affiliated to any party.
She says that the cost argument is a "red herring".
Labour councillor Tom Kelleher says that most people have no vote in the Seanad elections, but he has six.
Showoff.
Martin says that Fine Gael have scrubbed any record of a 2009 speech that Enda Kenny gave in favour of the Seanad.
Bruton says that the abolition of the Seanad is a "compelling case".
It is an institution that has served politicians not the public.
Martin urges people "not to shut down a platform for alternative and contrarian voices".
With that, we've run out of time.
Miriam O'Callaghan urges voters to exercise their rights on Friday.
So, who scored more points?
So, what's the general consensus?
On the debate, it seems fairly mixed, but Taoiseach Enda Kenny has come in for some criticism on Twitter for his no-show.

However, writer Colm Tobin has another theory.

Commenter Tigerisinthezoo has a somewhat unscientific method for determining a winner:

And, with that, it is time to retire the live blog.
Tomorrow, TV3′s Vincent Browne will host his own debate, though the participants are yet to be confirmed.
Then, on Friday, comes the real business, as the country goes to the polls on two referendums.
Thanks for being with us this evening, good night.
Contribute to this story: