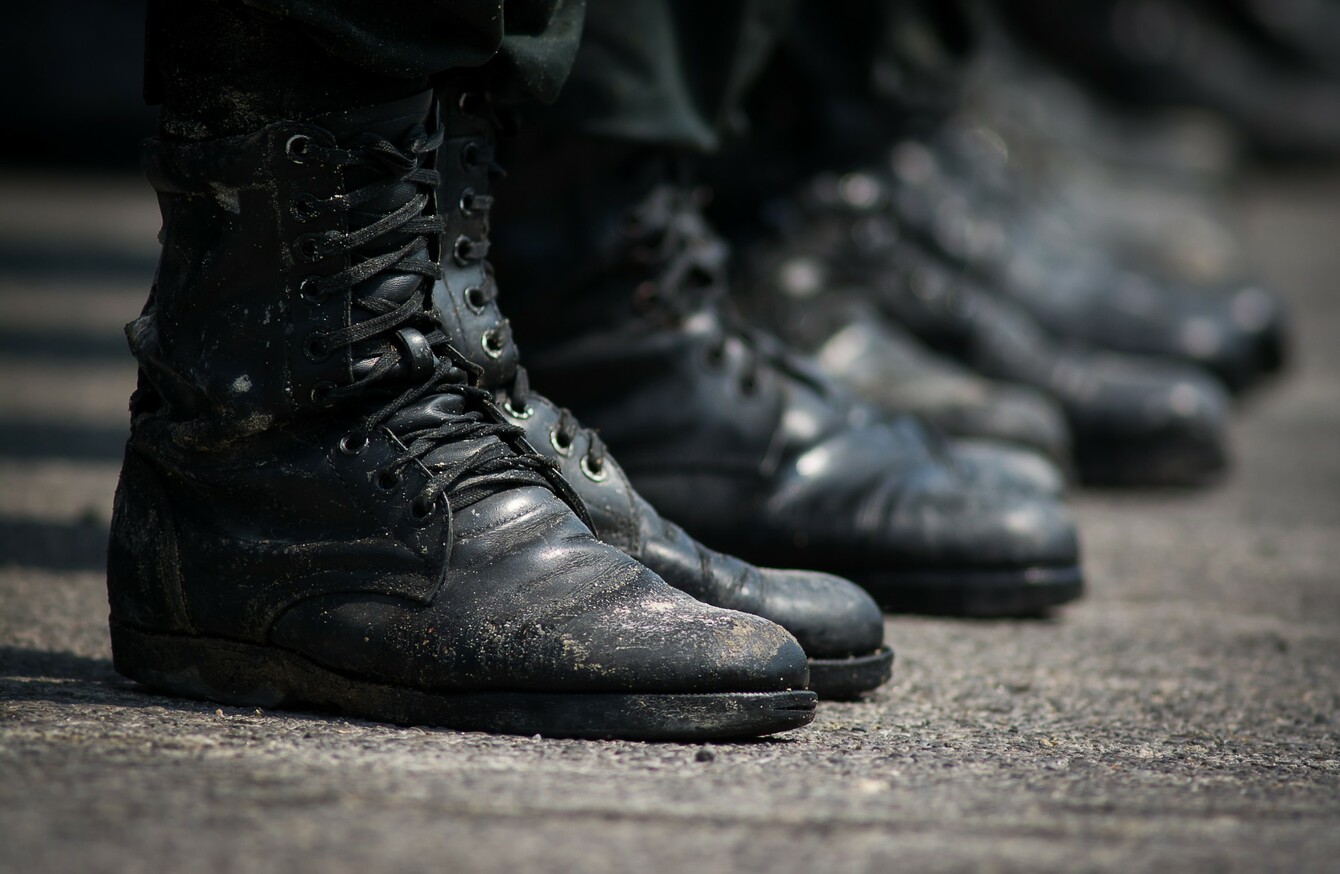 File photo
Image: Shutterstock/kc.bangkaew
File photo
Image: Shutterstock/kc.bangkaew
A NUMBER OF former members of the Defence Forces have raised concerns about how allegations of sexual abuse and assault were handled by the organisation.
They claim, over the course of decades, a culture that ignores sexual assault has developed within the organisation – a point disputed by the Defence Forces.
Defence Minister Simon Coveney last week urged anyone with information of alleged abuse at the Curragh Camp, the main training centre for the Defence Forces, to contact An Garda Síochána.
Coveney was responding to allegations made by a whistleblower, Anthony O'Brien, a 64-year-old former sergeant who was in the Defence Forces for over 20 years.
The man in question alleges he was sexually assaulted by an officer in the Defence Forces in the 1980s. He posted about his experience online and a number of people contacted him saying they were also assaulted or harassed, often by a member of a higher rank, while working in the Defence Forces.
TheJournal.ie has spoken to the whistleblower a number of times and he said he is aware of a number of incidences of "abuse of rank for sexual favours" within the Defence Forces.
Both men and women have told him they were sexually assaulted and harassed by their colleagues in the Defence Forces.
A number of people have also alleged they were sexually abused as children while they lived in the Curragh area in Co Kildare.
Gardaí are aware of the allegations and have urged anyone with relevant information to come forward.
A spokesperson said An Garda Síochána is "not currently investigating any complaints of systemic historical sex abuse at the Curragh Army camp", adding they "cannot comment on individual cases".
"An Garda Síochána has both reviewed and formally investigated a number of individual complaints in the past.
"An Garda Síochána would appeal to anyone who has suffered adult or child sexual abuse to come forward to AGS and report same irrespective of when that abuse occurred, anyone doing so will be dealt with in a confidential and sensitive manner," the spokesperson said today.
In recent days a number of other people have contacted TheJournal.ie alleging they were sexually assaulted, up to and including rape, by a colleague while a member of the Defence Forces.
The dates of the allegations range from the early 1980s to 2019.
In one case, a woman said she left the Defence Forces in recent years after being raped by a male colleague. Some colleagues supported her, but others branded her a "liar".
A number of other people allege they were assaulted many years ago.
'You like that, don't you?'
One man, James Daly, was in the Defence Forces for over 30 years. He followed his father's footsteps into the Army.
James said he was sexually abused in the 1980s at the ages of 17 and 18 by two different men, both his superior in rank, while a recruit in the Army.
Both of the accused are now deceased.
James said one of the men in question assaulted him once – he woke up to find the sergeant "fondling my private parts one night". He was 17 years old at the time.
James, now 56, said he trusted the man in question and didn't want to believe what was happening at the time. He said he told the man to stop, but he did not.
"I told him to stop and basically he said, 'You like it, don't you?'," James recalled.
He said he was just a teenage boy at the time, and was very vulnerable and unsure of what to do.
You're exceptionally vulnerable at that stage because the Army is after building you up to trust the people that are in charge of you. So it doesn't even cross your mind, that they're doing something wrong. It's your own vulnerability that spurs you on to telling them stop.
"I was half asleep, it was very like dreaming it, you're caught in between being asleep and awake, a space where you just can't believe what's happening," James recalled.
The following morning the sergeant acted as though nothing happened, James told TheJournal.ie.
He said the training was "exceptionally tough" and the camp was full of very aggressive and hyper-masculine men. Any sign of so-called weakness, even being assaulted, would lead to the victim being mocked, ostracised or punished.
"You don't want to create a scene in front of all your friends, for fear you're going to be marked out or given a nickname. In those days, anybody said to have been interfered with was called a bummer boy."
'I was petrified' 
The first man alleged to have assaulted James did so on one occasion. However, a second man, another sergeant, allegedly assaulted him four times.
On the first occasion, James recalled: "He came into my room and I knew what was coming, because I recognised it. I just kind of said to myself, 'Oh please no, not again, not again.' He proceeded to fondle me and he masturbated me, and he walked off without saying a word."
James said he was "terrified" and froze during the encounter.
"I had seen him in action during the day, he'd frighten the living daylights out of us. So I was just petrified. It was a stunned silence."
James said he felt as though he literally couldn't speak, noting: "I didn't want to be given out to by him."
As was the case with the first alleged incident, the second sergeant also pretended that nothing had happened the next day.
James felt he could not say anything about the abuse.
I didn't want to become a laughing stock. I had heard about a Private who was laughed at in Dublin, after saying a sergeant abused him. He was called a bummer boy, a f*ggot. Those words were just as wrong in the '80s as they are today, but that was the way it was.
On one occasion when he was being assaulted, James said a colleague saw what was happening and turned and walked away.
"It was then I thought, 'I've been abandoned, nobody gives a fuck.' [The sergeant] did what he wanted to do and when he finished he walked out."
Over the following months, the assaults became "progressively more intimate".
James had requested to move into a private bedroom with a door he could lock. He said he did not explain why he wanted to move but the request was granted.
"I had gotten a single room and I was saying to myself, 'Thank God, I can sleep now.' You know the saying, 'sleeping with one eye open', that was quite literally what was happening, I was sleeping with one eye open."
James said he had become "withdrawn" and "drank a lot" during this period. He hoped that by getting a room where he could lock the door, he would be safe.
"One night I was asleep in my bed in the single room and the next minute I woke up and this sergeant was standing over me. I just said to myself, 'Oh Jesus, how did he get in here?'
"At this stage, I think what happened was that he gave me oral sex. I think my head just couldn't cope with it, I just drifted away somewhere else. It's probably the closest I think to an outer-body experience I've ever had."
He said the assaults may have only lasted a few minutes but "seemed like a lifetime".
James asked to change rooms again after this incident, and the request was granted. He said he wanted to tell people what had happened but felt ashamed and blamed himself.
"The only reason I was living-in was because I was too ashamed to go home. I felt in some way I must have been cooperating, because [the abuse] was continuing."
Suicide attempt 
One weekend, it all became too much.
"I snuck into an office that I knew would be free. I rang the Samaritans and I made my peace with the world. I had decided not to leave a note, because I couldn't explain what had happened to me," James told us.
He attempted to take his own life, but woke up a few hours later and was "terribly sick".
"I sat back and said to myself, 'Obviously this wasn't meant to be, so I have to go on.' I decided that the best thing that I can do to beat this man is to live, rather than die.
"I wasn't going to let his secret die with me. I was going to leave him coming in on Monday morning and him saying 'God love him, the poor young fella.'"
James was due to be deployed to Lebanon soon afterwards and was also afraid that if he spoke out about the assaults, he would not be allowed to travel.
"I tried to pull myself together, I didn't tell anyone. I wouldn't be going overseas, if I did.
"There would be so many questions and there would have been no way of proving what this man had done. And they would take the senior NCO's (non-commissioned officer) point of view and say. 'Oh this young fella just has a grudge against the sergeant.'"
Instead there was a "wall of silence".
James said he was aware of numerous other allegations of assault against the sergeant who alleged abused him. He said this man was disciplined internally on at least one occasion in the early 1990s.
After he came back from Lebanon, James would see his abusers occasionally through work but tried to get on with his life and career.
A chance encounter 
In the late 1990s, he had a chance encounter with the sergeant who allegedly abused him on multiple occasions. James was on a shopping trip with this wife.
He said he saw his abuser and froze. He told his wife they had to immediately go home, without saying why. James doesn't believe that the accused saw him but the incident brought up a lot of emotions he had suppressed for over 10 years.
I had learned to make peace with myself, I had a wife and kids. The day I met him, it was as if someone had opened up a dam and my whole world crumbled around me, it started a downward spiral.
Around this time, he confided in certain colleagues about what had taken place in the 1980s.
James received some support from colleagues, but he said others did not believe him. The next few years were very difficult – both at home and at work.
"I was highly sensitive. I couldn't go out, I was on red alert when I was outside, I couldn't relax. I thought I was being followed, it was that level of paranoia, it became unbearable."
He only told his wife about the abuse in 2005. "I hadn't slept properly in 25 years," James said of this time.
The same year, he gave a statement to gardaí about the alleged abuse. He said his alleged abusers were also interviewed by gardaí but that the Direct of Public Prosecutions (DPP) decided not to prosecute due to a lack of evidence – it was one man's word against another.
James took leave from work and started to see a psychiatrist.
He said he wanted to return to work but was dismissed on medical grounds in 2013.
Recalling the day he was dismissed, James said: "I couldn't say anything, I was crying, it just all buckled, my whole Army career died that day. I felt worthless, they were taking the only thing I had left, they were taking my job, they wanted to erase me instead of erasing the man who did it to me.
"Just as I was starting to get better, the Defence Forces threw me to the wolves."
'The Army is like the Church' 
James claims that when he tried to get access to files about the complaints he made, as well as records about his health and dismissal, the Defence Forces told him certain files were missing. He believes they were deliberately taken out of reach.
"A lot of cases are swept underneath the carpet, files go missing a lot. The Army is like the Church – they do everything internally.
"There are two legal systems working within one State – military law and common law," he stated.
Even though the alleged abuse was so many years ago now, James said the incidents, and their aftermath, are "nearly part of my DNA now".
It still affects me. On good days, I don't think about it. On bad days, it's still red raw – the fact that he's dead doesn't minimise what he did.
"I lost my job, I nearly lost my life. I try to keep my head up, and stay strong for my family, but the atmosphere in my house at the best of times is subdued. I can't sit down and watch a film without bursting into tears, I'm hypersensitive. It's always bubbling underneath my skin."
James said it's difficult for people like him to be told they should go to the gardaí. He did and the case never made it to trial.
"My abusers were not found guilty through no fault of my own, I made my statement to the guards.
"I am not sullying a good man's name because he's dead, I said it when he was alive. I was told, 'We can't trust you.' Authorities wouldn't do anything, they let me down.
"What saddens me more than anything else is that these two people knew my father. It would have killed my father if he knew what they did to me."
A cycle of abuse 
James said he feels let down by the State, and he believes his father was too. His father was brought up in an industrial school and was abused as a boy.
"I found out about the abuse after he died, that cemented the circle for me."
James said his father was "deeply loving and religious", adding: "I adored him."
He believes an inquiry into sexual abuse and assault within the Defence Forces should be considered. If such an investigation was established, he said it would need to go back several decades.
"The scope of it would have to be very, very wide – at least going back from the 1950s to the 2000s, they all have their stories to tell.
There are more victims out there. I knew this day was coming and it can't come soon enough. I'm 56 years of age, where do I go from here? The only things I have are my family and the truth.
"I don't know how my wife survives, she is a rock, without her I would be dead. The day I married my wife, she saved my life. Until that point I felt I was absolutely worthless. I'm angry about the injustice of it.
"They've made the victims feel like the criminals, and that is not justice."
Air Corps
Michael*, who was a member of the Air Corps for over 20 years, said sexual assault and bullying was very common in the 1990s and 2000s.
He said one officer at the training camp in Baldonnel would regularly masturbate in front of young recruits – often while they slept or showered.
"I knew within the first week that bullying was rife because you were hit, you were exposed. You were told you're going to be strapped to the tree in training and then they'll be taken advantage of you.
"I suppose, being 16, you didn't know whether to believe that or what was going on, but [the superiors] were obviously enjoying it."
Michael said he and others accepted that physical violence and bullying was par for the course, but over time incidents of a sexual nature started to occur.
"The physical violence and the threats started straight away for everybody, I wasn't alone in the way I was treated. This was just the institutional way they dealt with people.
"The more disturbing thing to me was the year after that, it involved a person who was putting themselves in a position to look after teenagers.
"There was a particular person who used to walk in on you changing, when you were in bed, when you were in the shower, when you were going to the toilet. He was just always there and used to be playing with himself."
Michael said this man never touched him, but regularly masturbated while watching him in the shower or lying in bed.
Michael said he was very stressed and told a nurse what was happening. He thought he was telling her in confidence but said she went straight to the man in question and asked if it was true.
From that point on, I went from fixing planes to cleaning toilets every day. The word got out that you had to be punished and that was that.
#Open journalism No news is bad news Support The Journal

Your contributions will help us continue to deliver the stories that are important to you

Support us now
Years later, the events were taking a toll on Michael's mental health and he was sent to see a doctor in St Bricin's Military Hospital in Dublin.
He said he told the doctor what had been happening but, this time, he was believed. He said the doctor encouraged him to make an official complaint.
Michael was referred to the PSS (Personnel Support Services) within the Army, but said he did not feel as though his complaint was taken seriously.
He claims that, when he later sought access to files about the medical history, the Defence Forces could not find them.
Michael was eventually dismissed on medical grounds a few years ago. He said he is aware of a number of cases where members spoke out about alleged abuse and sought mental health supports. He said these supports were generally provided, but also used as a reason to "quietly get rid of" people who complained.
Michael said the accused man was promoted on a number of occasions over the years.
"When does it become an epidemic of stuff go missing," he asked.
"It keeps going on because nobody is ever chastised. You know, if you get a speeding ticket or you cause an accident, you know the punishment is you lose your license.
"There's no same incentive in the Defence Forces, they're not willing to get rid of somebody [accused of assault]. They'd rather cover it up and pretend it didn't happen, than actually address the problem," he said.
In 2016, Michael said he contacted gardaí about the incidents. He claims he was discouraged from going any further because the incidents happened years previously and would be hard to prove.
"I was told I was wasting my time," he recalled.
Michael, now in his late 40s, said he suffers from PTSD and anxiety after his experience in the Defence Forces and regularly speaks to a counsellor and takes medication.
"When you talk to him and he says he's actually seen loads of people similar to myself from the Defense Forces, he obviously understands.
"For him to believe you, for me to not have to convince him, it was actually very helpful.
"He was not dismissive from the word go, he says he has seen an awful lot of people like me. He's independent, he doesn't work on their behalf. I find him very, very helpful.
"When you realise you're not the only one, there's some solace in that fact, and that other people might actually understand what you're going through."
'Safe working environment'
When asked by TheJournal.ie about these claims, a spokesperson for the Defence Forces said: "Óglaigh na hÉireann are a values-based organisation and we take the safety and well being of our personnel extremely seriously and we are committed to ensuring that all personnel are provided with a safe working environment as per the dignity charter for the Defence Forces.
"In response to the cases outlined in your query, Óglaigh na hÉireann urges anyone with information of alleged criminality to present that information to an Garda Síochána.
"There are a number of internal Defence Forces procedures available to serving personnel who seek to make a complaint. All members are regularly briefed and aware of the mechanisms available to them should they wish to make a complaint."
When asked via a parliamentary question last October about sexual assault within the Defence Forces, Minister Simon Coveney said the military authorities informed him that, in the past 10 years, "two members of the Defence Forces were court-martialed for sexual offences".
"In both cases, the charges were proven. Both individuals were discharged from the Defence Forces," Coveney said.
The Department of Defence issued a statement last week in which Coveney said he "urges anyone with information of alleged criminality to present that information to an Garda Síochána".
"An Garda Síochána are the only competent authority in the State with the expertise and powers to investigate these matters.
"Where such information is provided to the Minister, it is treated in confidence and brought to the attention of the relevant authorities."
In the statement, Coveney also advised "anyone who may have been subject to such abuse to seek professional help and guidance which is available from State agencies such as the HSE or from registered charities specialising in this area".
*Name has been changed to protect this person's identity
Comments are closed for legal reasons
Have you been affected by any of the issues raised in this article? If you'd like to get in touch in confidence, email orla@thejournal.ie or contact me on Threema: ZVHKV6VD
Need help? Support is available: