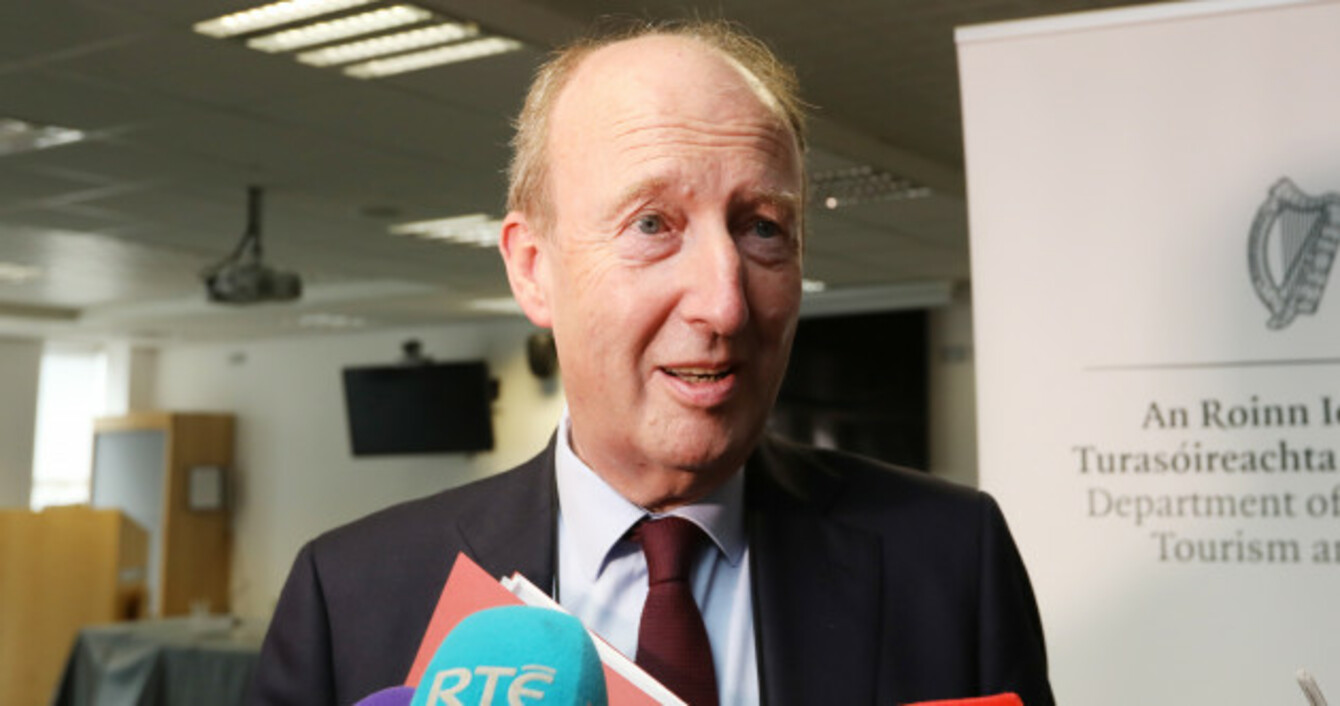 Transport Minister Shane Ross says BusConnects will cause pain to some but the plan is in the national interest.
Image: Leah Farrell
Transport Minister Shane Ross says BusConnects will cause pain to some but the plan is in the national interest.
Image: Leah Farrell
MINISTER SHANE ROSS has just won one battle – but now he has a fresh fight on his hands.
After much filibustering of his drink-driving legislation, it was recently passed through all Houses of the Oireachtas and signed into law by the president. It was a good day, he tells TheJournal.ie in a sit-down summer interview.
Now, with the announcement of an overhaul of Dublin's bus network, Ross has another challenge to conquer.
The new BusConnects plan will see a continuous bus lane in each direction as well as maintaining two traffic lanes. Cycle lanes will also be segregated from other traffic.
In order to achieve this, large-scale road-widening projects are being proposed which will require the acquisition of sections of around 1,300 front gardens around the city.
"It is a lot [of gardens] and it was a very difficult decision that had to be made by the National Transport Authority (NTA) and then put to me," admitted Ross, who apologised to the people inconvenienced by the new routes.
It is the price of prosperity that we are paying. I don't want to cut up anybody's garden but we are going to give them fairly generous compensation.
And I am sorry it is happening, but it is not really all that many, but in the general interests of moving people in and out of their jobs we have to move people more quickly for point A to point B.
Losing part of people's gardens "is one of the downsides", said the minister.
"But there are huge upsides, it is going to cut the journeys for people getting to work by a third or even up to a half, and people are going to be able to move around the city much more quickly as a result of these new routes."
"It does require some pain for some people, and I am very sorry about that, but in the national interests this has to be done," said Ross.
Getting real on traffic congestion
The minister said drastic action is needed and Ireland needs to get real if it is going to deal with its traffic issues.
The first information session for the new BusConnects plan took place this week, but there are still many people unsure about the new scheme.
Source: TheJournal.ie/YouTube
"We've got a chronic problem with traffic. We have an overall policy here. We are going to have to move people into public transport otherwise there will just be gridlock at some stage," said Ross.
Choice words for Permanent TSB
Before having to deal with the issues of tourism, transport and sport as minister, Ross was a well-known journalist, who has written many books on the actions of Irish banks and the repercussions on society.
They have titles such as Wasters, The Untouchables: The People Who Helped Wreck Ireland and The Bankers: How the Banks Brought Ireland to its Knees.
So, it is no surprise that even as minister, Shane Ross has some choice words for Permanent TSB.
This week, PTSB, which is 75% owned by the State, confirmed it sold its controversial Project Glas loan portfolio to an affiliate of the so-called vulture fund Lone Star for around €1.3 billion.
The portfolio contains 10,700 home loans, which the bank has dubbed as "non-performing loans". A total of 7,400 are owner-occupier mortgages, while 3,300 are buy-to-let properties.
Critics such as Fianna Fáil and the Irish Mortgage Holders Organisation accused the bank of dropping the news of the sale when the Dáil was on recess and no one was in Leinster House.
Does Ross believe this was the case?
"I think that it is possible that they held it back until the Dáil was in recess – that is despicable if it is true and that would just be another indication of the manipulations of the banks which has been a characterisation of the banks for a long time.
"I think this probably was a cynical move after the Dáil went into recess so there wouldn't be too much of a row about it," he said.
Bankers, we should never forget, are very manipulative, are extremely clever and they have absolutely no interest in the consequences for society or individuals for which they are operating, they are just operating on the basis of a bottom line.
Government should have more say
Earlier in the week, Finance Minister Paschal Donohoe said his department cannot intervene in the running of PTSB, despite having a significant stake in it. This is something Ross said needs to change.
"There may be a relationship agreement between the Department of Finance and the banks, which forbids the department from interfering in the day-day running.
"I think we should look at that again. If that is the relationship and State-owned banks must act independently, I think we should look at that again, because I think there is a need, particularly with the history of the banks here, for them to behave in a way that is not damaging to Irish society."
Ross said bankers don't hold much credence for government, or Ministers for Finance for that matter.
"I think their instincts have always been to defy Ministers for Finance," he said, adding that while he thought Paschal Donohoe "has been very good and has been very effective" in dealing with defiant bankers in relation to the tracker mortgage scandal, he thinks bankers will always chance their arm.
"I think they always look for ways to eyeball the Minister for Finance as they have always got away with it under previous governments."
'Disgusting' behaviour of vulture funds
Ross said there is a huge difference in how banks treat their customers and how vulture funds treat people.
"I have had dealings with vulture funds on behalf of constituents and their behaviour is absolutely disgusting," he said. "It is totally and utterly ruthless, they have no interest in negotiating, they don't give two hoots about people's feelings and they can send in, oftentimes, these very aggressive, unpleasant young men to basically tell you or your client that they don't give a hoot."
While criticisms of the banks is fine for an everyday commentator to make, what is the government, which he is part of, planning to do about it?
Junior Minister Kevin Boxer Moran's Bill on keeping people in their homes was accepted by Cabinet last week, said Ross, who called the proposed legislation "very significant".
#Open journalism No news is bad news Support The Journal

Your contributions will help us continue to deliver the stories that are important to you

Support us now
"It means that when these people end up going to court, the judge is bound to consider the personal condition of the family – in other words, what sort of hardship this is going to cause, and not just the bottom line," he said.
"That is quite revolutionary – he is going to have to look at it and understand what the consequences for you and society are by taking your home off you."
Once the Dáil returns in September, Ross wants to see the legislation expedited.
"I think there is an urgency about it that we will have to bring to the Cabinet immediately when we come back in September. It is just a deplorable sight to see cold, ruthless people coming in and buying up loans. These vulture funds are buying these loans because they are going to act in a way that PTSB couldn't. These people have been sold out and sold to the wolves."
Seeking a free vote
While that is one urgent issue Ross plans to raise with his Cabinet colleagues upon returning in September, another issue of contention he will have around the table is the Occupied Territories Bill which recently passed in the Seanad, despite government opposition.
It's emerged Independent Alliance members at Cabinet are divided with Fine Gael ministers over the Bill which calls for a trade ban on goods and services from illegal Israeli settlements. Junior Minister Finian McGrath has called it a "major problem" which has yet to be overcome, despite talks with Tánasite Simon Coveney on the matter.
"It is a point of difference," said Ross, who added that the Independent Alliance are in favour of measures that eleviate the plight of the people of Palestine.
"Obviously Fine Gael in government is not as well disposed," said Ross, stating his Fine Gael colleagues are perhaps "not as sympathetic to their cause or don't appear to be".
"There will be a robust discussion and we will try and find a solution," said the transport minster, but ultimately a free vote on the issue would be best, he said.
"It would be no harm if we got a free vote on it I think. That would be an acceptable solution."
In the first few months of this coalition government, the demand for free votes for the independents in Cabinet signalled a siren to many that the whole thing was on the brink of collapse. And while Ross has previously admitted there was no 'honeymoon' period for this government, he appears content that the show has stayed on the road so long – with nearly three budgets under its belt.
But what next for Ross?
He's running in the next election, that's for sure, he tells TheJournal.ie. If after the next election, Sinn Féin are in talks with Fianna Fáil or Fine Gael about forming a government, and they were interested in getting some independents on board, would he be interested?
"The last time around we [the Independent Alliance] put down a charter and we said okay, come and talk to us… the only people who came to talk to us were Fine Gael and Fianna Fáil. I expect there to be a similar type of arrangement, but we will be at the table.
"Anyone that is democratically elected, you can't not talk to them, so we'll put a new charter on the table and say come talk to us on that basis and we'll see what happens."