"WITH TRAINING, YOU CAN just forget about your day. You're going training with 30 girls who are your best friends because you see them so much."
Like a lot of GAA players, Sharon Courtney's days are fairly busy – but as the captain of the Monaghan Ladies team and a lecturer in sports nutrition in both Dundalk IT and IT Blanchardstown, Sharon's days are even more frantic than most.
As Sharon says, she's lucky that she has "a background in how to look after yourself". She's also keenly aware of the fact that sport can provide you with a social outlet like no other.
But being a county captain it comes with its own sacrifices – Sharon knows that drinking too much alcohol isn't good – for her body or her team.
Being a team-player
"If you're very focused on a match or a season goal, going out and drinking doesn't match up", shares Sharon. The reality of an inter-county training schedule really leaves little time for losing mornings to hangovers.
As Sharon explains, alcohol takes a few days to get out of your system, so you're "essentially wasting that time at training sessions because you won't get the most out of them. It can take your body about three days to get back on track properly. "
For me, you feel sluggish the next day, your concentration levels and reaction time is off. You have an increased change of becoming injured because you don't react as quickly or you make stupid mistakes.
Football is 'a huge social outlet'
For Sharon, it's her teammates and the friends she has on the field that mean more to her than anything about GAA (except maybe winning an All-Ireland final): "When you're on a team there's a lot of goal-setting and striving towards that."
There's a reason why retired football players always count their teammates as their closest friends, says Sharon: "There might be a lot of losses along the way but it builds character. As a team you go through so much together and you just wouldn't experience that elsewhere."
Source: Donall Farmer/INPHO
Team sports can be particularly gruelling on your body – they push you to limits that Sharon says she would never achieve from training by yourself:
You push yourself and your limits a lot more on a team. If you're by yourself and you're out of breath on a run you'll stop but on the pitch you'll still go even if you think you're exhausted.
It's this that three-time All Star Award winner loves the most about playing – being surrounded by teammates, which she says is a "huge social outlet":
We're all a bit stressed from work so being able to go out training and release that means you don't dwell as much on it. The biggest thing is the social side – being able to talk to people on your wavelength.
Keeping your eye on the ball
And with leading an inter-county team comes a certain level of responsibility – one of which is to go easy on alcohol, which Sharon says "becomes part and parcel of it".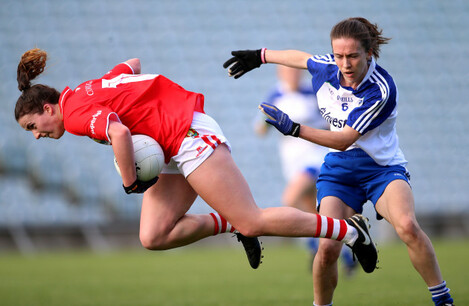 Source: Tommy Dickson/INPHO
Although being surrounded by teammates at training never fails to cheer Sharon up, alcohol tends to have the opposite effect for her:
You feel sorry for yourself the whole next day. You end up eating rubbish, you exclude yourself and don't want to see anybody.
Sharon chooses to steer clear of the alcohol during championship season is that it can actually make things dangerous for an athlete: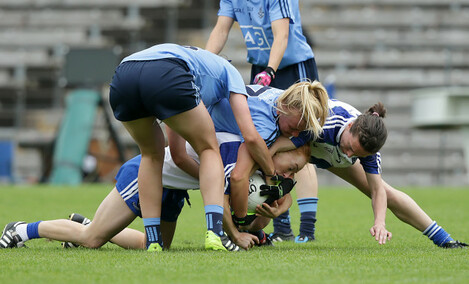 Source: Morgan Treacy/INPHO
Over the years, Sharon has also seen girls lose out on training from injuries sustained on nights out – a twisted knee that led to six weeks out, a broken arm before the college final matches. "I've seen different girls who had huge potential to make it on the county scene but over time they don't get fit or suffer from injuries."
Doesn't she miss alcohol sometimes?
If there's a big night out, Sharon says she'll drive in and not drink. None of her friends mind, or else she meets her friends outside football for breakfast or to go to the cinema.
So, how can we all stay as on-the-ball as the Monaghan captain?
The team really gives me my social outlet. In Ireland a lot of social aspects revolve around alcohol but there are still so many things you can do that don't involve drinking.
A secret that will work even if you're not remotely athletic? "Pencil something in on a Friday evening or a Sunday morning which means that you can't be hungover – it'll be an incentive to drink a bit less and get to bed a bit earlier."
Sharon is an ambassador for HSE's AskAboutAlcohol.ie and GAA Health and Wellbeing Theme Day in Croke Park on 11 August. The partnership aims to raise awareness of the impact of alcohol on players and fans health and wellbeing – on and off the pitch. At AskAboutAlcohol.ie you'll find trusted advice, a drinks calculator and plenty of other helpful resources.