KITCHENS ARE SUCH a huge selling point for people looking for a home.
But how many of us actually make home-cooked meals most nights of the week? It's a question to pose if you're looking for somewhere to rent or buy that is in a high-cost area where you pay dearly for extra floor space.
Would you go as far as one of these units though? They are built in a shopping centre in the US that is almost 200 years old. The upper floors of the Arcade Providence in Rhode Island have been converted into micro-loft apartments.
There isn't really room for a cooker – but downstairs is an array of shops and eateries who are used to catering inexpensively for the residents on the first floor. It has breathed new life into the building – which had been shuttered for the three years previous to this renovation – and there has been no shortage of take-up of the living units.
The smallest units measure 225 sq ft – see one of the tenants show how the space works for her here:
Source: Kirsten Dirksen/YouTube
There are communal laundry facilities near a residents' lounge on the first floor – something that US renters are probably more used to, and accepting of, than Irish ones.
But take a look at how a bathroom, living area, bedroom, closet space and kitchenette work in those small spaces. Architects Northeast Collaborative Architects found themselves with quite the challenge to create 48 micro-lofts from the first enclosed three-storey shopping centre built in the US.
You might be able to take some inspiration from these 'efficiency' apartments to find ways to make a small space work better:
Storage solutions are everywhere (spot the undersofa drawers and bookshelf, and the multi-use pouffe/storage box/tea table). Short of space for lamps to make a reading space? Affix a regular Anglepoise to the wall, rather than a traditional wall uplighter.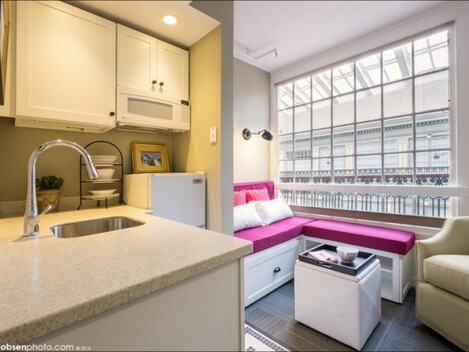 Source: obsenphoto via Northeast Collaborative Architects
The kitchen area is hidden partially from the living area, and behind the partition wall is a fitted bed.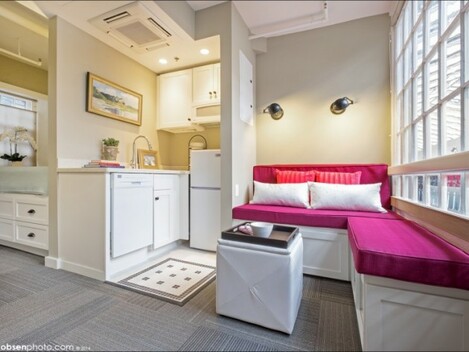 Source: obsenphoto via Northeast Collaborative Architects
As the first resident in the initial video explained, she prefers not having the sleeping area entirely sealed off as it prevents the small area from feeling too closed in.
Obviously, there won't be room for a tub but compact sanitaryware, a corner shower unit and built-in press in which the sink sits neatly creates a decent bathroom: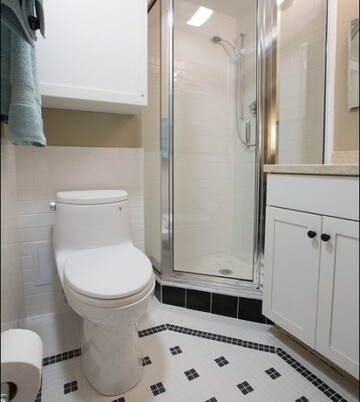 Source: obsenphoto via Northeast Collaborative Architects
Have you ever had to work with a tiny space? How did you make it work for you? We'd like to hear in the comments below.
Want more of these articles? Get our weekly property magazine emailed to you