Source: Netflix UK & Ireland/YouTube
FOR THE SURVIVING members of the UN's 1961 A Company, last night's Irish premiere of the film The Siege of Jadotville was not about Hollywood stars, massive budgets, or the backing of one of the movie industry's most powerful production companies.
It was about memories, and justice, and a chance for the world to see what happened when a contingent of 155 Irish troops were sent to the Congo on a peacekeeping mission that could have turned into a bloodbath.
Many of the men came to the premiere at the Savoy in Dublin city centre last night with the physical reminder of their past – a soft blue UN hat – clutched in their hand or perched on their head.
The film got a standing ovation, with the applause directed at the men, both alive and since passed, whose bravery had been played out for nearly two hours on screen.
Afterwards, the men gathered on the Savoy stage to greet Northern Irish actor Jamie Dornan, who played their leader, Commandant Pat Quinlan. Dornan paid tribute to the men in a questions-and-answers session after the film, as did the film's director Richie Smyth, producer Alan Moloney and screenwriter Kevin Brodbin.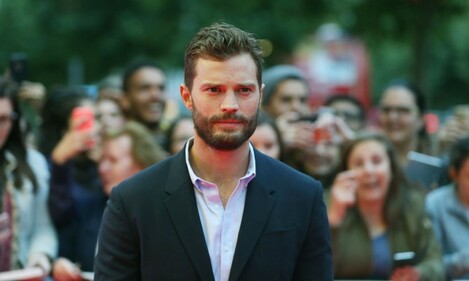 Jamie Dornan, who played Pat Quinlan. Source: Niall Carson
The Siege of Jadotville, which gets a cinema release this weekend before moving to Netflix on 7 October, is set in 1961, when the United Nations intervened in the Katanga conflict in the African Congo. You have probably never heard of these men, or of the battle they fought – one which, facing improbable odds, they all survived – but a book by Declan Power first helped to tell their story .
It was aptly called The Siege at Jadotville: The Irish Army's Forgotten Battle.
The men were forgotten, and as the film shows, deliberately so.
Source: Karen Ballard/Netflix
While Commandant Quinlan was 42, the bulk of the troops were just teenagers. Photos of the men before the siege show them with regulation blue helmets askew, rifles in hand and an air of youthful innocence about them.
Just weeks later, they would be fighting for their lives against troops many, many times their size – and facing dwindling supplies of ammunition, food and water.
On their return home, their battle would be effectively swept under the carpet until one of the men, John Gorman, launched a campaign for recognition.
"It brought it all back"
Diarmuid Quinn, Maria Quinn, Kathleen Quinn, Niamh Quinn, Tadhg quinn, Donal Quinn and Helena Quinn. Source: Aoife Barry
Tadhg Quinn was a 19-and-a-half-year old Limerick teenager when he fought at Jadotville. For him and his family, the film is a way to start righting wrongs.
"It brought it all back," said Quinn after the screening. "It was brilliant, absolutely brilliant." Though he had had "terrible doubts" about the translation from book to screen, he was relieved about the final result.
"A bit of it was a little bit exaggerated, I understand they had to do that, but in general from start to finish the story was very good."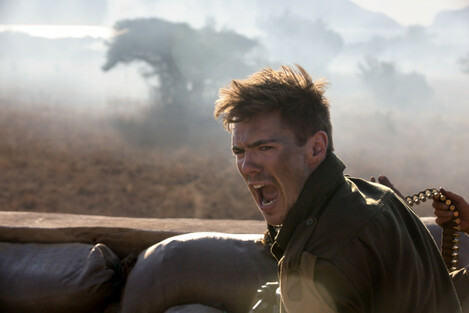 Source: Karen Ballard/Netflix
The film doesn't dwell on the months that the men spent in captivity after the siege, which the Quinn family were somewhat disappointed about.
Quinn's memories of his time at Jadotville are vivid. He's told his family about when they ran out of water in the trenches, and were only allowed one spoon of the liquid each – and of the time he sucked the juice out of a tin of pineapple.
The men didn't have enough food, ammunition or water for the siege, and yet they fought with all their might. At one stage, they were sent jerry cans of water – but they were petrol cans that hadn't been cleaned out. Quinn – who was a mortar commander – shuddered at the memory.
It was his first time serving overseas. "You've no sense at that stage," he laughed, acknowledging that this also helped the men somewhat. What the film makes clear is the fierce bond that was there between the men of A Company.
It was brilliant. At the time I didn't think too much about it, it was later I thought about it. It was a job. You got a job to do and you did it, same as you do now and that is it. It is easy to kill someone. If you were going, you were to bring as many as possible with you.
You see, you always get the idea, he's going to get killed and I'm not. That's what I know, I dunno if other people felt the way. That everybody has got to get killed but not me, same as you. But when you look back at it then that's a very stupid idea because you're likely to make mistakes.
Did watching the film bring back the same emotions he felt in Jadotville?
"I was there, I knew what they were going through. I did feel angry because of why it happened, it should never have happened."
Men from A Company in captivity. Source: Wikipedia
A Company were sent into Jadotville after a Swedish company pulled out. Meanwhile, Conor Cruise O'Brien, at the time the special representative to the UN's secretary General (and later, a government minister) was in charge of the men.
The film is an unflattering portrait of O'Brien and his UN cohorts of the time, though it also explores how the Katanga battle was part of the larger Cold War, and O'Brien feared it could have even led to a third World War.
Pat Quinlan and his men may have survived the battle, but their reputations were tarnished – and Quinlan only saw public recognition of what he went through almost a decade after his death. How the men were treated has left a bad taste in their mouths.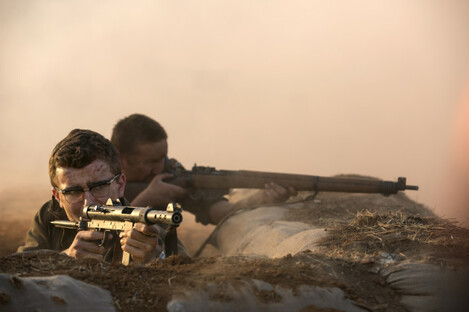 Source: Karen Ballard/Netflix
"It was despicable, absolutely despicable the way Pat Quinlan was treated," said Quinn last night.
You wouldn't do it [to someone]. It was absolutely terrible. Most of it was done by people who had never served overseas, that didn't know the difference. But it came down from the top because there were mistakes made at the top and they had to cover their own backsides.
But the respect shown to Pat Quinlan on screen was exactly that which the men showed him in the real world, said Quinn.
"When they got off the plane, if Quinlan said 'lads look – I'm going back to the Congo and I want volunteers', without exception and I can swear by that, every one of them would go back for him."
Remembering the siege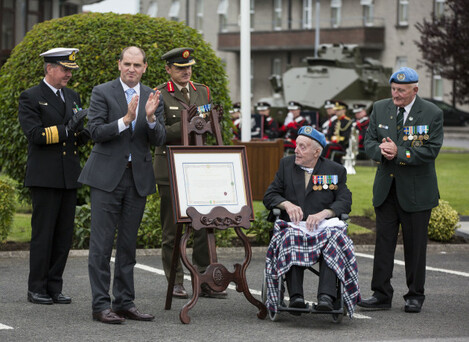 Source: Karl
The men of A Company were honoured in a ceremony in Athlone recently for their bravery, but the Quinn family are among those who were unhappy with the government's approach.
They felt that the lack of the men's individual name and rank on the paperwork they received, as well as the "carefully worded" language of the ceremony, "wasn't an apology, wasn't a recommendation", they said last night.
The men were all given a citation which reads:
This Citation recognises the leadership, courage, bravery and professional performance of A Company 35th Infantry Battalion and its attachments who, under challenging circumstances at Jadotville, while besieged by overwhelming numbers of Katanganese Gendarmerie and cut-off from support and reinforcements, did valiantly defend their position from the 13thSeptember 1961 to 17th September 1961.
Fifty-five years after they fought for four days in sweltering heat against the Katanga troops, and 10 years after the first steps were taken to acknowledge what the men went through, the A Company were finally – and publicly – recognised.