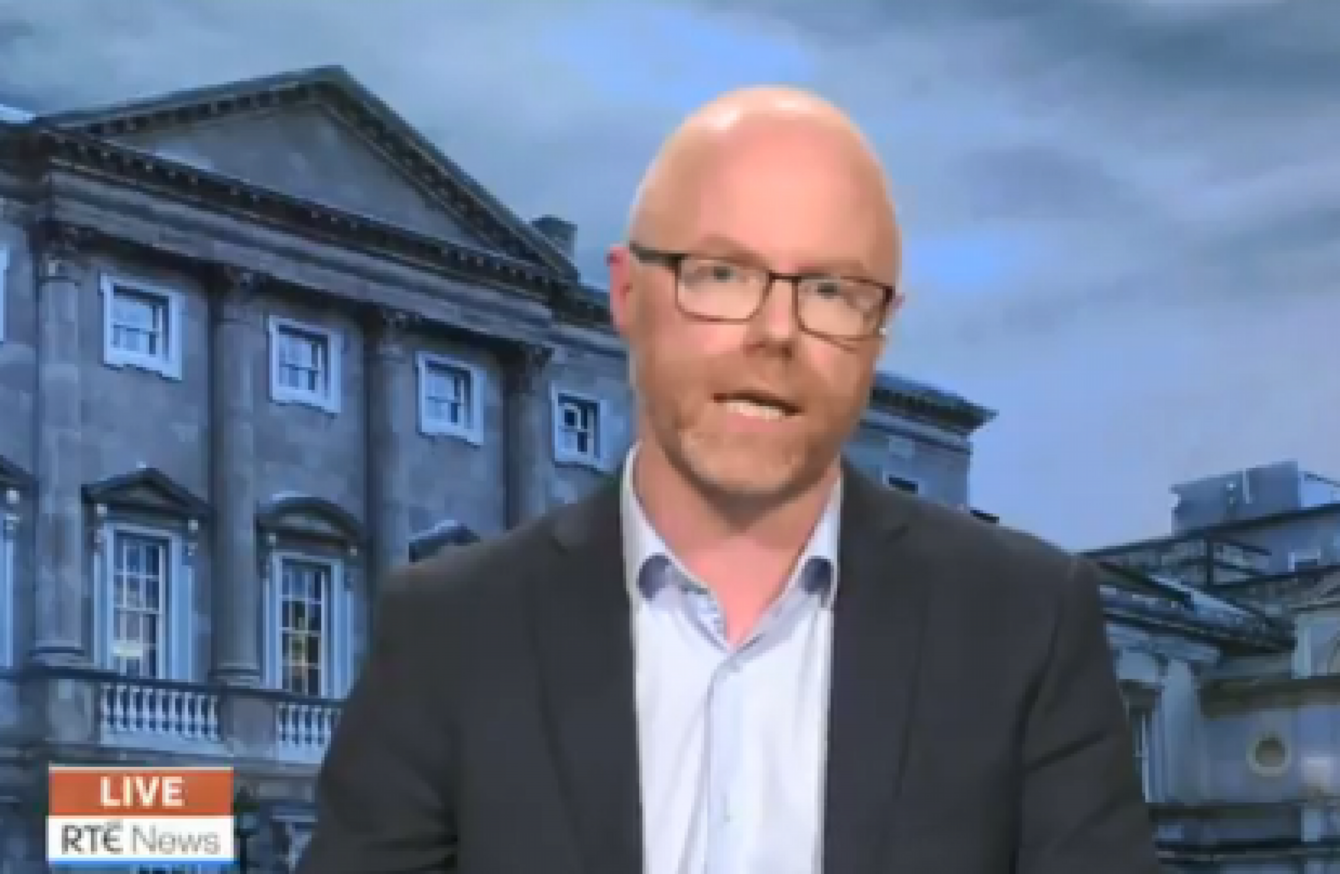 Image: RTÉ News
Image: RTÉ News
Updated Apr 13th 2021, 9:20 PM
MINISTER FOR HEALTH Stephen Donnelly has said that mandatory hotel quarantine bookings have been "paused" on a precautionary basis, in order to ramp up capacity in the system.
Donnelly confirmed this evening that no bookings in mandatory hotel quarantine will be available until next Monday.
The report came as a number of countries with close relations to Ireland – the US, Canada, France, and Italy – are to officially go on the 'category 2′ list from this Thursday, 15 April.  
Speaking to RTÉ's Six One News, Donnelly said that in the 18 days that mandatory hotel quarantine has been in place, the number of countries on the 'category 2′ list has increased from 33 countries up to 71 countries.
"There is still a high-level of walk-ins which shouldn't be happening," he said. "Some of the airlines which are meant to not be allowing people on the planes, are letting them on so we know Minister [for Transport Eamon] Ryan is engaging with the carriers on that." 
The minister later confirmed to The Journal that there will be hotel capacity for international arrivals coming from Thursday without a pre-booked quarantine room as there is a buffer in place to accommodate walk-ins. However, pressures on capacity is due to the number of arrivals are coming without a prior booking.
Donnelly added that from Monday, capacity would increase from 650 rooms to about 960 rooms. From Monday week, over 1,300 rooms will be available in the mandatory hotel quarantine system, he said.
The minister is of the view that airline carriers are legally obliged to refuse boarding if someone doesn't have a pre-booked room, stating it is an essential part of the system. However it was clarified this evening that there is no ban on flights arriving in to the country.
In a statement released later, the Department of Health said that those who have already made their bookings are not affected, and people can still book dates from Monday 19 April onwards.
The temporary pause will be kept under ongoing review should additional capacity become available, the Department said, while still stressing against international travel.
The pausing of the system just a few days after the announcement of its expansion is being criticised by both those in and outside government. 
Sources within government state that these were the very concerns raised with the department last week about capacity and operations. Serious concerns were raised this evening by some about Ireland's connectivity, stating that by next week there could be a waiting list to get into the country, which could last months.
Vaccinated people and hotel quarantine
Minister for Higher Education Simon Harris said it his "very firm view" that people who are fully vaccinated and can produce a negative PCR test on arrival in Ireland should not have to enter mandatory hotel quarantine.
The Journal reported last Friday that the Health Protection Surveillance Centre is being called on, as a matter of urgency, to advise on exempting people that are vaccinated from hotel quarantine. 
It is understood that the recommendations will be made "as soon as possible" but are unlikely to be forthcoming for a couple of weeks. 
Pressure is expected to be put on the body by senior government ministers to deliver its report sooner rather than later, given the expectation that more cases are likely to come before the courts.
The Minister for Higher Education today that it is very hard to "logically explain" how someone who is fully vaccinated for a period of time is "a greater risk than you or I".
Speaking on RTÉ Radio One's Today with Claire Byrne, he said:
"We should prioritise mandatory hotel quarantine for those most at risk of bringing the virus into our country, particularly the variants. It's hard to logically explain if someone is fully vaccinated for a period of time, why they are at greater risk of you and I."
Speaking to the Oireachtas Health Committee today, Deputy Chief Medical Officer Dr Ronan Glynn said there are a "variety of reasons" that someone who is fully vaccinated is still required to quarantine.
"First and foremost, we're still not entirely clear what impact a vaccine or different vaccines have on transmission of the virus," he said.
"So you can be vaccinated yourself and carrying one of these variants of concern, and bring it into this country, and give it to somebody."
He also said different variants will have different effects on different vaccines.
"We are seeing increasing reports now -  on a daily or certainly a weekly basis – internationally of cases and clusters arising in people who have been fully vaccinated cases, particularly with a B1351 South African variant," he said.
#Open journalism No news is bad news Support The Journal

Your contributions will help us continue to deliver the stories that are important to you

Support us now
"There's still the question of the length of immunity that's afforded, the length of protection that's afforded by vaccine-induced immunity. And then there's the whole issue of certification, and our ability to stand over the validity or to authenticate it."
As reported yesterday, there are concerns about the series of court challenges to mandatory hotel quarantine since last week.
While the Department of  Health said "there is no international system that recognises vaccination certification", adding that "there needs to be an agreed method for people to show as proof of vaccination/immunity" there are concerns that Ireland cannot wait around for the mooted EU vaccine pass system to be up and running.
Unlike other European countries, Ireland has mandatory quarantine in place – with legal challenges already being taken against it. 
Some government sources have said the suggestion it needs to be an EU-wide vaccine cert "do not hold water" as the government has been requiring documentary evidence of a PCR test for months and there is no standard for that.
- With reporting by Michelle Hennessy and Gráinne Ní Aodha.