THERE WAS A TIME when the only beans to be found in Irish supermarkets came in a sweet red sauce.
Baked beans definitely have their place – especially in toasties with lots of cheese, or piled high on baked potatoes and sprinkled with crispy bacon. But times change, and these days you can just as easily pick up an inexpensive, protein-rich can of chickpeas, butter beans, cannellini or kidney beans as you can the tomato-coated kind.
When there are beans in the press, there's always a dinner-in-waiting, whether you want to serve them on the side or make them the star of the show. Over the years, I've gathered up heaps of recipes that start with opening a tin, and end with a great meal.
Beans love flavour so salt and acid will be your best friends here. Taste as you go, don't be afraid to season aggressively and remember that a squeeze of lemon or lime juice will brighten all the flavours.
Here are a few of my favourite dinners, all tried and tested…
1. Spice-roasted chickpeas, orange and feta salad
Tossed with olive oil, spices and salt and cooked in a hot oven, roasted chickpeas are irresistible – just ask anyone who wanders through the kitchen when I'm putting this salad together! They're a great way of introducing some gluten-free crunch to a dish (both my parents are coeliacs) and are perfect for snacking on. The full salad recipe is here, to serve four to six. Feel free to sub in lemons for orange, and the buckwheat can be replaced by pearled barley, spelt or another hardy grain of your choice.
2. Warm chickpea salad with parmesan
There are some summer days when a cold salad just doesn't cut it. This warm chickpea salad is simple, delicious and ready in a few minutes. Bulk it up by adding a handful of shredded chicken or a poached egg. Heat some olive oil in a heavy based frying pan, tip in a can of drained and rinsed chickpeas and cook over a moderate heat until they turn golden brown. Add more oil to the pan, if necessary, then toss in 1 sliced garlic clove and cook until soft. Squeeze in the juice of half a lemon, sizzle for a moment, then pour into a serving bowl and toss with a good handful of grated parmesan and black pepper to taste. Serves two as a side salad or one very hungry-at-lunchtime person.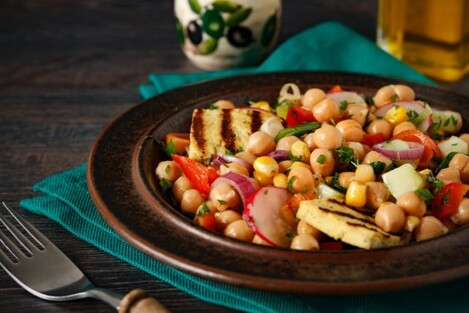 Source: Shutterstock
3. Cannellini beans with couscous
Looking for a side for those chicken drumsticks you have on the barbecue? Whip together this easy side dish from store cupboard staples and you'll have something to sing about. To start, weigh 275g couscous into a large heatproof bowl, add a drained and rinsed can of cannellini beans, the zest and juice of half a lemon, 4 tablespoons of extra virgin olive oil and plenty of salt and pepper,. Pour over 500ml of boiling water (or veggie stock, if you have it handy), stir with a fork, cover the bowl with a plate and set aside for five minutes. When the water has been absorbed and the couscous has softened, tip it into a large, shallow salad bowl and, again using a fork, gently mix through a large handful of chopped chives. Sprinkle with some picked chive flowers. Serves four.
4. Ruth's refried beans
Years ago, I watched in awe as my cousin pulled this dish together for an impromptu gathering, feeding a large family gang with very little notice. It's one of those choose-your-own-adventure dinners as everyone gets to add their own fixings – half the fun is in piling your tortilla too high with guacamole, salsa and sour cream so that the beans start to fall out the bottom. Messy but fun! Heat a little oil in a large frying pan and gently fry 1 chopped onion and 2 sliced garlic cloves until soft. Add 2 tins of kidney beans and 2 tins of black eyed beans (all drained and rinsed) to the pan, along with 400mls of vegetable or chicken stock and a large handful of chopped coriander, including the leaves and stems. Simmer and mash on a low heat until it's a sticky, but not too sloppy, paste. Dish up with warm tortillas, plain guacamole, chilli-flecked salsa and sour cream. Serves four.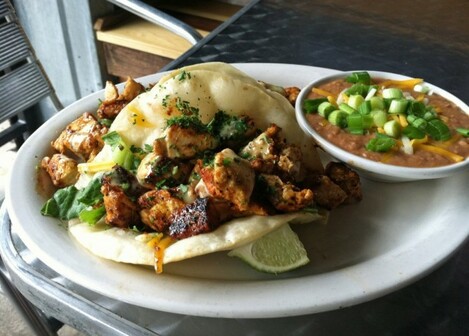 Source: Shutterstock
5. Butter bean, tomato and spinach curry
This curry comes together quickly (see the recipe here), taking only 25 minutes to simmer on the stove, but if you have time to let it sit for longer, the spices combine to create even more depth of flavour. Easiest option: cook it the day before, leave in the fridge overnight and add the final ingredients – garam masala, lemon juice, spinach and fresh coriander – when you're heating it up. I've brought this to many everyone-brings-a-dish dinner parties, and it always gets gobbled up. Eat with basmati rice, natural yoghurt and warm naan bread. Serves six to eight.
6. Homemade houmous mezze
After a visit to Beirut last year, I became slightly obsessed with houmous. It's a serious business there with restaurants being judged solely on the quality of their houmous offerings, the best being light, smooth and creamy with a well balanced flavour. For a simple version, I put one can drained and rinsed chickpeas with 100g well-stirred tahini, the juice of one lemon, three tablespoons of extra virgin olive oil, salt/pepper and three tablespoons of water into the bowl of a food processor. Blend until smooth and silky. Chill well, then spread on to a plate and sprinkle with 100g minced lamb or beef, fried until crispy, with a sliced garlic clove, ½ teaspoon ground cumin, a pinch of chilli flakes and seasoning. One of life's great pleasures is cold houmous and hot meat, all scooped up together with pitta bread. Serves four as part of a mezze spread.