WHEN MOST OF us first begin cooking for ourselves and our loved ones, it can feel like a triumphant mini-miracle when we manage to get something edible on the table – taste and flavour don't necessarily come into it at this stage.
But what are the steps that take a beginner cook to the next level of culinary exploration? What are some simple ways a person can improve their cooking skills?
Food writer and home cook Aoife McElwain has recently graduated from being a competent beginner to a regular purveyor of rather decent home cooked meals. Here are some of the tricks she's picked up along the way, and a few tips from some of the people she has learned from. 
1. Get acquainted with your salt and pepper. It's hard to believe that something so small could have such an astoundingly impactful effect on how our food taste. Get notions and eschew standard table salt for sea salt, and get yourself a good pepper mill. Your dinner will be elevated by a simple sprinkle and twist.
2. Use fresh ingredients wherever possible. Whether it's mint, coriander or parsley, shop-bought or home-grown, a bunch of freshly chopped herbs can hide even the ugliest curry or stew and freshen up the dullest of salads or pasta dishes. Not only do they add flavour but fresh herbs can stimulate your sense of smell and sight, too.
Herbs aside, sometimes the missing ingredient to a sauce, a soup or a salad is a squeeze of lemon or lime. Go sweet with a squeeze of orange or bitter with a squeeze of grapefruit. One should always have some fresh citrus fruits in the house. Sourcing great quality meat, dairy, fruit and vegetables will change your approach to cooking and enhance your relationship with food. When you know where your food comes from, it might encourage you to treat it with more respect and care.
Source: Shutterstock/OksanaZubenko
3. Practice the same few dishes… a lot. Even if practice doesn't make perfect exactly, it definitely makes things easier on a fledgling cook. Pick three recipes and practice them until you positively master them. The perfect trio to start with are a good tomato-based pasta sauce, a roast chicken recipe and a lovely lemon drizzle cake. Once you've practiced and mastered these, you'll soon see that it's easy to divert from the basic principles that make these recipes work.
You can experiment with your tomato sauce by using it as a base for a sausage stew with preserved lemons. Roast your chicken with a hint of Middle Eastern flavours by using Ras-El-Hanout. Make a blood orange and rosemary drizzle cake instead of a lemon drizzle cake. When you practice and master basic recipes, you'll soon see there are patterns in cooking that you can follow and use as launching pads for your own experimentation.
4. As much as possible, plan your meals in advance. It's often when you're caught on the hoof that you settle for underwhelming take-aways or end up eating cocoa pops for dinner. That's fine every once in a while but a little bit of planning goes a long way when it comes to elevating your suppers, especially on weeknights.
Ali Honour, chef and owner at Ali's Kitchen in Cork, promotes planning as a skill for a good home cook. "A good rule to being a better home cook would be to plan your weekly meals so that you know what you're buying," says Honour. This will give you more time in your busy week ahead, as well as helping to cut down on food waste while saving you money."
For Ali Dunworth, food writer, TV producer, stylist and consultant, lists are where it's at. "For cooking, and especially if you'r doing two or more recipes together or a big meal, I always break the recipes down into my own running order and timing list, and tick things off the list as I go. It gives me great satisfaction, and I'm less likely to forget to put things in and out of the oven, for example."
5. Always have your staples on hand. Hot sauces. Soy sauces. Mustards. Spice mixes. Fancy condiments. Salt with notions. You simply must have a good storecupboard built up if you want to get to the next level of home cooking. Niamh Fox, chef and owner of the newly opened Little Fox in Ennistymon, Co Clare, agrees. "Always have condiments in your house. Food and snacks are so easy to whip up if you just have some tasty stuff to put on it," she says.
"Try boiled broccoli and toasted sesame oil – yum – or cook brown rice and add tamari, toasted seeds and chilli oil. That's a delicious meal and you've actually only cooked one thing. It's all in the sauce." Luckily, we put together an essential list of 10 storecupboard staples recently. This top "ten" actually includes nearly twenty essential items. You're welcome.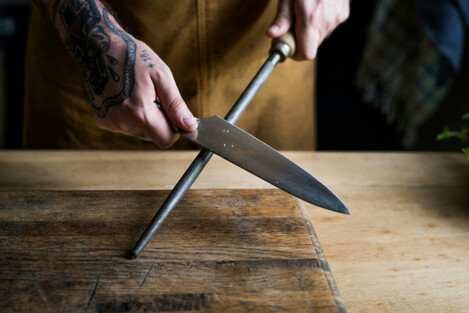 Source: Shutterstock/Rawpixel.com
6. Buy a few good bits of equipment (not every gadget under the sun). "Spend money on the right equipment," advises Myles Lamberth from Shells Cafe in Strandhill, Co Sligo. "Buying the best ingredients is what will make you a better cook, so consider that when buying your knives, pots and pans."
7. And learn how to use them properly. Once you've invested in a few good pieces for your kitchen, the next step is to learn how to use them. Rachel Flynn, owner and chef at independent delicatessen Salt & Stove in Dublin 8, emphasises the importance of knife skills in particular. "You can take a class in knife skills or watch YouTube videos," says Flynn. "Either way, learning how to chop veggies fast or debone a chicken all while keeping your fingers intact will make your life in the kitchen much more enjoyable." YouTube is also your friend when it comes to instructional videos for basic skills like poaching eggs, chopping an onion efficiently or cooking steak exactly how you like it.
8. Do your research…  in whatever way you enjoy most. Sure, cookery shows on TV tend to ramp up the drama and there isn't much for a home cook to learn from an angry celebrity chef shouting at contestants in an outlandishly pressurised competition. There are, however, genuine lessons and tips to be learned from the more demure shows like Great British Bake Off or How To Cook Well with Rory O'Connell.  Read about food in cookbooks, online and in magazines. A marvellous book for those who are looking to stretch their cooking muscles is Nikki Segnit's The Flavour Thesaurus. Not quite a collection of recipes, it instead helps you understand what flavours work together and guides you towards understanding food at a level beyond strict recipes. And don't forget that eating food is research, too.
9. If you're baking, start with everything at room temperature. Caryna Camerino, owner and chief baker of Camerino Bakery on Capel Street in Dublin, says that most cake and cookie recipes work best when the butter, milk and eggs are all at the same room temperature. "Take the ingredients out of the fridge about an hour before you begin," she advises. If it's pastry you're making, however, cold butter is best. 
10. Clean as you go. Harry Colley, chef at The Fumbally Cafe in Dublin and co-host alongside chef Aoife Allen of the With Relish podcast, says the secret is to clean as you go. "There's nothing more stressful than being surrounded by mess," he says. "It sucks all the fun out of cooking and clogs your headspace. Anytime I've injured myself cooking, the place was a state. If there's tonnes of washing up at the end it'll discourage you from cooking at all. And if you have an 'I cook, you clean' scenario at home, then the person cleaning up a disproportionate mess after you will resent you even if they say they don't. Keep on top of the cleaning up by doing a quick counter wipe and a three minute sink scrub to clean as you go."
11. And finally, remember: you're not on Masterchef. Perhaps the most potentially transformative thing for a home cook to regularly remind yourself that you are not a contestant on Masterchef. Striving for perfection is fine for professionals but you're just cooking for yourself and your loved ones, right?
Don't worry if you make a mistake or something doesn't turn out quite right – learn from it and move on to the next recipe. Relax into cooking and use it as a way to wind down, instead of winding yourself up about soufflés and sous-vides. A relaxed home cook is a happy home cook, and some people say that a cook's happiness can be tasted in their food.