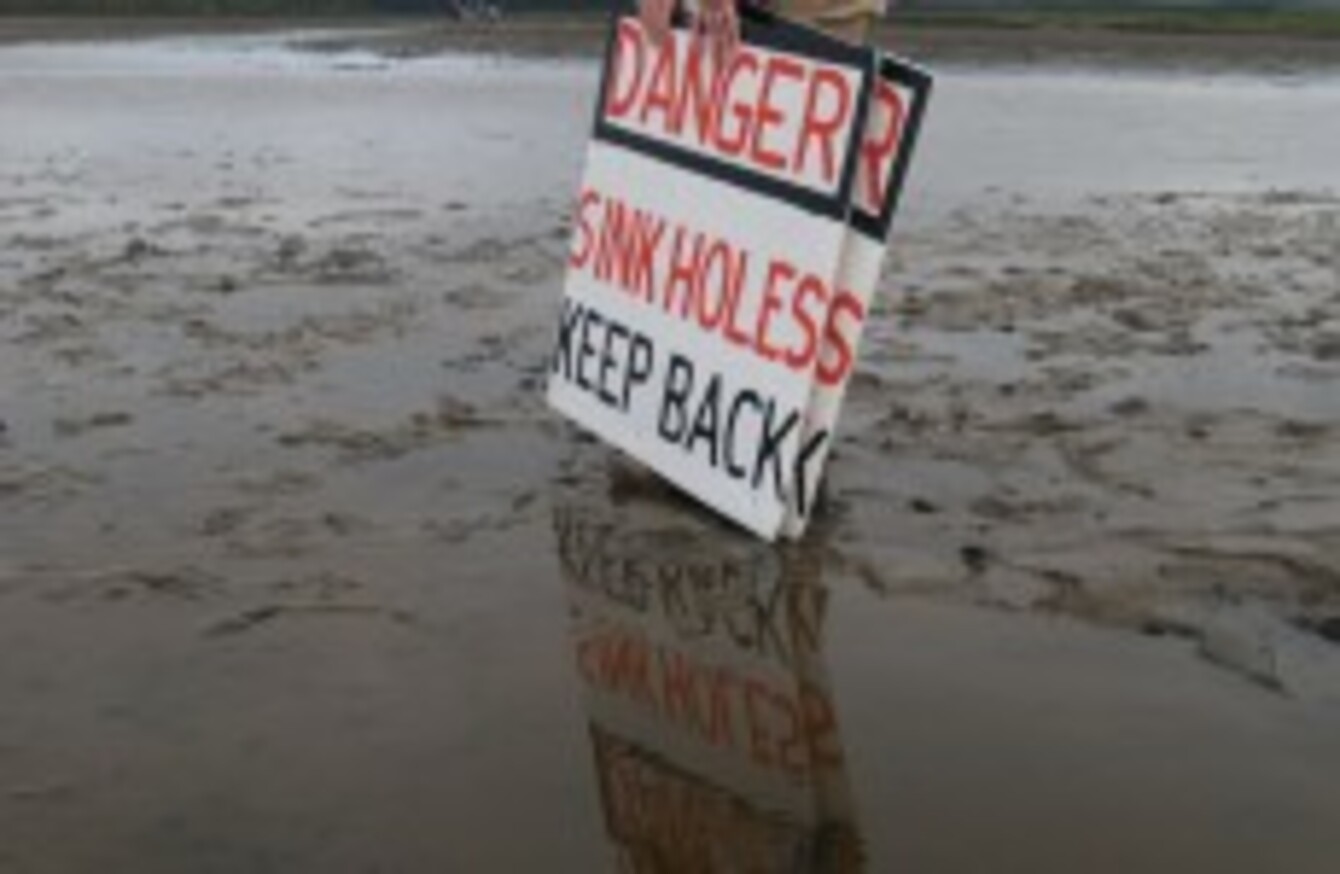 Shell to Sea's homemade warning signs
Image: Shell to Sea
Shell to Sea's homemade warning signs
Image: Shell to Sea
MAYO COUNTY COUNCIL is insisting that a series of depressions noticed by locals along Sruwaddocan Estuary in the north of the county pose "no danger to the safety of the public". They're also disputing the description of the size of the holes given by locals.
Shell Ireland is currently in the process of laying a pipe underneath the bay as part of the Corrib Gas Project, and the council says the holes – first noticed in May of this year – are a natural part of the construction process. According to a spokesman:
Tunnelling is currently underway and will continue for approximately twelve months. As a natural part of this process small depressions may appear on the beach and along the foreshore.
These depressions are typically some 400 mm to 500 mm deep with a diameter of a meter to a meter and a half.  They will fill in by way of normal tidal movements over time.  This process may also be assisted by the intervention of the developer.
Shell to Sea – which is campaigning against the pipeline – says however that some holes of between 4 and 8 feet deep have been discovered in recent months.
Speaking to TheJournal.ie earlier this week, spokesman for the group Terence Conway said they felt compelled to warn people of the danger posed by the phenomenon. Around 20 people turned out at the weekend to erect signage around the area.
However, according to the council:
Contrary to some reports these depressions pose no danger to the safety of the public and are being monitored on an ongoing basis.  The Council wish to allay any concerns the public may have in this regard.

All health and safety issues in relation to this tunnel are closely monitored by the Project Monitoring Committee, and the Department of the Environment, Community and Local Government.
Conway filmed this clip of the 'sinkholes', which he described as "starting off very gradually with air bubbles coming out, before getting bigger and deeper":

The Department of Energy says it has dispatched a tunnelling expert to examine the phenomenon, and that the most recent site visit was conducted this week.
A spokesperson for the Department told TheJournal.ie:
The developer has notified the Department about depressions in Sruwaddacon Bay which are caused by air escaping during TBM (Tunnel Boring Machine) 'intervention' maintenance.

The depressions in the Bay are being considered in the context of the site review and a report will be submitted by Environ to the Department in due course. In keeping with its normal practice, the Department will publish this report  once available.
Shell E&P Ireland didn't return phonecalls enquiring about the issue.