Updated at 4pm
GERRY ADAMS INSISTED his party's programme of 2016 commemorations shouldn't be seen as a "counter event" to the Government's plan, as Sinn Féin launched a wide ranging schedule of parades, re-enactments and exhibitions.
'It's not counter to anything," he told reporters after the event.
The Government aren't doing anything.
This morning's launch by the party president — who was accompanied by fellow heavy-hitters Martin McGuinness and Mary Lou McDonald — follows widespread criticism of the Government's official programme of events.
A number of relatives of 1916 participants also attended the announcement, in a function room at Wynn's Hotel, just off O'Connell Street.
James Connolly Heron — the great grandson of James Connolly — said many of the relatives were happy to support Sinn Féin's programme. He noted that they welcomed events being organised by anybody.
The flagship event in the party's plans will be a long-running exhibition at the Ambassador Theatre, at the top of O'Connell Street.
'Revolution 2016' opens at the end of February next year, and will run for 33 weeks.
The party's promotional material describes it as a "Visitor Attraction standard exhibition featuring the background, day by day account and legacy of the 1916 Rising through different mediums and artefacts".
Elsewhere, images will be projected onto the GPO as part of a 3D 'visual arts project' that will run nightly over 24 to 29 April next year (the actual dates of the Rising).
From their brochure, again:
Watch as the GPO comes under shell fire and catches fire, see the rebels escape and their last stand. Witness the trials and experience the executions before the grand finale interpreting the events that followed the Rising.
There'll also be a re-enactment of O'Donovan Rossa's funeral at Glasnevin in August, parades on Easter Sunday itself, in March next, and a special event to remember the 'Women of the Revolution'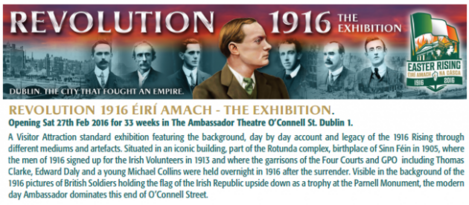 Source: Screengrab/Sinn Féin
Pictured are Sinn Fein President Gerry Adams TD, Vice President Mary Lou McDonald TD, and Martin McGuinness with reanactors Jim Roche, 2nd from left, who portrayed Padraig Pearse, and Dave Swift. Source: Mark Stedman/Photocall Ireland
The Government's main planned parade next year is for Easter Sunday on March 27. A mass will be held at Arbour Hill on 24 April.
Launching its official programme late last year, the coalition pledged that events would be inclusive, and asked for individuals and groups to give their input on what should happen via the 2016 website.
Special Guest
Meanwhile, at the start of today's proceedings, Mary Lou McDonald introduced a 'special guest' to officially kick things off.
In a slightly surreal sequence of events, an actor dressed as a 1916 rebel introduced his colleague 'Padraig Pearse' to read from the Proclamation (Jim Roche — you may recognise him if you've ever done the Glasnevin Cemetery tour).
The party's centenary co-ordinator Bartle D'Arcy then rattled through the schedule of planned events (it took a while) before introducing a promotional video.
Unlike the much-criticised official promo (since deleted from the Government's website) — he stressed that it featured none of the heroes of modern Ireland, like, for instance, Bob Geldof. 
Source: Sinn Féin/YouTube
Speaking later, Gerry Adams said the Government's official launch last November at the GPO had been "like a scene out of Sean O'Casey play".
The great and the good were on the platform, but their voices were drowned out periodically by the anti-austerity, anti-water charge protesters banging the doors and windows. That I thought [was] very much a metaphor for our times.
He described the controversial video as a "joke… a bad joke" and said it was reflective of the Government's "shambolic attitude" towards 1916 and the Proclamation.
Wrapping up proceedings, South Dublin Mayor Fintan Warfield took to the podium with an acoustic guitar, as the invited guests — including the ambassadors of Cuba and Palestine — stood for a rendition of 'Amhrán na Bhfiann'.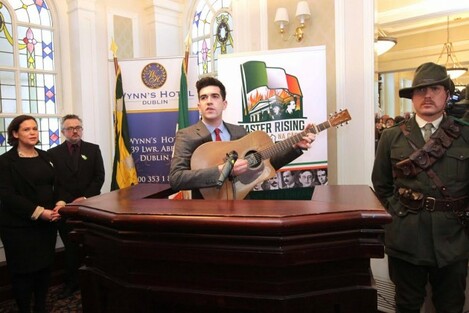 Source: Mark Stedman/Photocall Ireland
In a statement later this afternoon, a spokesperson for Arts & Heritage Minister Heather Humphreys — who is heading-up the Government's 2016 initiative — said plans were progressing "extremely well".
The Minister updated the Taoiseach and other ministers on progress this week, including a schools programme, which is being finalised with the Department of Education.
"Minister Humphreys believes the commemorations belong to everyone, and her Department is partnering with local authorities to develop community events so as many people as possible can get involved."
Further elements of 'Ireland 2016' will be unveiled in due course, the spokesperson said.