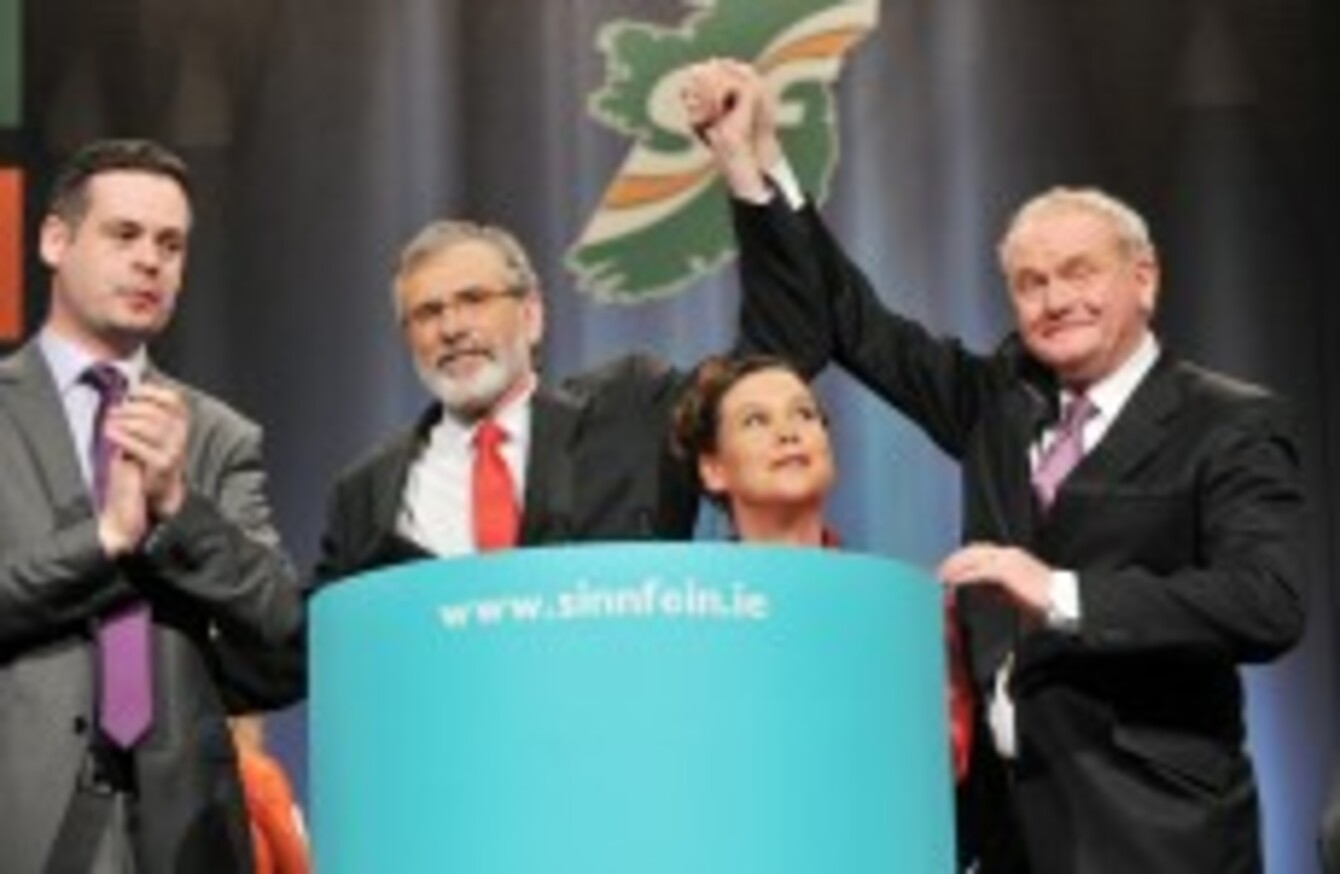 Pearse Doherty, Gerry Adams, Mary Lou McDonald and Martin McGuinness at last year's Ard Fheis.
Image: Photocall Ireland
Pearse Doherty, Gerry Adams, Mary Lou McDonald and Martin McGuinness at last year's Ard Fheis.
Image: Photocall Ireland
SINN FÉIN IS gathering in Wexford this weekend for the party's annual Ard Fheis where delegates will hear from senior party figures and ordinary members over the next two days.
As well as a copy of the 1916 Proclamation and a helpful glossary of Irish terms translated into English, the clár or agenda for the event includes some 176 motions that delegates will debate and vote on between now and Saturday night when president Gerry Adams will give his keynote address.
Among the motions are calls for the continued opposition to and eventual ending of austerity, calls for a united Ireland and pursuing a 32-county strategy on many policies.
We've picked out a few motions that have caught our eye and will be considered this weekend:
1. Decentralisation
Motion 4 expresses concern about the regional disparity in economic recovery and calls for the "exploration of the potential social and economic benefits of decentralisation of public sector jobs out of Dublin and Belfast". This is interesing in light of the fact that the much-lauded decentralisation by a previous government in the early 2000s was largely viewed as having failed. In fact it was scrapped altogether by the current administration two years ago.
2. Another semi-state… in the cloud
Motion 9 calls for the creation of a semi-state company that would "provide a reliable cloud computing platform hosted in Ireland" for businesses to help operate and grow their enterprises. Given the controversy over Irish Water, one would have thought there wouldn't be a lot of appetite for another semi-state right now or indeed in the years ahead.
3. 4G for everyone
Not content with a cloud computing semi-state, Motion 13 calls for the provision of 100 per cent 4G mobile phone coverage across the island. Who pays? The Northern Executive and the governments in London and Dublin. The motion also calls for the abolition of roaming charges across Ireland.
4. No more charity for religion
Motion 18 calls for the status of religious institutions as charities to be revoked in the "26 counties" or Ireland, as most of us know it. It also says that religious institutions "should not have a special position" in Irish society, so as that the same tax laws should apply to them as to ordinary companies.
5. A police watchdog
Given recent controversies over penalty points, Motion 42 is pretty timely in that it calls for a "truly independent policing authority" in the 26 counties with legislation to give effect to this.
6. Political training
Among the motions under the 'Party Development' section are Motion 50, which calls for the roll-out of a new Sinn Féin political training course ahead of the European and local elections. Other motions in this section focus on gender quotas, condemn the media's treatment of women, and call for a review of party structures ahead of the 2016 elections.
7. Conscience vote on abortion
Motion 58 calls for all Sinn Féin members to be allowed to "articulate and vote on the issue of abortion according to their conscience". A motion similar to this was backed by TD Peadar Tóbín last year but defeated. Now back in the party, Tóibín will doubtless be pushing this matter again ahead of a possible Dáil vote on legislation to include fatal foetal abnormalities as grounds for a termination.
#Open journalism No news is bad news Support The Journal

Your contributions will help us continue to deliver the stories that are important to you

Support us now
8. No more fluoride
It wouldn't be a party conference if there wasn't a debate on the merits of fluoride. Motion 83 states that there are "no longer any public health reasons to continue water fluoridation" and calls for the repeal of legislation which gave effect to this. Unlike with other parties, this motion is backed by Sinn Féin's parliamentary members in the 26 counties, no surprise given it recently introduced a bill in the Dáil which would have repealed the Fluoridation of Water Supplies Bill. The government rejected it.
9. Viva Venezuela
Among the party's motions on foreign policy is Motion 116 which commends Venezuela president Nicolas Maduro "and his comrades" for their continued success in implementing the Bolivarian Revolution in the trying circumstances after the death of Hugo Chavez. The motion also condemns "the attacks of the right-wing forces on the democratic process" in the country and attempts to destabilise Maduro and his "clear and transparent" victory in last year's elections. Not something that all western governments would agree with.
10. Pylons
There is already a meeting on the fringes of the conference being planned to debate the whole pylons issue and the lengthy Motion 127 calls for the government to proceed with the proposed projects only on the basis that they will be underground – essentially opposing all plans to install high voltage electricity lines overground. The debate on this is sure to be heated, but will anyone articulate a position that under grounding may not possible in all cases?
11. Youth quotas
Motion 155 calls for a "youth quota" for elections to public office which it says can counter the "current age imbalance [that] is so severe that a youth quota is necessary". The idea would work similar to a gender quota, though the motion acknowledges that it is not a "cure-all". It's an interesting idea nonetheless.
All pics: Photocall Ireland