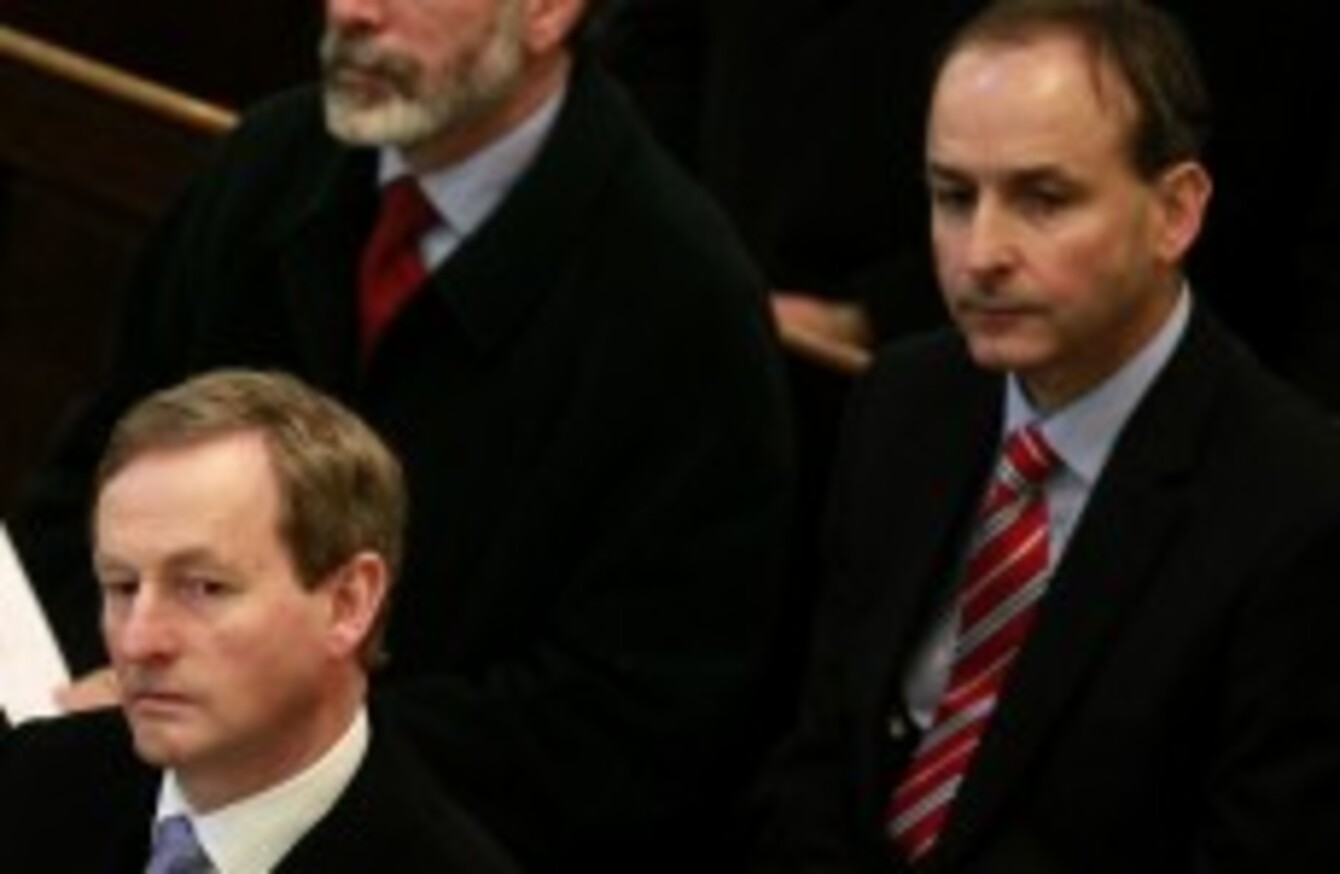 Fine Gael leader Enda Kenny and his Fianna Fáil counterpart Micheál Martin
Image: Peter Morrison/AP/Press Association Images
Fine Gael leader Enda Kenny and his Fianna Fáil counterpart Micheál Martin
Image: Peter Morrison/AP/Press Association Images
SINN FÉIN HAS welcomed a call from former minister Mary O'Rourke for Fianna Fáil and Fine Gael to put aside historic differences and go into coalition government after the next election.
The party's education spokesperson, Jonathan O'Brien, said today that there is "no difference at all between the social and economic policies" of the two parties in response to O'Rourke's comments.
O'Rourke, a former Fianna Fáil, is reported to have told the William Carleton Summer School in Tyrone yesterday that Fianna Fáil and Fine Gael should give "serious thought" to coming together after the next general election.
The parties have been divided historically by their stances on the Anglo-Irish Treaty with Fianna Fáil formed by Éamon de Valera in the wake of his and others' opposition to the treaty which created the Irish Free State and was supported by those who would later form Fine Gael.
But O'Brien said that uniting the two in coalition would "put a stop to the carry-on in the Dáil where they pretend to disagree with each other".
However the Cork North Central TD said a coalition of the two parties would not be good for the country in his view or that of his party.
"While she [O'Rourke] may think that unity of the two parties would be good, it would be a disaster for working people to see such a party in government," he said.
"They are both parties which favour protecting the banks and big business and imposing vicious austerity policies on working people."
Earlier this year, Micheál Martin told TheJournal.ie he would not rule out the possibility of going into coalition with Sinn Féin or Fine Gael at the next general election, saying it was "far too early" to talk about the matter.
Current opinion polls would indicate that no party in the country will have an overall majority after the next general election meaning a coalition government is likely.