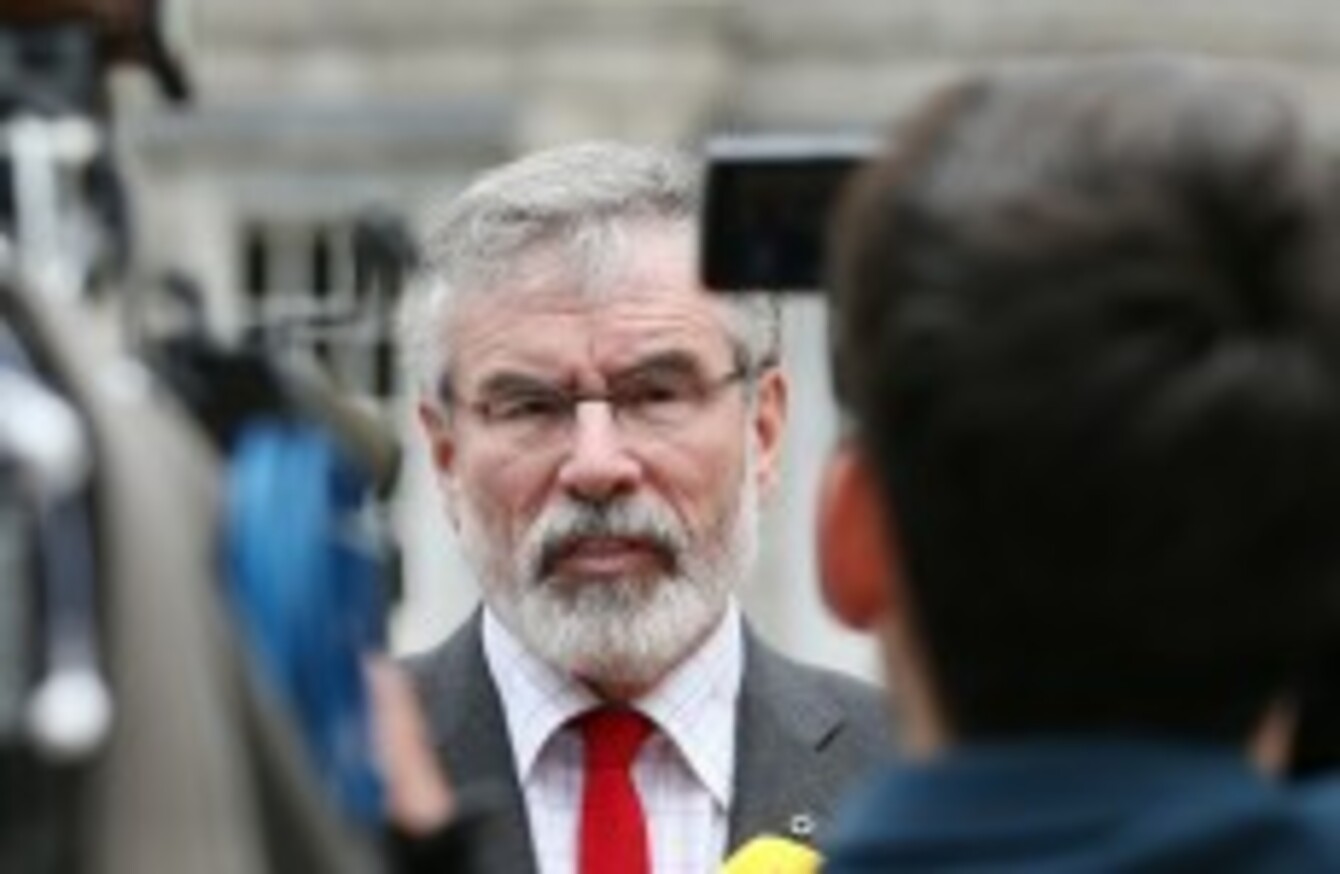 Gerry Adams
Image: RollingNews.ie
Gerry Adams
Image: RollingNews.ie
Updated 4.30pm
SINN FÉIN HAS hit back at criticism from government and opposition politicians amid ongoing controversy over the killing of Kevin McGuigan.
Veteran TD Caoimhghín Ó Caoláin said that comments from Environment Minister Alan Kelly and Fianna Fáil leader Micheál Martin were an attempt to "thwart" the political advancement of Sinn Féin.
Kelly said earlier that Sinn Féin leader Gerry Adams' claims last night that the IRA has "gone away" since 2005 had only made matters worse.
While Martin said there was an "interchangeability" of Provisional IRA members and officers in regard to supporting the political project that is Sinn Féin.
The controversy centres on comments made by a PSNI superintendent Kevin Geddes that one of the major lines of inquiry into the death of former IRA prisoner McGuigan is that "members of Provisional IRA were involved in this murder".
The PSNI chief constable George Hamilton then said on Saturday that the PIRA still exists but is no longer engaged in terrorism.
He said that individual members cooperated in the shooting of Mr McGuigan in east Belfast on 12 August but said there is no evidence the killing was sanctioned by the organisation.
Adams said last night that none of the groups that claim "the proud name of the Irish Republican Army" have a right to that title.
But Kelly said these remarks had only made it worse, telling reporters in Dublin: "What Gerry Adams needs to come out and say is not that the IRA have gone away, what he needs to say is that they don't exist any more. That's what people want to hear.
They don't want to hear that they've gone away, that they're not meeting. What we need to hear is that members of the IRA are not involved in murder, in drugs, and a whole load of other criminal activity and that they use an old network to do so.
"What he needs to say is that they actually don't exist any more and, you know, I challenge him to say that.
Not that they have gone away, that they have decommissioned, we know all of that, that's what has been put out there and I accept that. But I want to know that the IRA have gone away.
Kelly also said it was "laughable" that Adams maintains he was never a member of the IRA.
Speaking to Today with Keelin Shanley on RTÉ Radio this morning, the Fianna Fáil leader Micheál Martin said that the PSNI chief constable had been clear that the IRA still exists.
But the crucial point is this if someone in the morning if the Chief Constable or the Garda Commissioner in the morning said there's an armed wing to Fianna Fáil or Fine Gael or to Labour I mean people would… there would be uproar. There would be absolute uproar in response to any such scenario.
He went on to say:
Let's be clear – there is a purpose to the IRA. It's about community control and the murders in the last two to three weeks have if you like removed the veil if you like has exposed the reality of what actually is the situation in terms of the IRA and Sinn Féin – the interchangeability of its members and its officers in regard to supporting the political project that is Sinn Féin.
Martin called for an in-depth review of the status of the PIRA and the degree to which the organisation may be exerting influence in the North.
Responding to the comments, today Ó Caoláin said that IRA is gone and no longer exists.
"With an election looming it is no surprise that other parties have attacked Sinn Féin. This is highly cynical and wholly self-serving," the Cavan-Monaghan TD said in a statement.
He later told reporters outside Leinster House:
We are not at all surprised that other political bodies North and South are seizing on this situation arising from the Chief Constable of the PSNI to recommence what has become a regular patent of trying to thwart the political advancement of Sinn Féin. I can assure them their efforts will most assuredly fail.
- additional reporting from Daragh Brophy