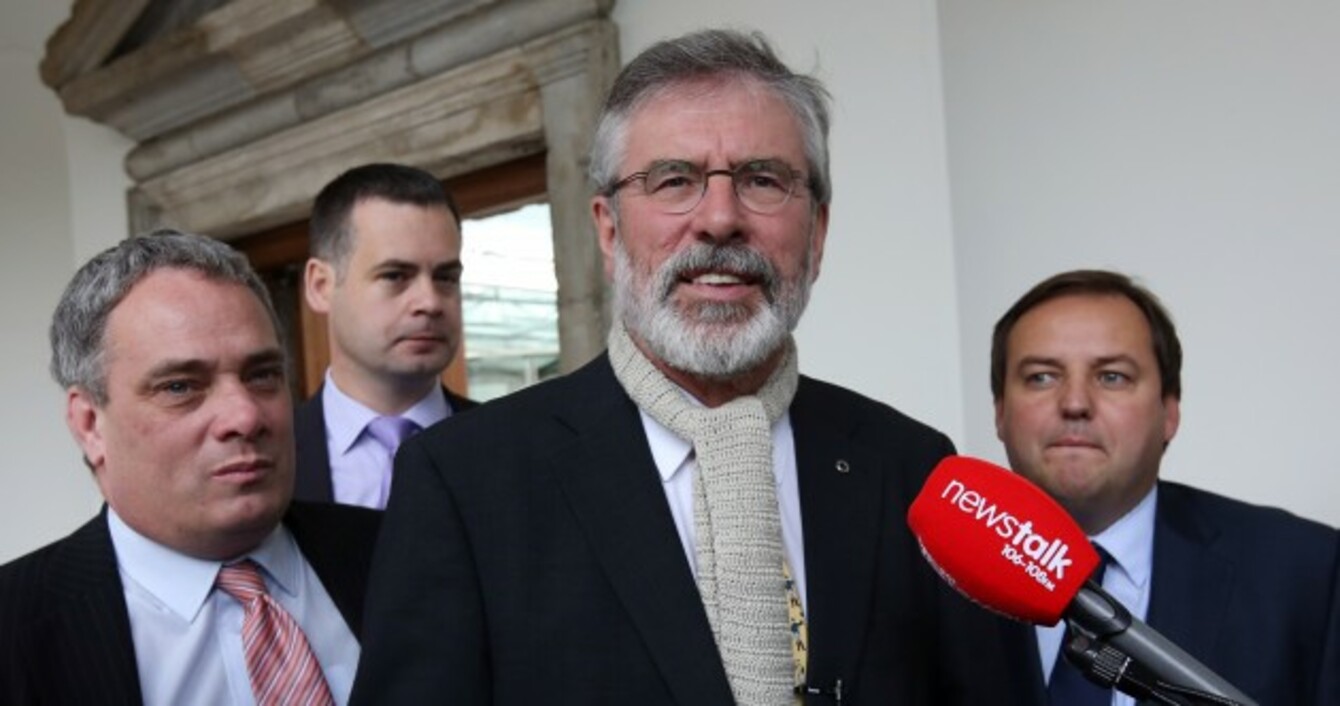 Aengus Ó Snodaigh, left, is "inclined not to" pay his water charges, he said today
Image: Laura Hutton/Photocall Ireland
Aengus Ó Snodaigh, left, is "inclined not to" pay his water charges, he said today
Image: Laura Hutton/Photocall Ireland
Updated 3.36pm 
SINN FÉIN TD Aengus Ó Snodaigh has said he is "inclined not to" pay his water charges bill.
At the launch of the party's pre-Budget submission in Dublin today, TheJournal.ie asked five of Sinn Féin's most prominent deputies if they would be paying their own domestic water charges.
While party president Gerry Adams, deputy leader Mary Lou McDonald, finance spokesperson Pearse Doherty and health spokesperson Caoimhghín Ó Caoláin all said they intended to pay, Ó Snodaigh said he hasn't decided.
The party's social protection spokesperson said: "I'm inclined not to, but I have to discuss with my wife." He said he would make a decision within the next fortnight.
To pay or not to pay has been a hot topic in the Dublin South West by-election where Sinn Féin candidate, and favourite for the seat, Cathal King has said he is not paying but is not advising his constituents to follow his lead.
Socialists v Sinn Féin
His position differs from Socialist Party candidate Paul Murphy who is actively encouraging householders to avoid paying their charges, saying this would be the most effective way of opposing and ultimately abolishing them.
King and Murphy are considered the two favourites for the Dáil seat ahead of Friday's vote.
In a statement responding to the four Sinn Féin TDs' commitment to pay the charges today, Murphy said they are effectively sending a message to people to pay the charges.
"They are effectively asking people to pay, vote for Sinn Fein and hope that they will be in government in 2016 and will stick to their election promise to scrap water charges. It is reminiscent of what the Labour Party would have previously argued," he said. 
Murphy said that people cannot wait for Sinn Féin to be in government and questioned whether the opposition party would honour the pledge to abolish water charges if they went into coalition.
The Sinn Féin position
Outlining her party's position today, McDonald explained: "For lots of people it's not you know a case of us telling them what to do. For lots of people they simply will not be in a position to pay and people shouldn't miss that fact.
"We've taken the same approach on this issue as we did in respect of the property tax when it was introduced and the household charge."
She said it would be "absolutely be irresponsible" for the party to encourage householders not to pay.
"We're also saying clearly to people, and it's been reiterated here today, the campaigning is essential, the protest is essential but at the end of the day the only way to see off domestic water charges is to change the law. That's the bottom line here," she added.