SIPTU HAS CONDEMNED what they called "Greyhound's tactic of distributing false and misleading information," after a message the waste management company sent to residents in Dublin this morning.
"Unfortunately, there will be a delay in collections in your area today due to a small group of SIPTU picketers who are not allowing us to collect your household waste safely," the email informed Greyhound customers in the Artane/Coolock/Marino/Killister area of Dublin.
This group of SIPTU picketers are deliberately following behind our trucks in groups of cars and stopping us from exiting our vehicles to collect your bins.The harassment and abuse of our collection crews has resulted in us having to stop collecting from your area this morning in order to defuse the situation.
The email also criticised the alleged pickets as "unsafe and illegal."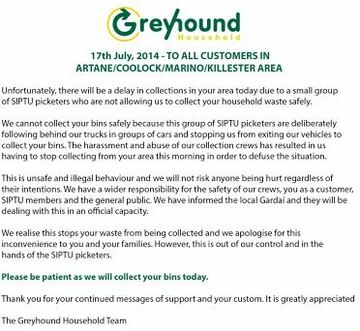 Speaking to TheJournal.ie this afternoon,  SIPTU Divisional Organiser Owen Reidy said he was not aware of any orchestrated activity by SIPTU members in the area today.
This is probably part of Greyhound's tactic of distributing false and misleading information. This is part of their PR strategy.We have two pickets ongoing at Knockmitten [Lane, site of Greyhound's Recycling and Recovery buildings], and they are fully compliant with the Industrial Relations Act of 1990.
In response to inquiries from TheJournal.ie, a spokesperson from Greyhound said the company was standing by the email sent to customers this morning.
There have been four separate attacks on Greyhound trucks in recent days: one involving a hammer being used to smash a windscreen, and another involving a knife being used to cut a cable.

Both of those cases involved masked men, and all of these incidents are being investigated by the Gardaí

We are again calling on workers to use the arbitration services of the state and go back to work.
However, a resolution to the ongoing lockout appears to be out of reach after this latest ratcheting up of tensions.
A spokesperson for An Garda Síochána told TheJournal.ie that they were aware of an alleged incident taking place this morning in Coolock.