Liveblog
HEAVY SNOW ARRIVED in Ireland overnight, causing Met Éireann to issue a red weather alert.
The snow-ice warning covers: Munster and Leinster.
Here are the updates from throughout the morning regarding travel, schools, work and retail disruptions.
Stay with TheJournal.ie throughout the day for more weather-related updates.
That's all for now, folks.
We'll be back later today with further updates.
"We're hoping that damage won't be like it was in Ophelia but we're in uncertain territory and we simply don't know what the impact will be," Hogan said.
Hogan said that the main roads across the country are working due to the salting that has taken place.
However, he is asking people to clear snow outside their own homes today because "it will be impossible to move tomorrow" if it is left there to get compacted overnight.
"Timing is critical on that particular issue," he said.
"Do not be out there from 4pm tomorrow. This is like Ophelia, it is a different type of safety concern but it is a safety concern," Hogan said.
Cusack said she thinks Storm Emma will continue to bring snow onto the island of Ireland until Saturday.
The snow that is to hit Ireland over the coming days is very dangerous from a visibility point-of-view, Evelyn Cusack has said.
A spokesperson from Defence Forces has said it has responded to eight requests for assistance.
"The nature of the tasks include patient lifts, meals on wheels and maintaining access to critical infrastructure," he said.
Evelyn Cusack is briefing the media now.
There is currently a Status Red warning in place in Maderia, where Storm Emma is currently, according to Cusack.
There will be gale force winds with gusts of about 110km/h once Storm Emma hits Ireland.
Dublin Bus will not operate tomorrow and Bus Éireann will not operate in Leinster and Munster.
Irish Rail will continue operations tomorrow morning but will begin shutting down at 12pm.
"If people need to travel they need to consider how they will be home safely by 4pm tomorrow," Hogan said.
He said employers will need to consider whether it will be safe to ask employees to come to work over the coming days.
"These are our warnings and advice about 38 hours out from the main event," Hogan said.
Met Éireann has issued a red level warning for Munster and Leinster due to the worsening conditions, Hogan said.
He said:
We have not experienced blizzard conditions since 1982. Having considered the Met Éireann warning, for reasons of public safety the NECG is advising that people should not venture outdoors when the red level warning is in place in your area.
Sean Hogan from the NECG is briefing the media now.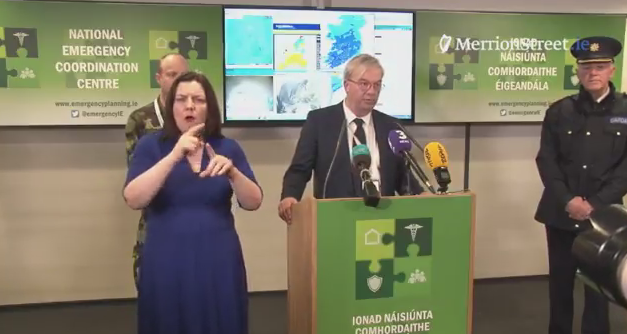 Sean Hogan Source: Screengrab via Livestream
He says heavier snow than anticipated fell overnight.
Met Éireann issued a red level warning at 5am this morning because of the snow that had already accumulated overnight, Hogan says.
Conditions on roads were very difficult overnight but he said salting of the roads have helped people travel today.
The snowploughing and salting will continue throughout the day today.
Minister for Housing Eoghan Murphy is up first.
He said it is a dynamic situation that is continuing to evolve.
"Tomorrow we are facing a different situation in Leinster and Munster," Murphy said.
Schools and third-level institutions will be closed in Leinster and Munster.
He is asking people to be at home by 4pm tomorrow.
There will be no Dublin Bus tomorrow, he said.
The National Emergency Coordination Group is briefing the media at the moment on the latest updates regarding the weather situation.
Source: MerrionStreetNews/YouTube
SCHOOL CLOSURES
All schools in Leinster and Munster are to close tomorrow, it has been confirmed.
The schools will stay closed for the rest of the week.
Aer Lingus has said there will very significant cancellations across its short-haul flights to and from Dublin Airport today.
However, it said it is aiming to operate a full transatlantic schedule.
All passengers are advised to check with the airline for updates before heading to the airport.
CORK AIRPORT UP AND RUNNING AGAIN
The runways and taxiways at Cork Airport have reopened after further snow and slush clearance by its maintenance teams.
Flights are reboarding and will resume immediately.
However, there are some Aer Lingus flights cancelled and Cork Airport is advising passengers to check with the airline in advance of travel today.
Dublin Zoo has closed to the public today.
However, zookeepers are still on duty making sure the animals are comfortable and safe.
DUBLIN AIRPORT CANCELLATIONS
All Ryanair flights to and from Dublin Airport have been cancelled for the remainder of the day today.
Ryanair has said all affected customers will be notified of their options by email or text message.
COLLEGE CLOSURE UPDATE
Following an emergency management team meeting at University College Cork this morning, it has been decided to end classes at 3pm today.
Staff may leave early, as necessary, from 3pm to ensure their safe return home, the university said.
UCC will close at 6pm this evening and will remain closed tomorrow due to anticipated worsening weather conditions overnight.
A decision about whether or not the university will open on Friday will be taken at lunchtime tomorrow and an email will be issued to all students and staff on Thursday by 2pm at the latest.
President Michael D Higgins has issued the following statement:
Now that the most severe weather alert has been issued for parts of the country, it is important that all those living alone, elderly or vulnerable become the concern for us all.
Please, with due care for yourself, make sure that neighbours are contacted and their needs met to the best of your abilities, and be helpful to frontline services.
EXTENDED RED ALERT
Met Éireann has issued a Status Red snow-ice warning for Munster and Leinster, warning that "blizzard-like" conditions are expected.
The warning covers the period from 4pm on Thursday until 12 noon on Friday.
A red alert warning was already in place for Dublin, Kildare, Louth, Wicklow and Meath from 5am today until 12 noon tomorrow.
Met Eireann warned that there will be heavy snow and strong easterly winds, which will cause significant snow drifts in many areas.
Snowy scenes
There are some beautiful snowy scenes across Ireland today – but also some traffic chaos.
Don't forget to send your clips to video@thejournal.ie, or tweet us @thejournal_ie.
Source: TheJournal.ie/YouTube
EMPLOYER ADVICE
Employers have been advised to put in place staff communication and safety plan in case the bad weather worsens over the coming days.
Neil McDonnell, head of small business organisation ISME, said it is "imperative" that business owners have a strategy in place to deal with red weather warnings.
When considering whether or not to call off work, business owners must bear in mind the greater risks to staff in certain roles like "on-the-road" jobs and certain sectors such as the construction industry.
Read more about employer advise at Fora.ie.
BE CAREFUL ON THE ROADS
The Road Safety Authority (RSA) is advising road users to take extreme care as many roads in parts of the country are treacherous and unpassable following the heavy snow overnight.
Drivers are being advised to:
Remove all snow from your vehicle before commencing your journey. Snow left on the roof will become loose and can drop onto the windscreen during breaking, causing severe restriction to your vision.
Clear windows and mirrors before you set out. Do not use hot water on the windscreen as it can crack the glass.
In snow and icy conditions slow down, use all controls delicately and leave extra distance between you and the vehicle in front.
In blizzard conditions, visibility will be reduced greatly. Do not drive on the tail-lights of the vehicle in front. This can give a false sense of security and you will be too close to be able to brake properly.
Use dipped headlights at all times.
Watch out for vulnerable road users such as pedestrians, cyclists and motorcyclists.
Drivers of high-sided vehicles like trucks and buses are particularly at risk from both the dangers posed by snow but also from the high winds associated with blizzard conditions.
MEDICAL SERVICES
Patients who have medical appointments or procedures scheduled for today are being advised to contact their hospitals, GPs or health centres to clarify whether they will be going ahead.
The HSE said:
If you have a hospital, GP or health centre appointment today please contact the facility to ensure it is still taking place.
Do not make any unnecessary journeys and if you need to cancel a scheduled HSE appointment because you are unable to travel, please make contact with the facility to advise them.
The Department of Social Protection has said all Medical Assessment Clinics throughout the country will be closed today and for the rest of the week. Alternative dates will be re-scheduled for customers.
FURTHER COLLEGE CLOSURES
DCU has now made the decision to extend the closure of all its campuses until Monday 5 March.
DUBLIN AIRPORT UPDATE
Dublin Airport operations have resumed following snow clearance on the main runway.
However, there are cancellations and delays due to the weather conditions.
People are being advised to check with their airline about any delays before heading to the airport.
FARMING CONDITIONS
Farmers are being warned to prepare for difficult days ahead as weather conditions deteriorate.
President of the Irish Farmers' Association Joe Healy has described farming conditions since the first snowfall yesterday as "difficult and challenging".
Some dairy farmers are struggling to keep water supplies flowing in milking parlours, he said.
"This is already a busy time of the year on most farms. However, the deteriorating weather, freezing ground conditions and continuing snowfall are now adding increased hardship and work on many farms," Healy said.
Regarding livestock, Healy said that "animals need to be well nourished in the cold weather and the possibility of getting them out to grass, given the current weather conditions, is now very much on hold".
He warned this will have an impact on fodder supplies.
Healy urged all farm families to continue to take the necessary precautions around their farms over the next number of days, to get through this difficult period and to make contact with their local IFA branch for support, where necessary.
LUAS UPDATE
The Luas red line is currently only running from The Point to Tallaght due to system failures.
No services are operating between Belgard and Saggart.
Fireman Sam has flown over from the UK to give a helping hand to Dublin Fire Brigade.
ULSTER BANK CLOSURES
Ulster Bank has closed all branches in counties where a Status Red weather warning has been issued.
These counties include Dublin, Kildare, Louth, Wicklow and Meath.
Mobile branches in Limerick, the Midlands and Cavan will also close today.
"Our telephone, Online Banking, Mobile Banking and ATM services are all still available," A spokesperson from Ulster Bank said.
DUBLIN AIRPORT DELAYS
Dublin Airport has temporarily suspended flight operations to clear the main runway.
Those expecting to travel are being urged to contact their airline to see if they will be hit by delays.
Today's National Emergency Co-ordination Group meeting has gotten underway.
Evelyn Cusack of Met Éireann is currently briefing the meeting on weather forecasts for the week.
Further updates on the meeting will be provided later today.
Rehab Group has announced that all National Learning Network and RehabCare services in counties that a Status Red warning has been issued will be closed today.
These counties include Dublin, Kildare, Louth, Wicklow and Meath.
Rehab Group is asking users in all other counties to contact their local centre in relation to service closures and openings.
"We are closely monitoring weather warnings which are being issued by Met Éireann," the group said.
Further updates from Rehab Group are available from its website and social media.
Homelessness services to remain open
Homelessness charity Depaul has put provisions in place to keep more than 200 emergency one night only beds open 24hrs a day during the severe weather forecast for this week. Brú Aimsir, Little Britain Street, Mount Brown and Blessington Street will remain open 24 hrs until Sunday 4 March.
Events cancelled
Radio Nova has postponed its annual charity radiothon as Dublin and surrounding counties suffered significant snowfalls overnight. The station intend to run its 'Help Our Homeless' Radiothon, in association with charity Focus Ireland, today and tomorrow.
The British Irish Chamber of Commerce cancelled its Agenda 2018 event entitled "Brexit 1 Year On: What has happened and what is next?" due to take place tomorrow morning.
The Green Party launch on public housing today has been cancelled due to the Red Weather Warning in place.
A timely reminder of how dangerous this weather can be.
At least some people are having the craic
In times of snowy strife, sometimes all you can do is have a laugh and make the best of it all.
Introducing #BeastFromTheEastSongs:
Traffic update for south Dublin
Reports coming in from motorists in south Dublin: Avoid Mount Merrion Avenue uphill if you're out. Cars are spinning all over the place and being abandoned."
The latest on train delays
Fingal parks closed in Dublin
Kildare traffic
More from gardai this morning.
Leixlip: Due to current weather conditions Confey rail bridge, Captains Hill and Kellys Lane in Leixlip are not passable.
IKEA has shut
OK. It's official – now we should panic (not really). IKEA has shut its stores in Ballymun and Carrickmines.
In a statement, the Swedish furniture store said: "Due to adverse weather and in the interest of safety for both our co-workers and customers, the IKEA Dublin store in Ballymun and the IKEA Order and Collection Point in Carrickmines will be closed today, Wednesday 28 February 2018. We apologise for any inconvenience this might cause our valued customers."
Gardai have issued a warning as a result of the snow.
A spokesman said: "Heavy overnight snowfall has led to accumulations of snow between 5 and 10cm. Snow showers will continue to occur during today and again tonight with further accumulations. Total snowfall up to midday Thursday may reach 25cm.
"Gardaí are advising motorist and all road users to use caution on our roads. Leave sufficient room between you and the car in front and drive within a speed where you can stop in time."
Meanwhile, officers have warned of delays on the N3 following two breakdowns.
Latest traffic news
These are the latest travel conditions on our roads, according to AA Roadwatch.
There are very poor conditions on the M9 in Kildare with the northbound side blocked near J3 Athy due to collisions and poor conditions. Gardaí reporting treacherous conditions in that area.
The on ramp from the N3 inbound to the M50 northbound at J6 Blanchardstown is impassable at the moment as a truck is stuck halfway down.
There is a crash on the Lucan Rd (R120) in Adamstown, partially blocking the road and affecting traffic lights.
Potential delays at Dublin Airport
Runways and taxiways have been cleared at Dublin airport. Those expecting to travel are being urged to contact their airline to see if they will be hit by delays.
Going courtin? No, no you're not
Courthouses in Dublin and other Red Alert counties not opening today. The rest of the courthouses around the country are open as normal
More college closures
DCU becomes the latest college to close its doors as a result of the weather.
Snow looks good on us
Hopefully, your commute is going alright. You may even be one of the lucky ones who get to take the day off.
Whatever you're at – here's what a snow hit Ireland looks like this morning.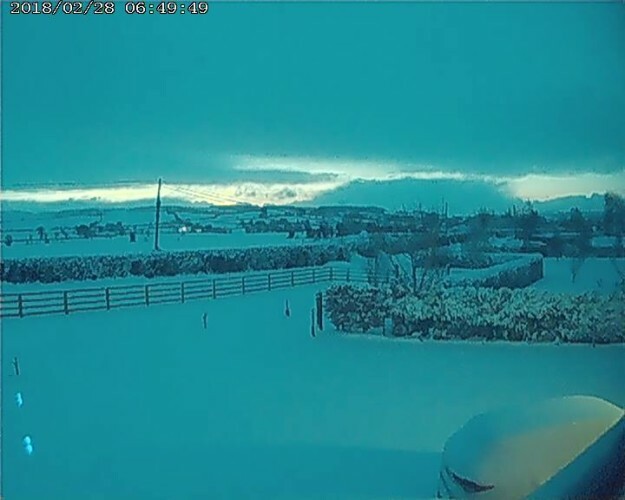 Timogue, Stradbally, Laois Source: Michael Kelly
Ballymun. Source: Siobhan Kinsella
Sallins in Kildare. Source: Georgia O'Shea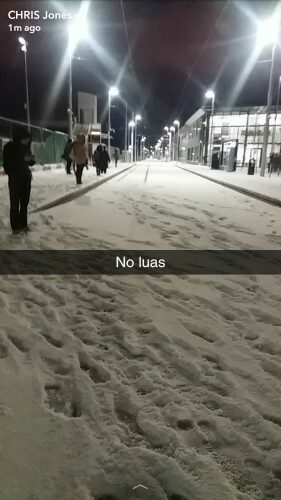 School buses in Dublin, Kildare, Louth, Meath, Wicklow not running
Bus Eireann has advised customers that School Transport Services in areas affected by the Status Red weather warning will not operate.
Below are the following routes affected nationwide.
East
Please note that all P.S.O services in the East are not operating with the exception of sporadic services on the following:
100 Dublin – Drogheda
100X Dundalk – Dublin
126 Newbridge – Dublin
133 Wicklow – Dublin
All other public service obligation (PSO) services in the Eastern region are not operating.
No Expressway services from Dublin are operating
South East
Route 132, 0640 from Bunclody is cancelled
North East
Services to/from Cavan are cancelled
At present no services are operating ex Cavan until situation improves, services are cancelled  including 109X, 111A, 187
Athlone
Route 440 (06:45) Athlone-Westport  will not operate .
Route 461 (07:25) Athlone-Roscommon will not operate.
Route A1 and A2 are not operating at the moment on Athlone town service.
Cork
207 services only operate between Douglas Village and Dunnes Stores in Ballyvolane via North Ring Road
207A services (via Glen Avenue) do not operate
West Cork services in general (anything originating beyond Inishannon i.e. 236, 237, 238, 239) do not operate
240 services (Ballycotton / Cloyne) cannot operate as an artic truck blocks the road between Cloyne and Ballinacurra
241 service (Whitegate) operates via the main road
Carrigaline is still inaccessible / impassable so 220 services operate between EMC / Ballincollig and Douglas Village
South West
Route 323 Birr/Limerick – not expected to travel
Route 328 Galbally/Limerick – cancelled
Route 341 Cappamore/Limerick – cancelled
City Services are operating in Limerick, but delays are expected.
All services in Kerry operating with some delays.
Status Red warning issued because of heavy snow to come
Evelyn Cusack from Met Eireann has told Morning Ireland that there are quite a lot of heavy showers around.
She has said that the main reason for the status red is that there has been heavy snow and likely to be further accumulations today.
There's more showers developing in the Irish Sea.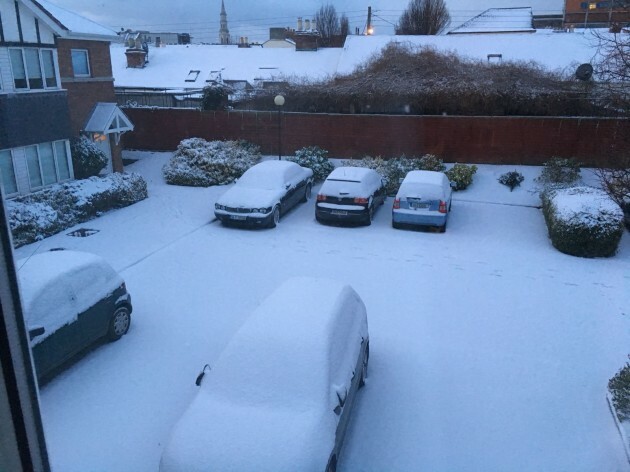 Dublin's north inner city this morning.
'Extremely limited service' on the Luas this morning
The Luas Green Line is NOT running from Bride's Glen to Sandyford. The Red Line is only running from Saggart to the Point.
UCD has closed
University College Dublin has said it is closing the university for the next two days.
It tweeted: "CANCELLATION OF CLASSES AND CLOSURE OF UNIVERSITY WED 28 FEB & THURS 1 MARCH With the a red weather alert for the east coast by @MetEireann and disruption to transport services by @dublinbusnews, classes (Belfield/Blackrock) are cancelled and the University is closed."
Some shots of the snow across Ireland
As we wait for some more travel news to come in – here's a few photos from around the country.
Got some photos of the snow? Send them our way to tips@thejournal.ie
Luas is running a limited service
Luas operators have just confirmed that a "limited service" will be in operation today as a result of the weather conditions.
Commuters warned to be wary of motorway sliproads
While the AA has said that there have been no major incidents on the roads overnight, it expects heavy volumes of traffic across the country in the next 90 minutes.
Motorway sliproads are expected to cause the most trouble for drivers this morning. While the majority of major roads have been treated with salt, many other roads leading the motorways have not.
Delays to train and bus services
There are delays to Dart services in the capital.
Iarnród Éireann has warned commuters to expect 30 minute delay to Dart services while the Maynooth line service will operate with a 10 minute delay.
Bus routes to and from the capital are also seriously affected.
Dublin Bus had advised customers that there will be significant disruption to services this morning. The services are operating on main corridors due to poor road conditions.
You can see exactly what routes are affected by clicking here.
Information for Bus Eireann services are not available yet.
Contribute to this story: