SPAIN HAS SAID fugitive US intelligence leaker Edward Snowden was aboard Bolivian President Evo Morales's plane as a diplomatic storm brewed over the diverted flight.
Foreign Minister Jose Manuel Garcia Margallo said Spain had nothing to apologise for, however, denying allegations that Madrid had refused overfly rights for the Bolivian leader's plane.
Margallo did not identify who provided the apparently faulty intelligence that Snowden was aboard the presidential jet.
"I cannot verify if it is true or not true at the moment they tell me – you have to act immediately," he said.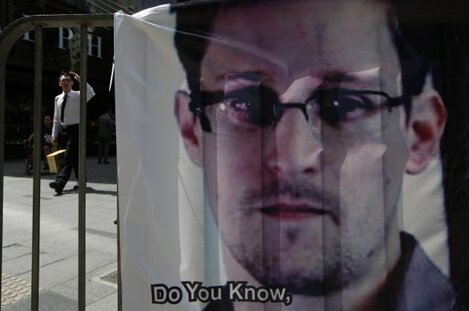 A banner supporting Edward Snowden in Central, Hong Kong. (AP Photo/Kin Cheung, File)
Bolivia reacted furiously after Morales, flying home from Moscow on Tuesday, had to land in Vienna, accusing several European nations of denying his jet overfly rights.
The plane resumed its journey on Wednesday and refuelled in Las Palmas on the Spanish archipelago of the Canary Islands.
Margallo denied Spain had closed its airspace to the Bolivian leader's plane, saying that despite the intelligence he had trusted Bolivia's written guarantee that Snowden was not aboard.
Bolivia accused France, Portugal, Italy and Spain of denying flyover rights because of Snowden, who is seeking to avoid US espionage charges after leaking embarrassing details of a vast US phone and Internet surveillance programme.
The 30-year-old is believed to be holed up at a Moscow airport looking for a country that will give him safe haven.
Bolivia is one of 21 countries alone with Ireland to which Snowden has asked for asylum. Morales said earlier this week that his country would be willing to study the request.
- AFP, 2013