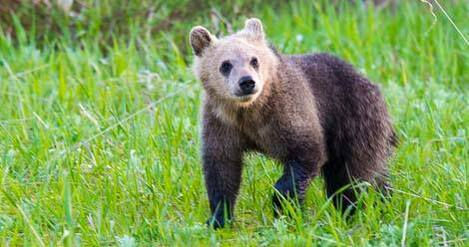 Snowy the grizzly cub Source: Facebook
A POPULAR GRIZZLY bear cub has been killed in a suspected hit-and-run in a national park in the mid-US state of Wyoming.
The cub, known as Snowy (due to the white fur on his face) or Spirit, was believed to be the sole cub born this year to his 20-year-old mother Grizzly 399.
He was struck and killed by a car on Sunday night at Pilgrim Creek in the Grand Teton National Park.
399, who is known to bear enthusiasts around the world, was seen in the aftermath of the incident attempting to heal her injured offspring according to National Geographic.
Grizzly bears are a protected species under American federal law.
"The death of this cub is especially tragic since Grizzly 399 is nearing the end of her reproductive life, and sadly she has only replaced herself in the population with one adult female, Grizzly 610," Wyoming Wildlife Advocates said in a Facebook post.
399′s cub, known as Snowy or Spirit by the bear watchers of Grand Teton, was adored for its antics and notably white face and will be sorely missed.
The number of grizzlies remaining in Yellowstone and Grand Teton National Parks is estimated to be between 600 and just over 1,000.
The huge bears are amongst the slowest reproducers on the planet.
37 large animals have been killed on the park's roads so far this year according to the park service.