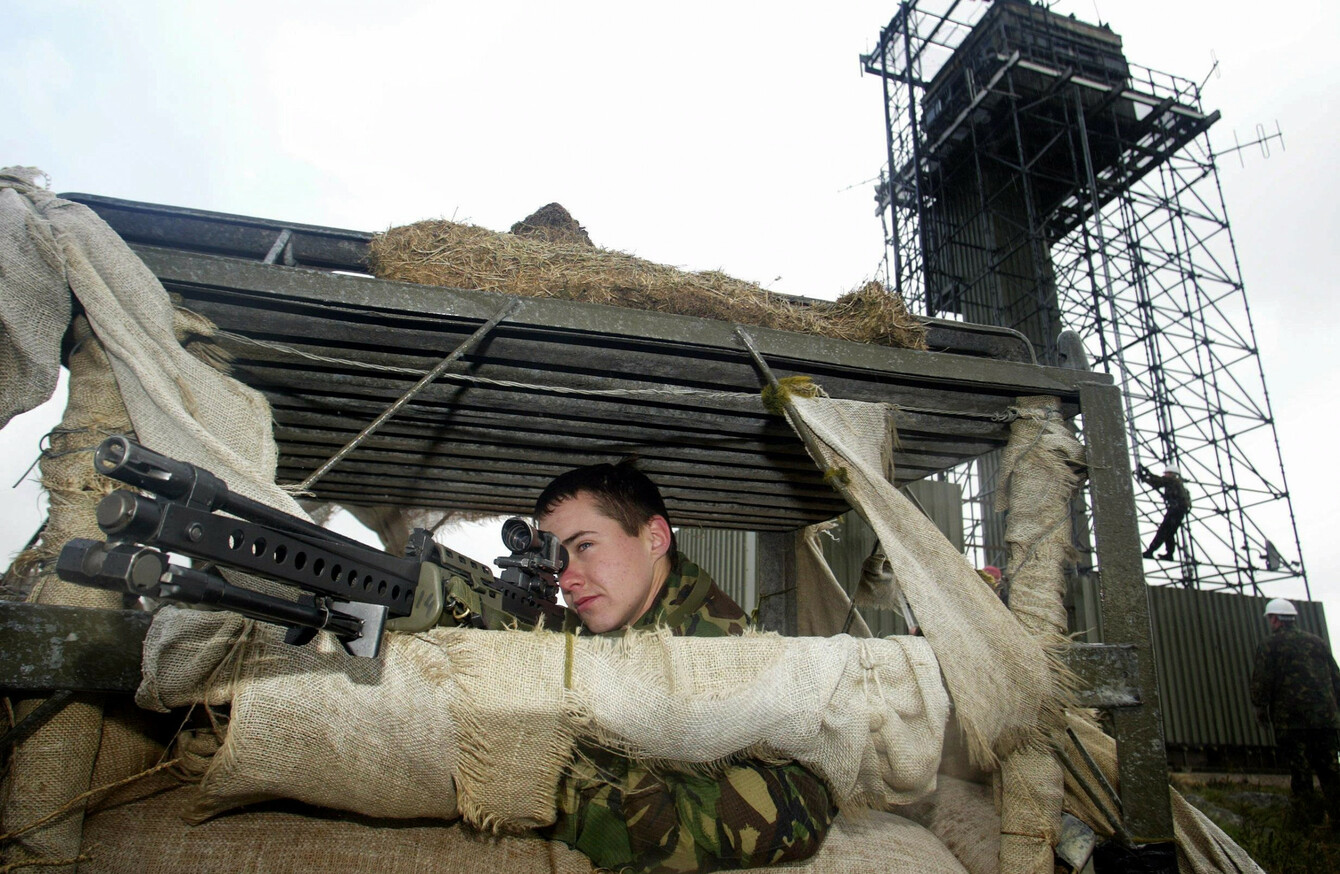 File: A soldier keeps watch as Army sappers dismantle Cloghoge Watchtower in south Armagh, one of two hilltop watchtowers being dismantled in the area
Image: PA Archive/PA Images
File: A soldier keeps watch as Army sappers dismantle Cloghoge Watchtower in south Armagh, one of two hilltop watchtowers being dismantled in the area
Image: PA Archive/PA Images
IN THE LATE 1960s, Irish infantry soldiers from the Defence Forces were drafted in to help with the Troubles. Along with the gardaí, they helped police the border with the republic, and took up roles in places like Portlaoise Prison. 
But is the role they played recognised? No, says one former soldier, who has written a book telling the story of what the soldiers went through. Dan Harvey's book Soldiering Against Subversion: The Irish Defence Forces and Internal Security During the Troubles, 1969 – 1998, looks at an intense time for soldiers, and comes out as the 50th anniversary of the Troubles approaches. 
"I knew what it was that soldiers did during the Troubles – the serving and sacrifice they put in," says Harvey. "They and their families: long periods away from home, poor pay and conditions, and the danger. And it had never been recognised, and the army is a conservative traditional institution, it doesn't like to talk about itself."
"However, I was so proud of what the Defence Forces did, what they did was meaningful, it had purpose and it was important, and yet it seemed to be sliding away." 
Harvey says there was an attitude that once "the Troubles… were over were probably best forgotten, only along with them has been what the Defence Forces did".
He describes "a certain kind of national amnesia when you mention the Troubles", with people forgetting about how they didn't just affect the north. He lists off the Dublin Monaghan bombings, the Don Tidey kidnapping, or the riot called the Battle of Ballsbridge.
He wrote the book to make sure people don't forget what happened, but he also wrote it for those like his three daughters, who are all in their twenties and who didn't live through the Troubles. To help him, he talked to men who served during the Troubles, meaning the book contains many first-person descriptions of the work they did.  
Originally from Blackrock in Cork, Harvey served in the military college, army HQ, and for the most part in the Southern Brigade, describing his roles as "many and varied and often overlapping". 
Border troubles
Harvey sees many parallels between 1969, when the first Irish infantry troops were sent to the north after major riots broke out, and the potential of a hard border after Brexit.
"We were underprepared in 69, we are unprepared now as well. Defence Force numbers are down, specialists are going, border posts are sold," he says. "The general officer in command of second brigade here in Dublin has responsibility for Donegal. 30% of the Defence Forces are on income supplement support. We've had eight reorganisations in the last 23 years and the 2012 one was a disaster. So they were based if you like on money reasons and political reasons, not operational reasons. So we are unprepared."
Anyone thinking wargaming or worst-casing the situation would have to ask themselves, well are we prepared? We are not.
He also points out that the border was a target during the Troubles. "If something goes up, a camera, a customs post, is that going to be a target, is someone going to have to defend it, is someone then going to have reprisals on the people who made it a target," he says of Brexit.
"When I think of the border, I think of the many patrols on border lanes, along the border, long days, longer nights," he says.
I worked in 'bandit country' area, I and my colleagues were on the rooftops and perimeter walls of Portlaoise Prison, we were on many callouts, searches and cash in transits, and on immediate standbys in barracks waiting to be called out during holiday periods when everybody else was at home we were gearing up.
But he says this huge effort was "largely unseen".
But that was a policy. So because it was unseen it was unappreciated, but it was absolutely crucial."
What was it like manning the border? To illustrate, Harvey pretends that I am an Irish army officer at one side of the border – the table we are sitting at – and he is my british counterpart on the other side.
"You and I cannot exchange words. Standing next to you is a guard, standing next to me is a member of the RUC. So it's relayed that way," he says. "We were acting in aid to the civil power, the British army were acting with the RUC. But we would not want to be seen to be talking directly with the British army – we did not want to be seen to be in cahoots with them. That was a policy, and it was a policy that was implemented."
There was coordination, and some of what were known as "straddle operations" where the sides would cooperate militarily.
In his book, Harvey dedicates an entire chapter to the British Army's blunders in the North.
"There were some progressive blunders in hindsight that were bound to lead to their alienation and they lost the relationship," he says. "When they arrived in first, bands went to schools, there was football played against the locals, and little by little that was lost. They had it. Sometimes it takes years to build that trust, and that's why it was such it had to be put into the book because you had to be able to explain to situation, the bad situation got worse."
They were "raw brutal times", he says. "It was very serious times and they were grim times, they were raw and brutal times. Now the role that we had was important, was purposeful and it was meaningful, so there were a lot of very good people in the Defence Forces who gave of themselves at a time when pay and conditions were very poor."
"But they were good people, good people were attracted into it because of the times that were in it. I don't know that the government is necessarily doing anything to attract people into the DF now. So we had people who gave a lot of themselves and they were high calibre, I was glad they were on my side."
There is currently a major push for Defence Forces membres to have improved pay and conditions. This was also an issue during the Troubles. "The guards got overtime, prison service got overtime, cash in transit people were well paid and yet those three agencies would look to the army to support them in a crux and we were nowhere near paid as much as them, Those are just facts."
He describes the Defence Forces as "the last stop": "Who defends democracy because democracy won't defend itself? So it's the army ultimately defends democracy, it's the army ultimately looks after the institutions of the State and the rule of law."
He points out that 20 years ago, soldiers' wives were protesting outside barracks, while the Gleeson committee also looked into the issues of Defence Forces pay.
"And did we ever think we'd be back in the situation 30% on income support? What is happening that this is the situation?"
It took two years to write the book, and he says he was "exhausted" after it. Now, he's living in Paris and working on Irish people's role in the D-Day landings.
 "I am glad that it's out there and it can be referred to and that those who lived and worked through those times, those that know say it's an accurate reflection of their experience," he says.
"These books – probably in 50 or 100 years' time people will say 'well thank God someone grabbed it while they still could'."