SONY HAS BLAMED its struggling mobile phone division for the massive losses it expects to suffer over the next six months.
The company today told investors it was recording a huge "impairment charge" of 180 billion yen (€1.3 billion) representing all the goodwill it had credited to its ailing smartphones lines.
Sony is now predicting a net loss of about €1.65 billion over the 12 months to March 2015, backing up a loss of about €0.9 billion the previous year.
In a statement, the Japanese consumer electronics giant said the latest write-down had come after reviewing medium-term plans for its mobile division.
The company said its new strategy for the segment was to "reduce risk and volatility, and to deliver more stable profits".
"This revision includes changing the strategy of the (mobile) segment in certain geographical areas, concentrating on its premium lineup, and reducing the number of models in its mid-range lineup," it said.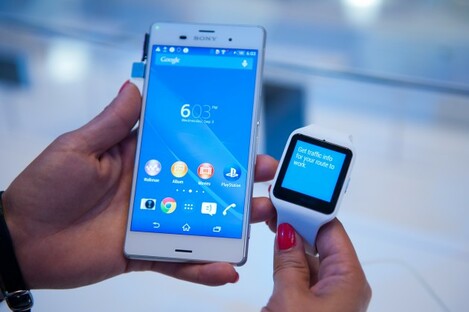 Sony's Xperia Z3 smartphone and smart watch. Source: Steffi Loos/AP/Press Association Images
Impairment and goodwill
Companies record an impairment charge when they write off now-worthless goodwill they had previously put a value on for their books.
Goodwill is based on working out how much "fair value" there is in its products or brands, although these figures should be routinely checked to make sure companies aren't artificially inflating their worth.
It's (not likely to be) a Sony
Despite booming global smartphone sales, which were this year up more than 25% on 2013 figures, Sony cut its expected annual sales in July from 50 million to 43 million units.
Its high-end Xperia phones have struggled to make an impact in a market dominated by Apple's iPhone line and Samsung's Galaxy products.
South Korean company Samsung, the world's biggest mobile manufacturer accounting for about 25% of worldwide sales, last year shipped about 300 million phones.
READ: Sony may have come up with the best reason yet to buy an Xperia phone
READ: Games and box-office movies help Sony post surprise profit