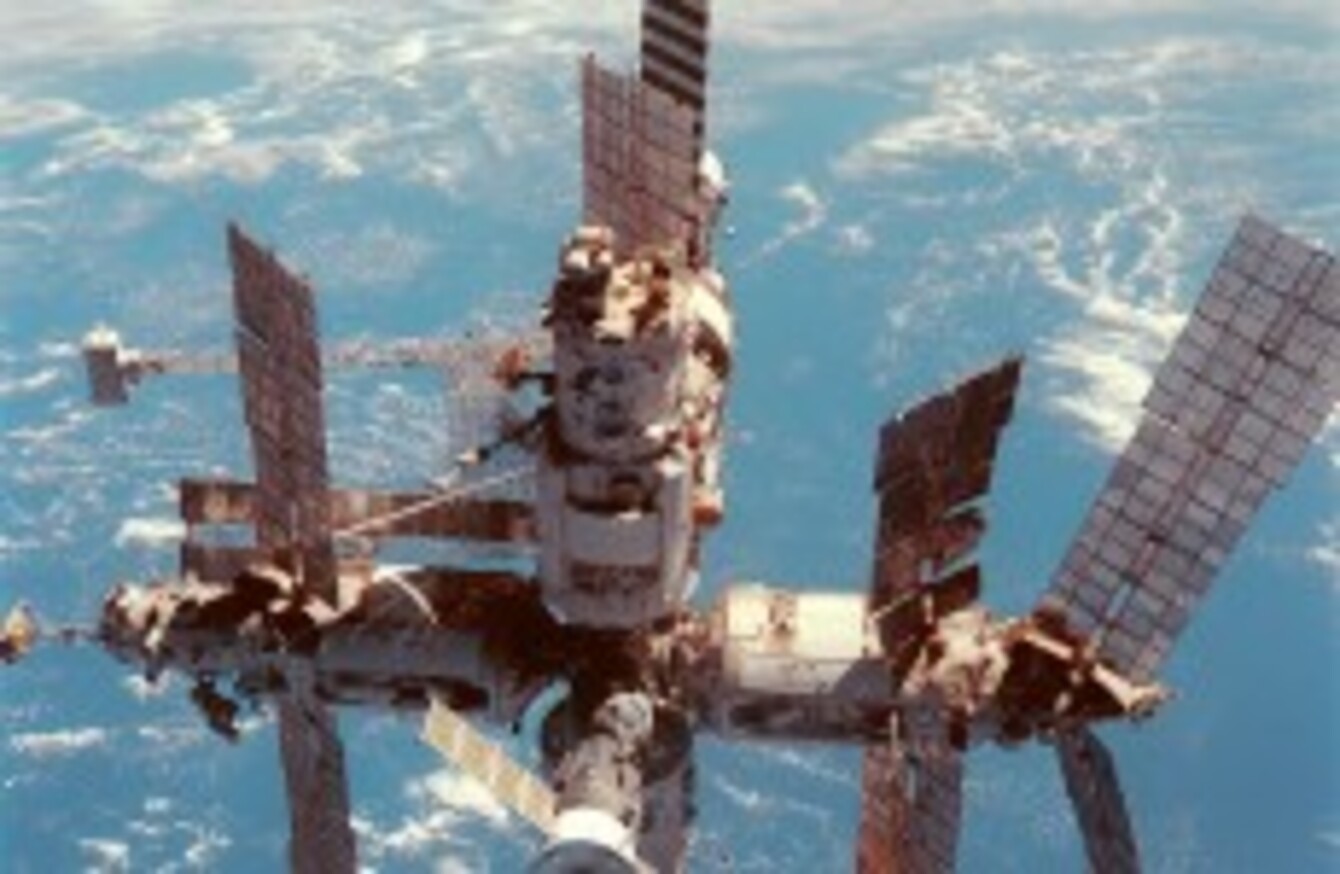 Russia's Mir Space Station, which was in orbit in 2001, had to deal with the issue of space debris when in use.
Russia's Mir Space Station, which was in orbit in 2001, had to deal with the issue of space debris when in use.
YOU MIGHTN'T THINK it would be a major problem but there's a lot of rubbish in space, or more specifically debris.
With space missions, shuttles are now improved to the point where they will break up into pieces and burn up when reentering but old satellites, spent rocket stages and fragments from previous missions from different organisations are still present.
It's an issue Dr Lucy Rodgers has been dealing with for at least four years now. The sheer number of them up there means it's a problem that will only continue to grow and the speed in which they travel can be problematic for crews up there.
While films like Gravity may depict an extreme version of it, the reality is such debris can cause damage to shuttles and equipment and has lead to serious incidents like Atlantis in 2006 which bore a small hole through the radiator panels in the cargo bay. Others, like the International Space Station, have to maneuver numerous times in recent years.
"[For] things between the size of a cherry and the size a melon, we really haven't any way to protect against it," explains Dr Rodgers. "We can't see them from the Earth and we can't put a bumper and shield in front as it's becoming a big problem.
We understand the problem, we're getting better at tracking what's up there but we're not good at working out how to solve it. We have various ideas, but it's like pollution in the ocean, who's responsibility it is.
There are 21,000 pieces of debris that are bigger than a melon according to Dr Rodgers, and they're being tracked by the likes of NASA. Avoiding them is relatively simple when you give the crew some time to avoid it.
The real problem is the smaller debris where 500,000 pieces, ranging between the size of a cherry and melon, are orbiting the Earth and there are millions of pieces that are even smaller than that. Tracking them is much harder, if it's possible, and removing them even more so.
There are a number of ideas to help combat it – some are as simple as using fishing nets to catch them, Whipple shield or bumpers for tiny debris, or using lasers to melt part of the debris – but cost is a major issue. Not only is it expensive to get something into orbit, it's also expensive to remove anything up there. Also you have the political dimension to deal with.
If, say, the UK removed a piece of space debris belonging to the US, it could be seen as an act of war because we removed a bit of their property. The political implications are also huge and if I have something that can remove a piece of debris, I got something that could remove a satellite."
On a brighter note, the interest in space and what happens, and it's not because of the missions happening but those behind it.
"I think people had a lot of interest about things that went into space, look at the interest the moon landing had, but without the human connection… it's the human story that really engages people and so seeing those either through social media or on the TV, that really grabs people as opposed to just seeing a spaceship land."
The science isn't any easier to understand now than it was then but we have a lot of people who want to communicate it… and the people who are doing the research and work are happy to talk about it publically in many cases and that's what's bringing people in.