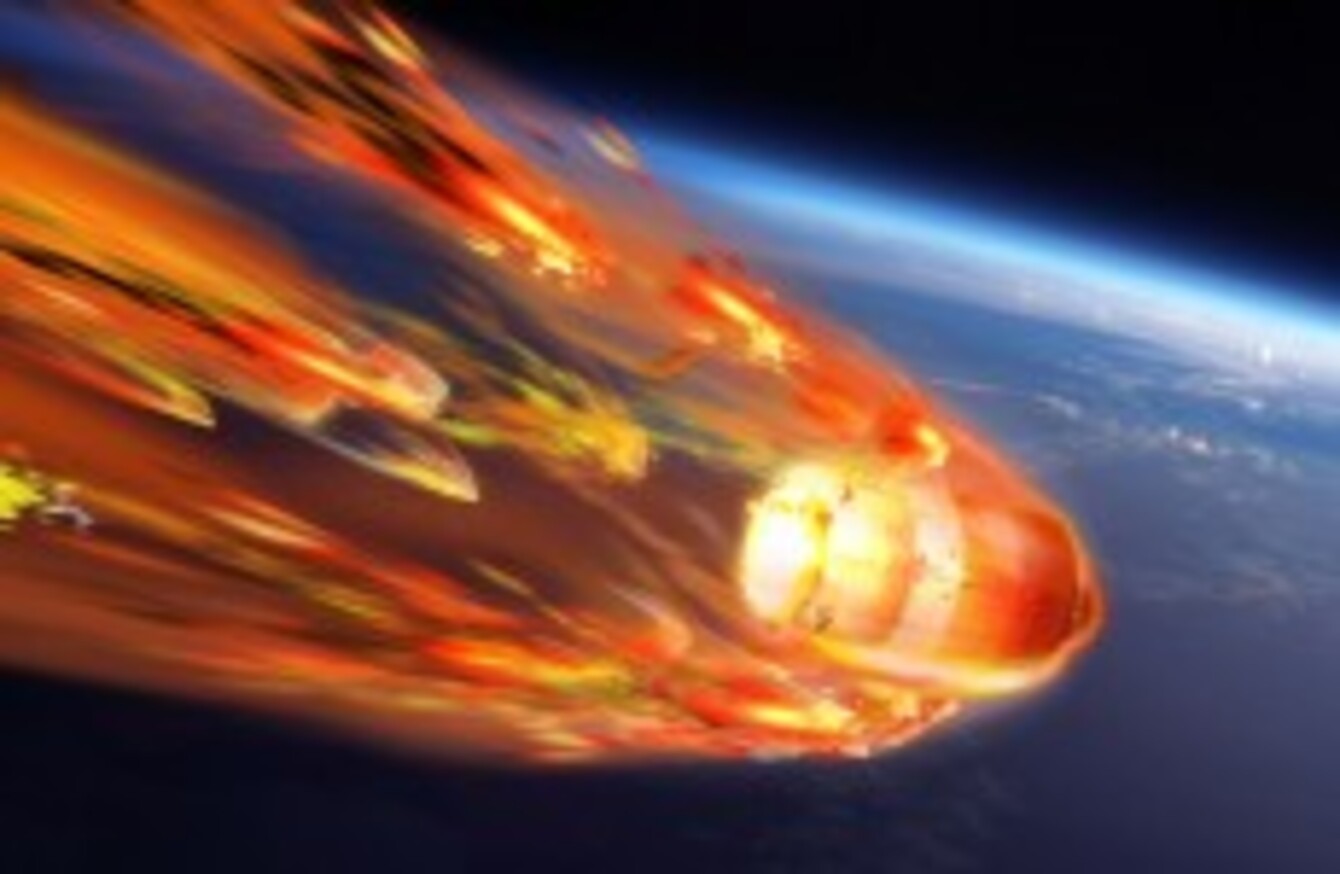 An artist's impression of a satellite re-entry.
Image: ESA
An artist's impression of a satellite re-entry.
Image: ESA
TWO RESEARCHERS FROM Trinity College Dublin (TCD) have developed a tool which can predict what will happen to space debris that re-enter the atmosphere.
It's believed that over 39,000 man-made objects are orbiting the Earth, and when they re-enter the atmosphere, parts of a satellite's mass may survive and hit the Earth's surface.
The two researchers behind the project are PhD student Cristina De Persis and TCD Professor of Statistics, Simon Wilson, who have been working on it for three years.
Their risk assessment tool provides more accurate predictions for any space craft or vehicle re-entering the atmosphere and determine what will happen if they survive and hit the Earth's surface.
Since most spacecrafts are intentionally de-orbited with the intention of burning up in the atmosphere, the points chosen for re-entry are uninhabited regions like the ocean. However, the concern is that these would contain unused fuel or flammable substances, causing an explosion and causing parts to fall over inhabited land.
That's what De Persis and Wilson hope to understand by using a mixture of data and expert opinion about the causes and effects of such a scenario.
The lack of data on the subject means it's difficult to determine how often it would happen, but the tool uses using expert opinion to make up for this
Source: jpelliz/YouTube
Speaking to TheJournal.ie, Professor Wilson said while no major incident has happened in this area, it would only take one to negatively impact the space industry.
"Fortunately so far, it's not something that's ever really happened," says Professor Wilson. "It's certainly way down on the list of things that will kill you, it's probably fair to say, but if it is something that did happen, it would have very large consequences for the industry."
The project is driven mostly by De Persis, who started working on it as part of her PhD, and is done in collaboration with the European Space Agency (ESA). While the level of data surrounding the subject matter is sparse, mainly because such a scenario rarely happens, it uses other factors such as expert opinions to help with predictions.
Thankfully, it's something that's not really happened and certainly never happened in such a way that we observed what happened. Data at the minute is very sparse indeed so it's very much about canvassing expert opinion, trying to get an idea of what they think the risks are, different bits of the operation and combining them.
Currently, it's being tested out by the ESA, which is using it for the most recent de-orbit of its autonomous transfer vehicle (ATV) which supplies the International Space Station.
While it's still in the early stages, Professor Wilson said the findings so far have shown that it's something that can be assessed, saying "even though you don't have [enough] data, it's something you can actually do in a reasonable way."
The tool is currently being reviewed by the European Patent Office to become the university's 500th patent, although it could take up to a year for it to be approved.
The project is one of 500 inventions that have originated from TCD, including THRIVE, 3D audio technology that can create a realistic soundfield that includes height and depth, vaccine components that could aid the development of a more effective vaccine against whooping cough, and a eco-friendly, and cost effective alternative to fertiliser crop treatments.