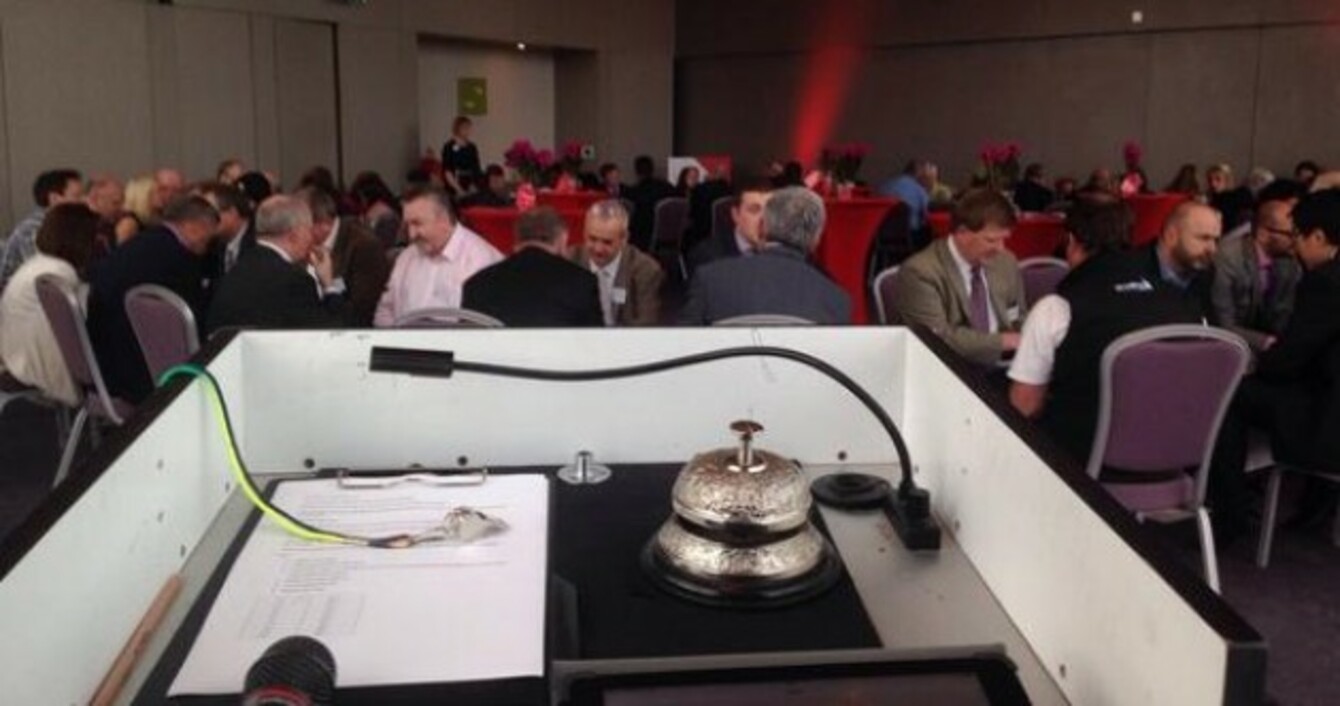 Speed-networking event organised by SFA.
Speed-networking event organised by SFA.
EVERYTHING THESE DAYS is about speed. Faster broadband, faster meals, faster cars and even quicker dates.
It is no surprise that speed-networking - similar to the concept of speed-dating - has emerged in the business world.
A packed out conference room in Dublin full to the brim with business men and women were about to experience it.
Chairs facing each other, a large bell at the top of the room – a few were a little anxious not knowing what to expect.
Making new business connections
Organised by the Small Firms Association in conjunction with Vodafone, the aim of facilitating businesses making new contacts, Alan Sherlock from the group urged everyone to take their seats.
Almost like the first day of school you could see that some people were nervous about sitting in front of a complete stranger and talking to them about what they do for a three minute one-on-one meeting.
Not just that, but they were going to have about 15 of these types of "speed dates".
Sherlock said the intention of the event is to give manager of small businesses an opportunity to connect with each other. "It's all about building new, meaningful business relationships," he said.
Here he explains the value of networking in business:
Source: Video TheJournal.ie/YouTube
Sitting in their seats, the attendees were told the rules. The whistle would blow and the three minutes would begin, half way through they would hear a bell that would indicate that they were halfway through – "a good way to take back the conversation if you notice that someone has been talking the whole time" – said Sherlock.
'Time's up – move along'
After the three minutes, it was time to get up and move down the line to have your next speed date.
Rules understood, it was time to get going.
There was a buzz in the room as people kicked off their discussions about their business with people showing a real interest in what area a person was working in. They shook hands, swapped business cards and even shared a joke or two before the whistle blew and they were up off their seats and on to their next short meeting.
Source: Christina Finn/YouTube
Sherlock said these events are great way for businesses to "think outside the box".
While you may not make a direct connection with someone you can do business with directly it is important to think about what other networks the person you met might have.
Those businesses that do well are those that push themselves at an event like this one. Those who put themselves out of their comfort zone and meet as many new people as possible… everybody here is in the same boat, everyone is open to meeting new businesses and make connections, whether it is with the person in front of you or their own extended network.
The benefits
What do people think of "speed-networking" and did they get something out of it?
"It is impossible not to get something out of it,"said Julie Kelly from the Au Pair Study Agency.
"It's hard to not to expect from an event like this but it is great to get away from your desk and away from the office to meet other people in a similar situation than you," said Kelly, who said while you might not get to sale something directly to someone or get a business connection for yourself, they may know someone you should talk to that you could do business with.
"93 per cent of our business is word of mouth,"said Kelly, adding, "you never know what referral you will get out of it".
Pat Brady from Workplace Solutions said that there were two people he met at the event that he is going to meet for coffee next week.
"These events are great, they get you out and talking to people and that's the way business is done," he said, adding that he thought it was good to prepare for such an event.
"You really have to hone in on what exactly you do. You don't have a lot of time to talk someone through your business, so it is great to just be able to say in a few words – this is what I do. It's a great exercise," said Brady.
New way of networking
He added that years ago networking in business was largely done in social setting like the pub or the golf course, saying it was great to try something new and meet new people.
"I would encourage small businesses to think outside the box and go along to events like this. You really don't know where it will lead," said Sherlock, giving one piece of advice.
"If you do meet a new contact or they refer you on to someone else, get in touch quickly and make it happen. Or if you have gotten business from a referral say thank you. It takes no time at all, it costs nothing and having manners in business will stand to you," he concluded.
The free event was organised by the Small Firms Association in conjunction with Vodafone Ireland. Follow them on Twitter @SFA_Irl