THE BUILDING WHICH now occupies the site of the World Trade Center in New York is set to join a host of other landmarks around the world to go green this St Patrick's Day.
One World Trade Center will join Plaça de Catalunya in Barcelona and Heron Tower in London as some of the new landmarks joining Tourism Ireland's Global Greening initiative in 2017.
Tourism Minister Shane Ross said that it was "gratifying" that the contribution of the Irish diaspora to the "fortunes of other nations is recognised so visually around the globe".
Now in its eighth year, the Global Greening sees a host of recognisable sites from around the world go green, including the London Eye, the Empire State Building in New York and the Colosseum in Rome.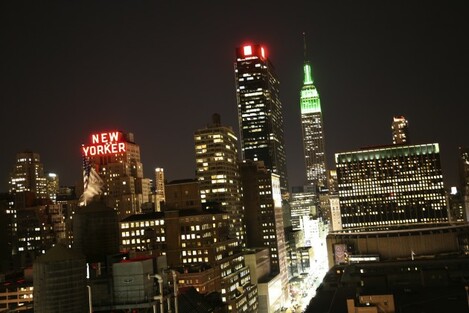 The Empire State Building lit up. Source: Don King AP/Press Association Images
Some of the new landmarks to get the St Patrick's green treatment this year are:
One World Trade Center, New York
City Hall and Heron Tower in London,
Plaça de Catalunya and the fountains on Gran Via in Barcelona
Pozzo di San Patrizio (St Patrick's Well) in Orvieto, Italy
Matsue Castle in Japan
The Diamond Bridge in South Korea
A rhino statue in Nairobi, Kenya
An Ethiopian airlines plane in Addis Ababa.
The famous red carpet in Cannes will also become the green carpet
Tourism Ireland CEO Niall Gibbons said: "The eagerness of cities and countries everywhere to take part underlines the strength of the deep connection that people all over the world feel to Ireland.
The success of our Global Greening initiative is due in no small part to the great work that has been carried out across the world by Irish people down the generations and, in particular, to the great support we've received from the Irish embassy network and the diaspora.
Minister Ross added: "From a tourism perspective, the true value of the Global Greening initiative is in the huge level of public interest and consequently media coverage that is generated about St Patrick's Day and Ireland."
In total, landmarks in 34 countries will get go green this 17 March.