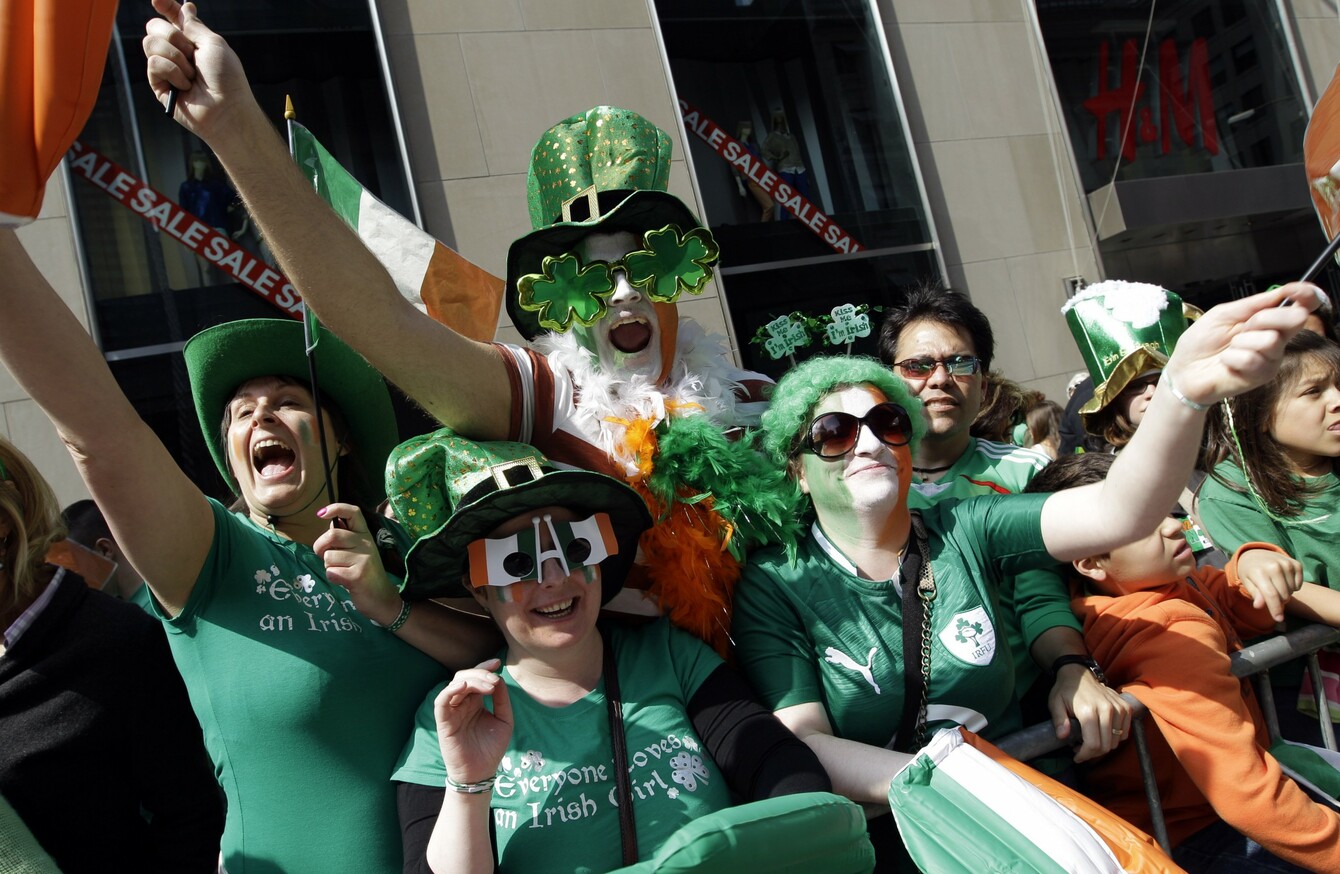 Deirdre Kelly, Linda Forth, Darren McCarthy and Eimear Ni Bhriain, of Dublin cheer on the marchers during the 2012 parade in New York.
Image: Mary Altaffer/AP/Press Association Images
Deirdre Kelly, Linda Forth, Darren McCarthy and Eimear Ni Bhriain, of Dublin cheer on the marchers during the 2012 parade in New York.
Image: Mary Altaffer/AP/Press Association Images
NEW YORK MAYOR Bill de Blasio is ending a two-year boycott of America's largest St Patrick's Day parade now that it has fully dropped its longstanding ban on allowing gay and lesbian groups to march under their own banners.
De Blasio, a first-term Democrat, said that for the first time he will take part in the parade along Manhattan's Fifth Avenue on St Patrick's Day, 17 March.
He skipped the parade in 2014, when no gay groups were allowed to openly march, and he skipped again last year, when only one small lesbian, gay, bisexual and transgender group was permitted.
"The St Patrick's Day Parade is a New York City tradition, but for years Irish LGBT New Yorkers could not show their pride," de Blasio said.
Finally, they can celebrate their heritage by marching in a parade that now represents progress and equality.
This year, more than 300 people will march under the banner of the Lavender and Green Alliance, an Irish LGBT group that had worked for 25 years to reverse the ban and, when those efforts stalled, founded a competing parade, called St Patrick's For All, which marches every year in Queens and allows all groups to participate.
"Our hearts will be dancing," said Brendan Fay, the head of the group.
Fay gave credit to de Blasio, who was the first mayor in more than 20 years to refuse to participate in the Manhattan parade, saying his boycott put pressure on the parade's organizers to change their policies.
A year ago, organisers allowed OUT@NBCUniversal, a gay organisation at NBC, which televises the festivities, to participate, but de Blasio and several other elected officials said that wasn't enough and continued to abstain from participating in the 255-year-old march.
"It wasn't truly inclusive until it included an Irish gay group," said Councilman Daniel Dromm, a Democratic member of the City Council's Irish and LGBT caucuses.
This allows us to express, in full, who we really are. When you've been excluded for something for so long, when you finally realise your dream is coming true, it's very emotional.
Dromm will be joined by several members of the City Council, including its speaker, Melissa Mark-Viverito, a Democrat who also boycotted the last two years.
Aides to de Blasio said he would march in the first portion of the parade with police officers, firefighters and other members of the city's uniformed services and then spend some of the parade under the Lavendar and Green Alliance's banner.
Reaction
It's customary for the groups marching, some of whom have been participating for decades, to proceed in the same order, with new groups relegated to the end.
But parade organisers said the new gay group would not be placed at the end of the lineup.
#Open journalism No news is bad news Support The Journal

Your contributions will help us continue to deliver the stories that are important to you

Support us now
"We want this to be our most inclusive parade ever," said John Lahey, chairman of the parade.
We hope that it will bring New Yorkers from all backgrounds together in a way that maybe our previous parades didn't.
Lahey said that no groups dropped out this year after the decision to include the gay organisations, though some had complained the previous year when OUT@NBCUniversal was allowed.
But some longtime parade participants condemned the changes.
"The mayor is a disgrace who bullied everyone to having the type of parade that he wanted," said Bill Donohue, of the Catholic League, who stopped marching a year ago over the decision to allow LGBT banners.
They are making this just an Irish parade, not a Catholic parade. It's contemptible.
This year's parade, which will mark the 100th anniversary of an insurrection that led to Ireland's independence, will feature former Senate Majority Leader George Mitchell as grand marshal.
Mitchell, a Democrat and a primary architect of 1998′s Good Friday peace agreement in Northern Ireland, had told organisers he would not participate if LGBT groups were not permitted.