WHEN YOU REACH your thirties, sometimes you forget that it's OK to be silly.
In my third week of stand-up class (missed what this is all about? Check out part one here and part two here) at the Gaiety School of Acting in Dublin, I realised why we are doing such weird warm-up exercises: to show us the benefits of being silly.
Robot zombies
As an adult, unless you spend time with children, you might not get to access your silly side much. When life becomes about work, socialising, meeting friends, thinking about your rent or mortgage, kids and weddings, there's often not a lot of time to just let loose (without the aid of an alcoholic beverage or three, that is).
Plus, when you're acting silly – such as pretending you're a robot or a zombie, as we've had to do in class – it's easy to feel self-conscious.
And that self-consciousness can prevent you from really going for it, and being a damn good robot. You know you're capable of much more, but you can't let go.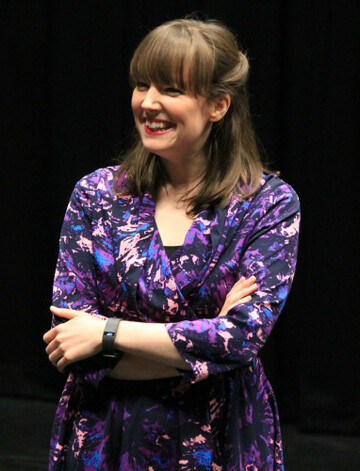 In class, laughing at someone being a robot, probably
As the weeks go on, and the class members start to get to know each other better, we're having to push through these barriers and just be silly.
There is literally nothing to lose. It's clear that no one is judging anyone else for being 'bad', and there's a cheery, supportive feeling in the air.
It's still difficult though, and something that's clearly easier for some of the class than others.
Show me your emotions
What has also become clear is that we're being encouraged to be silly because it keeps your energy high, and as our teacher Sharon Mannion explained, we'll need that high energy on stage. Granted, some comedians are not high energy, but they are fizzing with an energy that isn't rooted in lethargy.
Then there is the emotional aspect of things: ensuring our sets are imbued with real, tangible emotion. Sharon impressed on us that the audience will only really connect with us if we show emotion. It needs to be real, and coming from deep down inside us.
We've all been in situations where we've had to communicate with someone without language being on our side. If you find yourself stuck in a garage in the French countryside with just a few Leaving Cert phrases, you depend on hand gestures and body language to guide you.
But you also sense the emotion of what the person is trying to communicate. You pick up on this, and it can heighten an atmosphere, or make you feel at ease. Imagine that situation with no emotion. It would be a room with the air sucked out of it.
The latter is what we're trying to avoid when we do our routines during our showcase in December. Who wants to get on stage and look like a wet fish? So it's not just the actual words we have to think about for our routines: it's the emotion too. And being silly.
To demonstrate this, Sharon got us to do the 'yes, and…' exercise which I've mentioned before (one person says a sentence, the second follows with 'yes, and…' and adds another sentence). This time, the first person had to talk gibberish, but while expressing a strong emotion.
The listener could instantly pick up on the emotion, and use it to inform their reply. It was a great example of how non-verbal communication is so important in comedy – and it was pretty gas to watch everyone talk rubbish.
Puppet talk
Coincidentally, I got a little taster of all of the above when I was interviewed by a puppet a few hours before my class last week (yes, a puppet).
There's nothing like having a chinwag with an inanimate object to force you to access your silly side. Was I great at doing that? Not as much as I'd like – but I tried.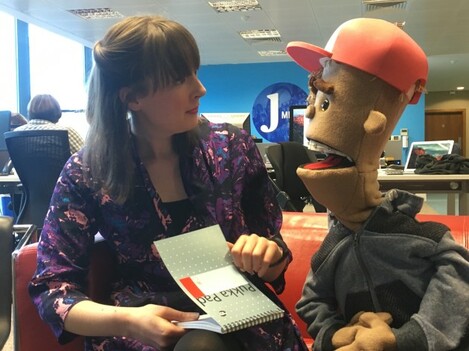 I'll be writing once a week for the next seven weeks about how I'm getting on.
Have you any tips? Got a favourite comedian whose work you'd like to share? Just want to take the p**** out of me? That's what the comments section is for…