Updated at 2.10pm
HOPES OF A successful refloating for a baby porpoise found on the banks of Lough Foyle, Co Donegal yesterday are fading — almost 24 hours after the mammal was first spotted.
The one metre long porpoise calf was found by local man Anthony Craig (pictured below) as he was out walking his dog near Moville town centre yesterday afternoon.
A number of efforts were then made to refloat the animal — however, it was washed back in several times in an increasingly weakened state.
[Image: Dr Trish Murphy]
Dr Trish Murphy — a zoologist who lives locally — was involved in the effort. She told TheJournal.ie that the most recent attempt to set the porpoise free had been made this morning, after it was found once again by Craig on the  shores of the lough.
Murphy said the mammal had been listing substantially as they waded into the water with it last night, and that the signs "weren't good" at that stage. As the tide was out this morning, the porpoise was placed in the water at the mouth of the river Bredagh.
"The tide may have pulled it out by now — so it may be out to sea or it could still be somewhere in the river," Murphy said.
"Even if it does go out to sea the chances of it surviving at this stage are very slim."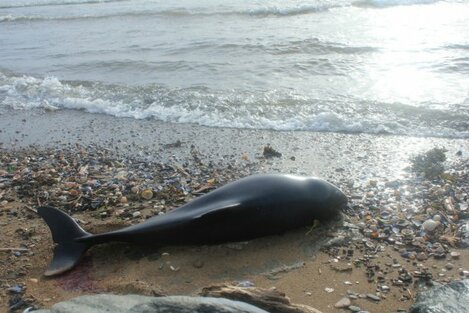 [Image: Anthony Craig]
Craig initially revived the ailing mammal with buckets of sea water after he found it at around 2.30pm. A sizeable crowd of locals gathered to try and help save the stricken creature as the afternoon progressed.
Murphy said the porpoise had been "fairly frisky" when first discovered. "It was bleeding, but that may have been due to agitation from the shore."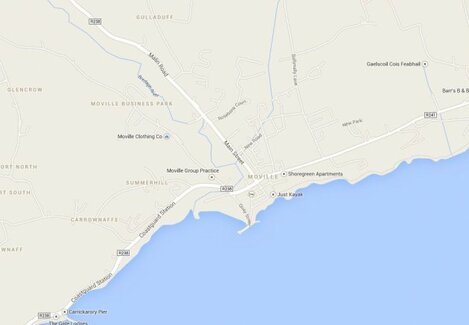 Moville Town, Donegal
Live strandings in the area are relatively rare, Murphy said, adding that best practice in such situations would be to keep the stress suffered by the animal to a minimum.
Murphy — who is involved with local environmental initiative 'Celebrate Water' — said those involved in the effort would conduct another search of the area later today as the tide turned.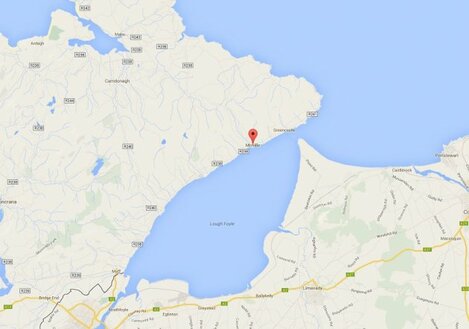 Wider View of Lough Foyle [Google Streetview]
First posted at 1.10pm