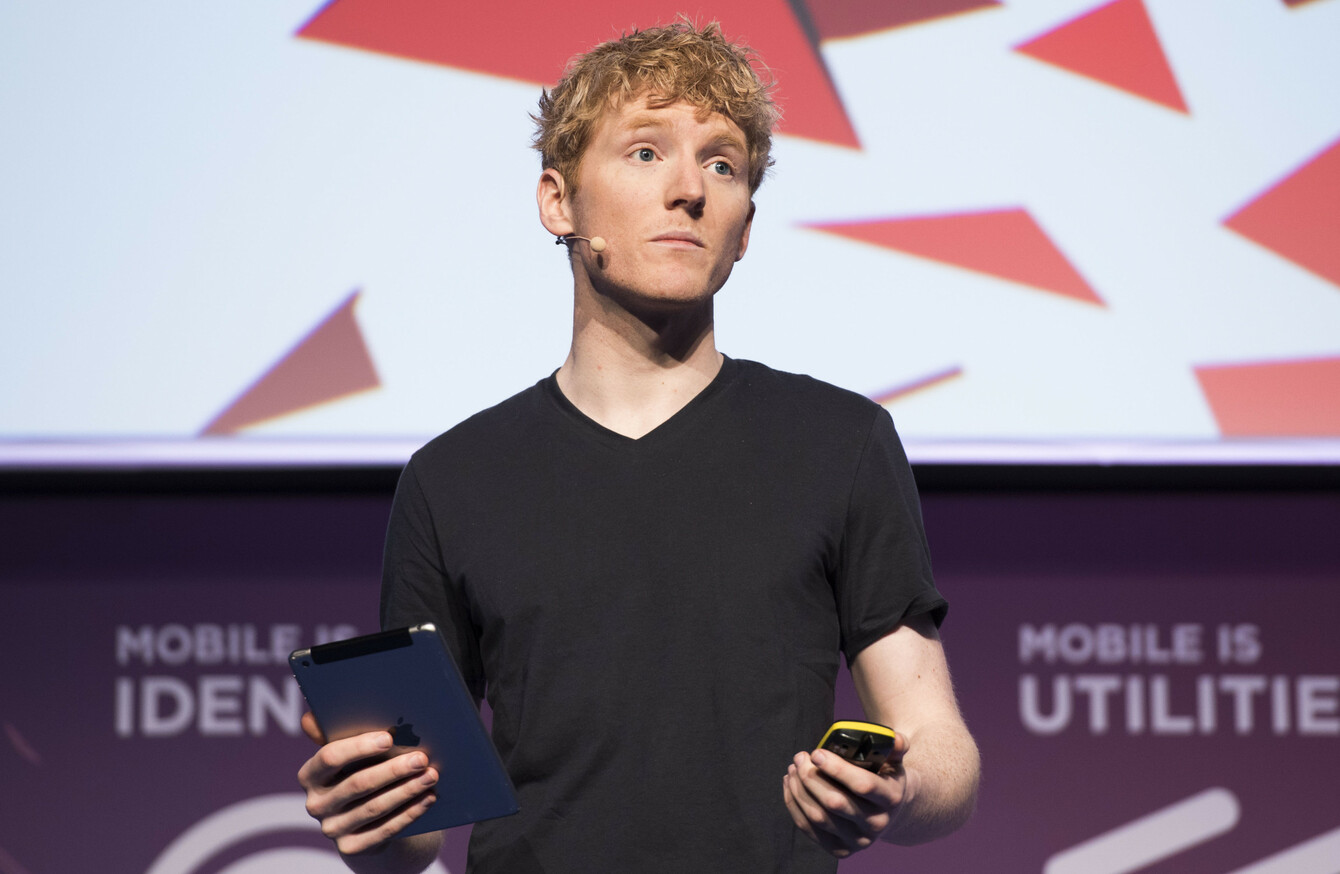 Image: David Jensen
Image: David Jensen
IRISH-FOUNDED ONLINE PAYMENTS firm Stripe has announced plans to open a new engineering hub in Dublin.
The company, which was valued at over $9 billion after its most recent cash injection from investors, was set up in 2010 by Limerick brothers John and Patrick Collison.
Stripe's European headquarters is already based out of Dublin, but the firm's main headquarters, where a lot of the core work on its payments technology takes place, is located in Silicon Valley.
Speaking to RTÉ's Morning Ireland, Stripe chief executive Patrick Collison said the decision to open a new engineering hub in Dublin means the Irish office will now start to focus on development of the actual payments platforms.
"We're going to start out with a couple of dozen people. We always want to start with something manageable. I could certainly see that getting significantly larger in the years ahead," said Collison.
"It's important to mention that we're not just putting something tertiary here, this is not for an experiment or a side project, we will be working on our core payments infrastructure in Dublin."
He added the firm is now hunting for a head of engineering to lead up the operation.
[image alt="3392091" src="http://cdn.thejournal.ie/media/2018/02/3392091-296x196.jpg" width="296" height="196" credit-source="David%20Auner" credit-via="Flickr" caption="Stripe%20CEO%20Patrick%20Collison" class="alignnone" /end]
Why Dublin?
Collison said Stripe chose Dublin for the new engineering division because the firm already has a presence in the Irish capital, where the company employed around 100 people, and due to the city's talent pool.
"As we take stock and look across Europe, Dublin has come into its own as a technology centre and really seems to be going from strength to strength.
"As we assess the talent pool there and we look where things are likely to head, Dublin just looks very strong.
"And when you factor in then Ireland's outward looking mentality and the ability to absorb people from cultures all around the world, we really felt good about betting on it as a place to build a global engineering hub in the years ahead."
He added that Stripe did "take stock" of Ireland's regulatory and tax regimes when making the decision.
"(Tax is) certainly a factor among many, but there is a tendency to focus on it because it is an easy number to reason about."
Changing plans
As the company grows its presence in Ireland, Collison said its expansion plans in the Republic could change depending on issues such as the housing crisis, which could be a "major impediment" for Stripe's plans.
He added that if Dublin's access to a talented workforce diminished, the firm would also need to consider its plans.
"When we look at Silicon Valley … (it) does not breed great technologists. It's not like the 50-mile radius of San Francisco somehow is this great training ground.
"It's instead that the smartest people from around the world with the highest potential, they tend to move to Silicon Valley.
"Similarly, we'll be paying close attention to whether Dublin can maintain its hospitality to immigrants and people coming from elsewhere Europe."
[image alt="stripe-collisons" src="http://cdn.thejournal.ie/media/2018/02/stripe-collisons-6-296x300.jpg" width="296" height="300" credit-source="Stripe" caption="John%20Collison%20(left)%20with%20his%20brother%20Patrick" class="alignnone" /end]
#Open journalism No news is bad news Support The Journal

Your contributions will help us continue to deliver the stories that are important to you

Support us now
Billionaires
Since the Collison brothers set up Stripe, John (27) and Patrick (29) have become two of the world's youngest billionaires.
Last year the pair made it onto the Forbes rich list for the first time, each with a net worth valued at €1.02 billion. According to Forbes, there are only three self-made billionaires aged under 30: the Collisons and Snapchat co-founder Bobby Murphy.
Stripe has attracted a lot of attention from major players in the world tech scene since 2010 and secured backing from PayPal founders Elon Musk, Peter Thiel and Max Levchin in its early days.
In recent years, the Collisons have struck a number of major deals to keep momentum behind the company including, an arrangement to process payments for tech giant Amazon, a $150 million funding round and backing from a large Japanese credit card company.
Sign up to our newsletter to receive a regular digest of Fora's top articles delivered to your inbox.
Written by Killian Woods and posted on Fora.ie