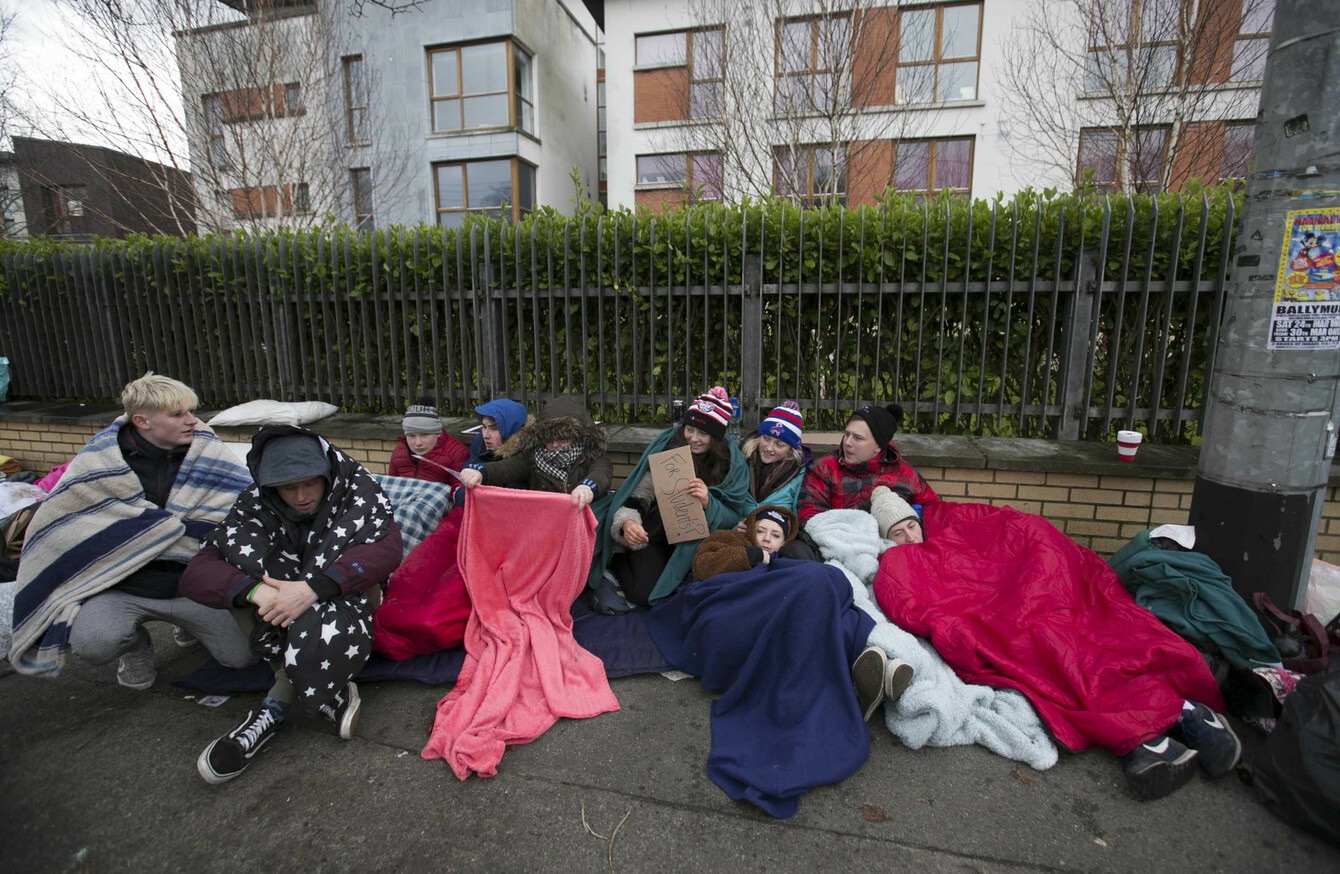 Students staging a 'sleep-out' outside Shanowen Hall to protest rising rents.
Image: Sam Boal/Rollingnews.ie
Students staging a 'sleep-out' outside Shanowen Hall to protest rising rents.
Image: Sam Boal/Rollingnews.ie
THE PRESIDENT OF DCU has called on the government to regulate the student accommodation sector after students staged a sleep out last night to protest rising rents
A group of students staged the protest last night  in response to plans by Shanowen Student Residences in Santry to hike rents by 27% for the coming term.
The 600 residents of the complex currently pay €7,000 for the academic year, however that figure is climbing to €9,000 starting next term.
The cost of purpose-built student accommodation has become an increasing issue over the past year, as demand far outstrips supply.
Thousands of new units of student accommodation have been built or are under construction or in the planning stages across Dublin, many of them run by private companies.
Unlike standard private accommodation in Dublin, purpose-built student accommodation is not subject to rent restrictions of 4% introduced in late 2016 – due to differences in regulation.
Rent in the Shanowen complex have gone up six times since the complex opened and the rate has over doubled, according to president of the DCU student union, Niall Behan.
Speaking today on RTÉ's Morning Ireland, DCU president Brian MacCraith called on the government to intervene and said students and their families were being subjected to huge financial pressure.
"This is if you like the front end of a major problem that is I think is going to become a significant political issue," MacCraith said.
"We're very concerned about the really horrendous financial pressures being placed on students and families by the situation.
"This is in the weeks coming up to their exams," he said, referring to the students sleeping out.
They could really do without these pressures, they could really do with an intervention from government to reassure them that they will not be yet again at the end of the exploitation channel.
He said that DCU were working to make more beds available, but that any they brought on stream would only be "scratching the surface of the problem".
"So it really needs a systemic approach and I think the government needs to recognise that this is an escalating problem that needs to be addressed," he said.
He said the college was "calling on the government to look at actually regulating the sector".
TheJournal.ie contacted Shanowen Residences, who are yet to respond.