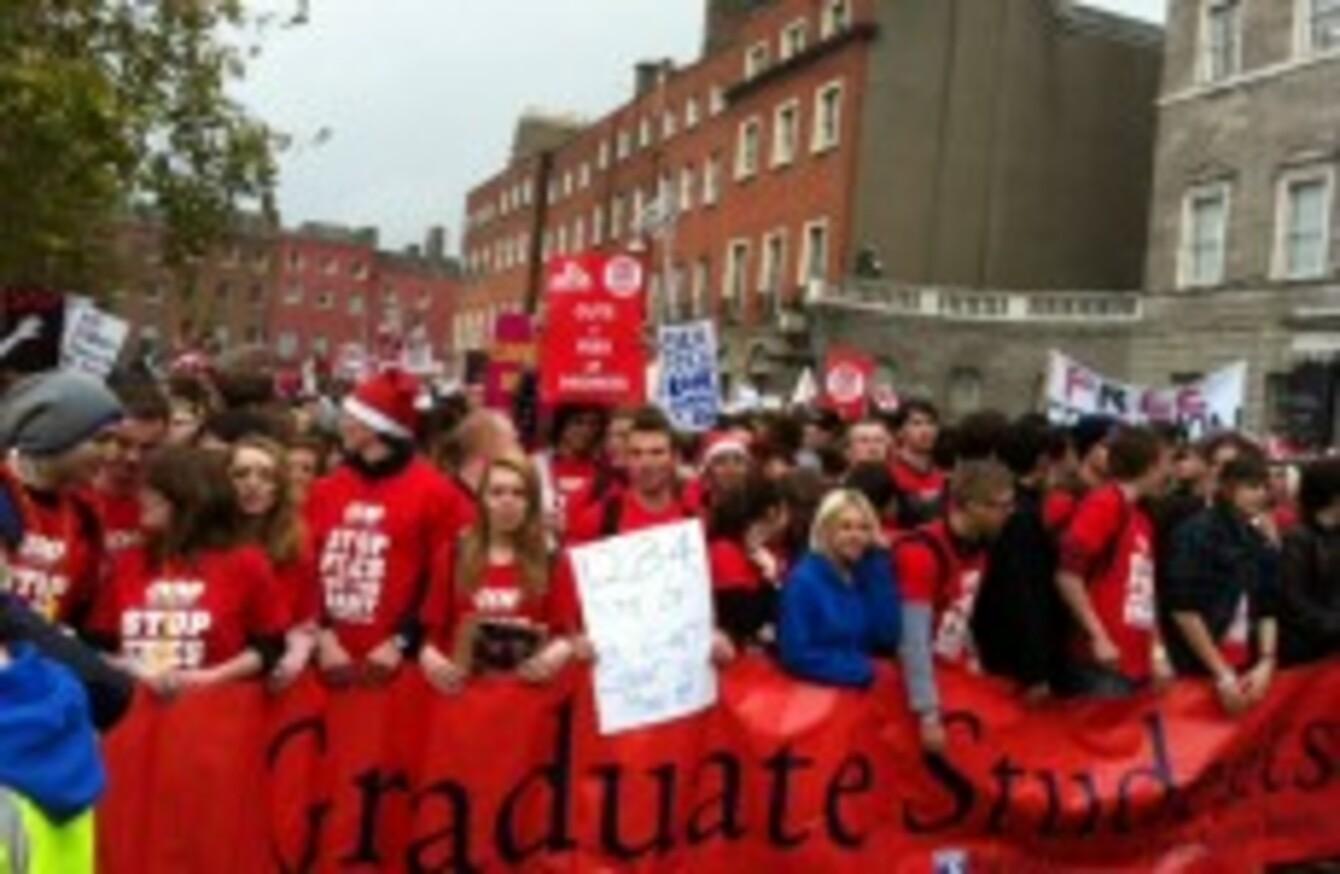 Image: Ylenia Morselli
Image: Ylenia Morselli
TENS OF THOUSANDS of students took to the streets of the capital today to protests against the possible reintroduction of third level fees or cutting of maintenance grants.
An estimated 20,000 students from across the country gathered shortly after midday in Parnell Square before marching towards Government buildings, chanting: "No ifs, no buts, no education cuts". Nearly 200 buses carried students from college campuses across Ireland to participate in the march.
Maintenance support and grants for postgraduate students are in danger of being dropped from next year – in the hopes of saving the State about €50 million annually.
In a statement to TheJournal.ie, the president of the Union of Student in Ireland Gary Redmond hit out at Labour – recalling the party's pre-election pledge not to introduce third level fees if elected: "With over 200,000 students in higher education, plus the votes of their families and friends, I think it is highly likely that Labour owes its place in Government to those crucial thousands of votes that switched from Fine Gael to Labour on the basis of that pledge," he said.
"Claiming, in a post election environment, that the situation is dramatically different from what they had been told is simply taking the Irish people for fools," he added.
Redmond outlined the importance of higher education for Ireland's future prospects, warning against making "short-sighted decisions that  may have long-term negative ramifications".
"There are many tough decisions to be taken over the coming weeks but by choosing to invest in education, we will be able to foster a knowledge based economy and take advantage of every opportunity in the future," he said.
Video uploaded by ITSLIGOSU via YouTube

However, differing views on the question of student fees are surfacing – writing in
TheJournal.ie
today Ian Power, a former deputy president of the University College Cork students' union, 
called for an end to the "ridiculous carousel"
of students resist any new hikes in fees alongside the government regularly increasing the student 'contribution charge'.
While condemning the raising of registration fees as a way of charging tuition fees "by back door", Power argued that the current situation was not sustainable: "Most student representatives acknowledge the current system is unsustainable and many would prefer a student loans system or a graduate tax," he said.
Power called on the government to put in place a "robust and fully resourced support network for students by providing student loans and maintenance grants so each young person can support themselves through their education".
Earlier today, a group of about 50 students stage a brief sit-down protests outside Fine Gael's headquarters on Mount Street, but were subsequently moved on.
A camp-out is planned outside the Department of Education tonight.