Image: PA/PA Archive/Press Association Images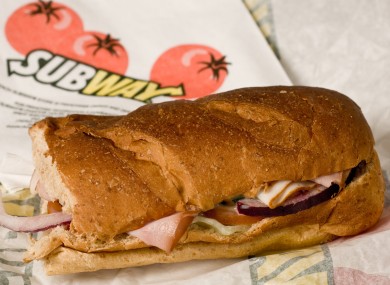 Image: PA/PA Archive/Press Association Images
SUBWAY PLANS TO create up to 1,800 new jobs in Ireland over the next six years.
The brand said that it has "ambitious" expansion plans to increase the number of Subway stores in Ireland by more than 180 over the next six years, creating more up to 1,800 new jobs.
The total store count in the Republic of Ireland is currently 117, with 16 new store openings planned in 2014.
Subway says that its expansion plans "are in response to growing consumer demand for affordable, healthier choices which are made to order and extended opening hours that will cater for the growing breakfast to-go market".
There are currently over 1,700 of its stores in the UK and Ireland, all of which are independently owned and operated by franchisees.
The brand has plans for a further 40 stores in Ireland in 2014 alone, and says that they will create up to 400 new jobs and represent an investment of almost €5m.
Mike Charest, Assistant Regional Director for Europe said that the introduction of a varied breakfast menu and longer opening hours "have been instrumental in increasing store footfall".
He added: "In addition to our traditional store development we see new potential in settings such as universities, stations, convenience stores, hospitals, airports and petrol stations."
The news was welcomed by Labour TD Kevin Humphreys, who said it "signals the growing confidence in our domestic business environment".