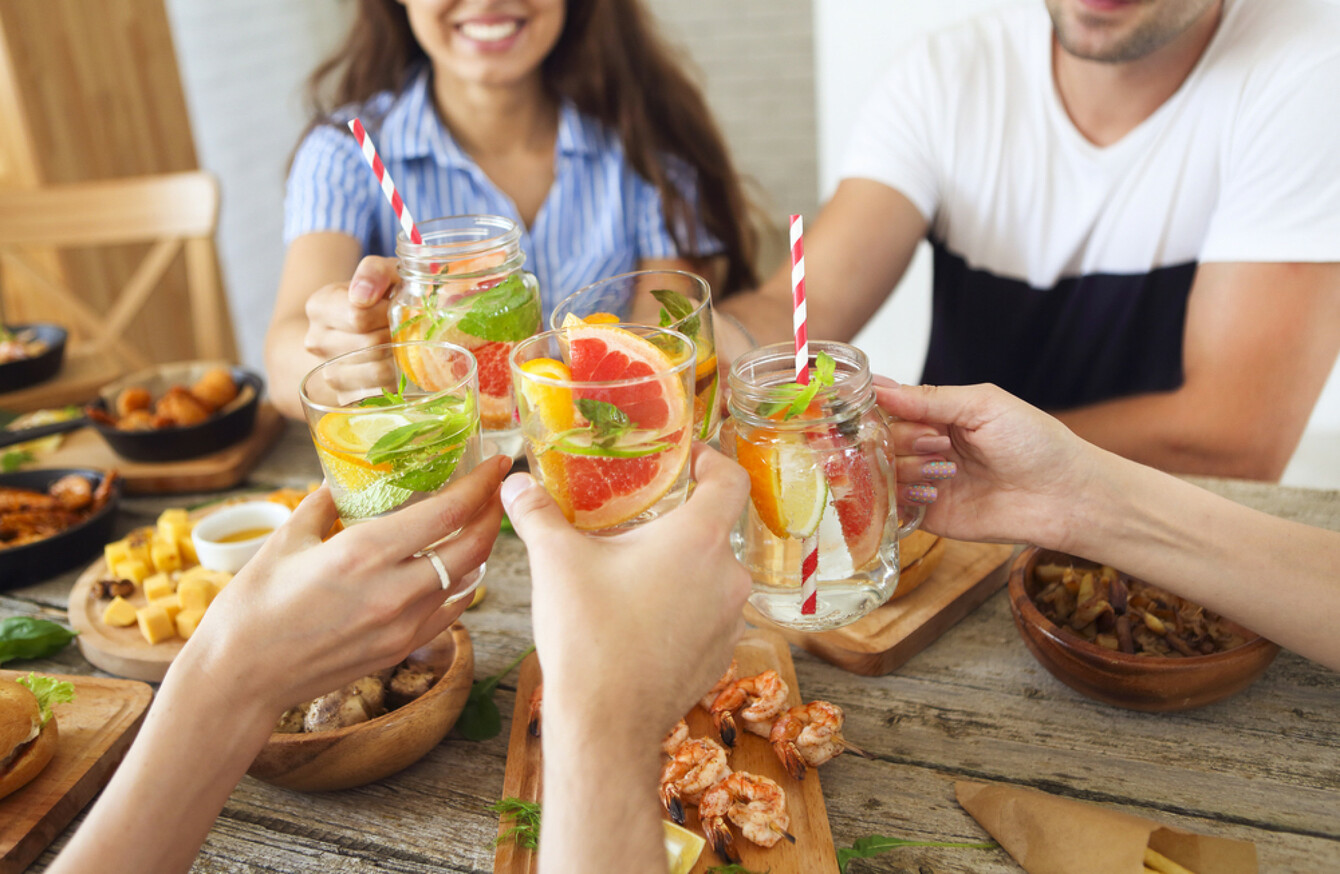 Image: Shutterstock/Dasha Petrenko
Image: Shutterstock/Dasha Petrenko
SHARING FOOD AND drinks with friends outdoors is one of the most wonderful parts of summer – unless you're the one hosting, of course.
Entertaining a big crowd might seem like a daunting task, but Harry Colley, a chef at Fumbally Café and co-founder of Dublin Pop-Up, says there's no need to panic.
"It's meant to be fun and a chance to relax with friends," he says.
Harry's just recently back from the tiny island of Inis Oirr, where he served up a beach breakfast to 180 diners as part of the Drop Everything festival, all cooked up on an outdoor grill. So when it comes to outdoor hosting, he knows his stuff.
Here are his tips for entertaining a big crew this summer…
1. Make the drinks a key part of your menu
Preparing a cocktail or drink that perfectly complements your food is a surefire way to look like a pro without trying – and you don't need to be a mixologist to get it right.
"I'd suggest looking for balance when matching drinks and food. Use citrus flavours to cut through meaty, fatty food, and pair stronger flavours with light dishes like fish and salads," says Harry.
Rather than blowing your entertaining budget on various types of alcohol, pick one alcoholic base for your cocktail, and offer guests a range of flavoured mixers. Find the full Schweppes range of premium mixers here.
2. Do most of the work the day before
"Prep, prep, prep. Do everything in advance. That's how it works when you're cooking for a group," says Harry.
If you're serving meat, prepare your marinades the night before so you can look super-chilled when your guests arrive rather than being stuck in the kitchen.
When it comes to sides, opt for simple make-ahead options that will live happily in the fridge overnight, like six-minute boiled eggs or a potato salad.
3. Cook outside, eat inside
Heatwave or not, you're never far from an unexpected downpour in Ireland, so be prepared to be a little flexible with your dining plans.
Even if you have to take your guests inside, you can still embrace the Irish dad in you and do some barbecuing under an umbrella, says Harry:
You'll never get that lovely char and layered flavours on an indoor grill, so cook outside and serve the food indoors.
4. Pick a couple of summer ingredients to work around
Summer is the king of the seasons when it comes to vibrant flavours and perfectly ripe fruit.
At this time of year, stone fruits like peaches and cherries are everywhere. Serving grilled peaches with ricotta is a great way to turn a sweet ingredient into a savoury dish.
If you're stuck for inspiration, pick one key ingredient and work around that. "Something like an aubergine can become the base of a much bigger meal, you can roast it, add creaminess with yoghurt and use summer flavours like orange."
5. Don't stress if you can't serve stuff up right away
A group meal should be relaxed and slow-paced, so keep that in mind when prepping your food – and don't panic about getting it all on the table at once.
"Some dishes out there can benefit from being forgotten about for an hour or two. A tomato salad will really start to give out its juices and the flavours will mellow if you leave it out while you make everything else," says Harry.
6. Plan a menu that gives you more time to relax with your guests
"Ease is the first thing I think of when planning a group menu," says Harry. "It has to be super easy."
Harry's go-to when entertaining a crowd in the summer?
Get a butterflied leg of lamb from the butchers, and coat it with some chopped garlic, anchovies, rosemary and olive oil. Cook it on the barbecue and serve it with a potato salad and a few summer drinks. You don't want to be breaking your back in the kitchen while your guests are all hanging out without you.
Add Schweppes to your mix this summer with a full range of flavours perfect for cocktails, G&Ts and more. Try the new Schweppes Elderflower Tonic Water, in stores nationwide now.