WITH THE DAWN of a new era in which we really need to think about the way we use the world's resources, it's definitely worth looking to our habits at work. After all, most of us spend over 36 hours a week there.
Whether you're battling to recycle boxes in retail, trying to convince your colleagues to turn their computers off at night or you're a business owner hoping to switch to sustainable energy – every little act can help.
So, how sustainable is your workplace? Are there small switches you could make to help protect the environment? Take our quiz to find out…
1. Do you and your colleagues take measures to save electricity, like shutting down computers or turning off lights at night?
Yes, we're very careful. Those electricity bills!
We leave things switched on now and again.
We often leave lights and PCs switched on.
I'm not sure, to be honest.


2. What do you and your colleagues use to stay hydrated in work?
We use glasses and drink from the tap
We drink from the tap but use plastic cups
We usually grab our own plastic bottles of water
Most of us use reusable water bottles


3. What is your team's approach to printing documents at work?
We print whatever we need, even if it's just for a quick meeting
We try to only print when necessary
We never print - we use a screen or notes


4. How do most people get to work?
Most of us drive to be honest (though public transport isn't really an option)
Yeah a good few of us drive (though we could technically get public transport)
We all tend to cycle/walk/get public transport
I'm not sure how other people get to work


5. Does your workplace use any renewable energy or more eco-friendly light bulbs?
Yes, we're powered by renewable energy
I think we use eco-friendly bulbs
I don't think we use either


6. Do people in your workplace use the recycling bin?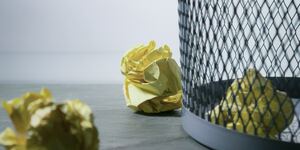 Unsplash
Sometimes, but dirty containers often find their way in...
We don't have a recycling bin


7. If your place of work is temperature-controlled, what tends to be the situation?
It's either really cold or really warm - there's no in-between
It tends to stay at a pretty stable temperature
People tend to change the controls, depending on their own preferences


Another great way that businesses can be kinder to the environment is to switch to Calor BioLPG, a 100% certified renewable energy, available all over Ireland. Made from sustainably sourced renewable vegetable oils and waste materials, it is delivered, stored and used in exactly the same way as conventional LPG. Calor BioLPG can reduce your home or business carbon emissions by at least 50% – a small choice for a big change.