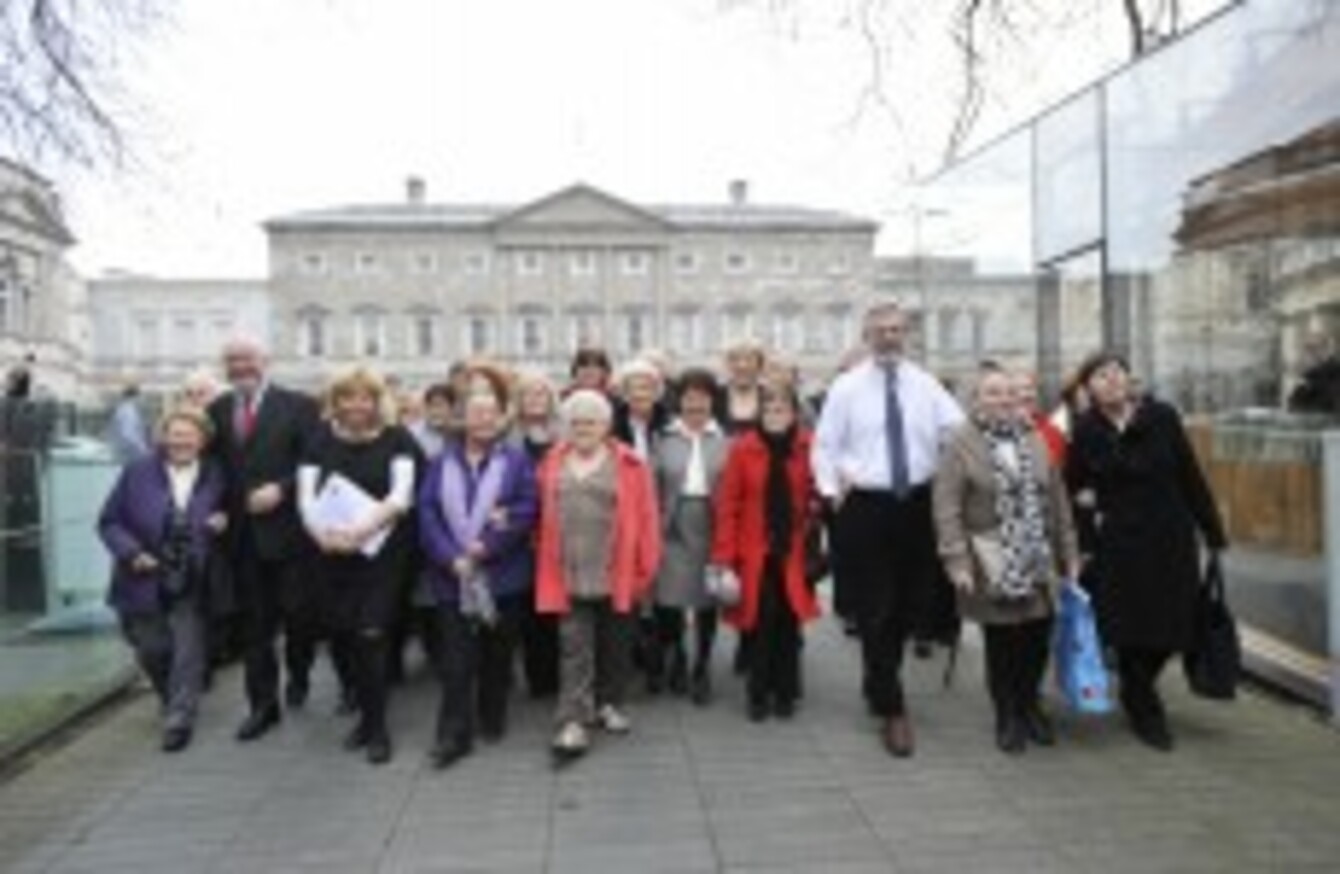 Sinn Féin spokesperson Caoimghghin O'Caolain and party leader Gerry Adams pictured with survivors of symphysiotomy in March 2012
Image: Photocall Ireland
Sinn Féin spokesperson Caoimghghin O'Caolain and party leader Gerry Adams pictured with survivors of symphysiotomy in March 2012
Image: Photocall Ireland
SURVIVORS OF SYMPHYSIOTOMY have said that they unanimously repudiate the Walsh report into the scandal.
The women met yesterday to discuss the government-commissioned report, which they described as "defending the latter-day practice of symphysiotomy, a mutilating  operation that often led to horrendous side effects".
Survivors
Over 160 survivors took part in the discussion, with  Marie O'Connor, Chairperson of SoS, commenting afterwards:
Our members voted unanimously today to repudiate the findings of this deeply defective and distorted piece of work.
SoS urges the Minister for Health to abandon further consideration of Walsh  and support the call of the Joint Committee on Justice to set aside the statute of limitations, so that all survivors  can access the courts.
Dr Jacqueline Morrissey, the historian who first exposed the latter day practice of symphysiotomy in Ireland, strongly criticised the Walsh Report.
She said that Walsh's use of statistics comparing maternal and infant death figures for Caesarean Section and symphysiotomy "did not compare like with like".
She also queried Walsh's assertion that the motivation behind the reintroduction of symphyisotomy  at the National Maternity Hospital in the 1940s was not religious, but medical. Morrissey spoke about the religious views of Dr Barry at the National Maternity Hospital and Dr Feeney at the Coombe, both of whom carried out symphysiotomies.
Marie O'Connor, meanwhile, underlined that childbearing without limitation was the goal.
Mortality figures
O'Connor said that Walsh's assertion that symphysiotomy was "safer" than a caesarean section was "baseless".
The author's own tables do not bear out her assertion that fetal mortality was "far lower" in sympysiotomy than in C-section. Walsh's figures show that the death rate for both operations was the same. Survivor testimony also exposes the hollowness of this claim.
She also lambasted the theory that she said was advanced by Walsh, which was that these operations were mostly done as emergencies, and that they were justified.
Hospital reports and survivor testimony, including today, show that almost all of these operations were planned, and that they were carried out as procedures of choice in preference to Caesarean section. Walsh has failed signally to justify these scheduled surgeries.
Phase two
SoS has resolved not to co-operate with phase two of the Walsh Report.
The representative body is running its own independent consultation process on Walsh and today members decided unanimously to channel their views through  the National Executive and not to take part in the Department's so-called consultation process.
O'Connor explained:
Why would victims of institutional abuse participate in a process designed to manufacture consent to a whitewash report? Professor Walsh is unlikely to change her findings, even if she has been shown to be wrong in fact.
O'Connor also said she was concerned that SoS members were being  "pressurised to take part in the Department's consultation exercise".
She said SoS would be looking to the Minister for Health James Reilly to reassure them that participation was optional and that survivors could, "without loss of benefit, channel their views on the Walsh Report through SoS".
The Walsh Report found that the pelvis-severing surgery was good medical practice, except in a very small number of cases. "Liability does not therefore arise," said Marie O'Connor, "except in around three per cent of cases."
Independent TD for Wicklow Stephen Donnelly, who attended yesterday's meeting has called for the Walsh report to be "binned". Donnelly said that the women had been "horrifically abused" and that the report has alienated the women for whom it is supposed to be seeking justice.
Professor Oonagh Walsh could not be contacted for comment.