A CEASEFIRE IN Syria brokered by Russia and the United States is due to begin at sundown today, after scores of civilians were killed in a bloody weekend of strikes.
The truce, announced after marathon talks by the Russian and US foreign ministers, has been billed as the best chance yet to end Syria's five-year civil war estimated to have killed more than 290,000 people and displaced over half the country's population.
As the clock ticks towards sunset when the ceasefire is expected to start, rebels battling the Syrian regime and the political opposition are still weighing whether to abide by the agreement.
Only one rebel group, Ahrar al-Sham, has given its official reaction — a rejection of the ceasefire deal, which the influential hardline Islamists said would only serve to strengthen the regime of President Bashar al-Assad.
However, even as world powers threw their support behind the deal, weekend strikes on the key opposition cities of Aleppo and Idlib killed at least 74 people.
Regime air raids on rebel-held parts of Aleppo killed six civilians and wounded 30 yesterday, the Syrian Observatory for Human Rights said.
"We hope there will be a ceasefire so that civilians can get a break. The shelling goes on night and day, there are targeted killings, besieged cities," Abu Abdullah, who lives in Aleppo's rebel-held east, said.
Civilians have no hope anymore.
Unidentified warplanes bombarded both cities on Saturday, killing 62 in Idlib alone.
The strikes in Idlib hit several areas including a market full of shoppers preparing for the Muslim holiday of Eid al-Adha, which begins today.
Assad and allies welcome truce 
State news agency SANA has reported that Syrian President Bashar al-Assad's government "approved the agreement" for a truce on Saturday.
Lebanese Shiite militia Hezbollah, which has intervened militarily on behalf of Assad, also announced its support.
Assad made a rare public appearance today at prayers for Eid al-Adha in the town of Daraya, recently surrendered by rebels.
State media showed the embattled leader attending the prayers at the Saad Bin Moaz mosque in the town outside Damascus, which was previously a rebel stronghold.
After years of government siege and fighting, its remaining residents and rebel fighters evacuated the town in late August under a deal with the regime, which has since retaken control.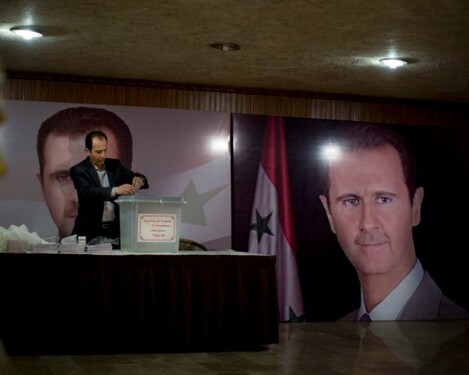 A Syrian election official waits for voters at a polling station with posters of President Bashar al-Assad in April. Source: Hassan Ammar/AP/Press Association Images
Assad was joined at the prayers by a number of members of his ruling Baath party, as well as several ministers and members of parliament.
The mufti, or Muslim cleric, presiding over the prayers, hailed Daraya as an example for Syria, which has been ravaged by conflict since 2011.
"Daraya is living proof for all Syrians that the only option available to you is reconciliation and abandoning fighting," Adnan al-Afiyuni, mufti for Damascus province, said.
Rebel fighters said they had been forced to agree the deal with the government after the siege created a humanitarian crisis for Daraya's remaining residents.
However, the government has touted the deal, and other similar agreements, as the best way to achieve local ceasefires and end the violence.