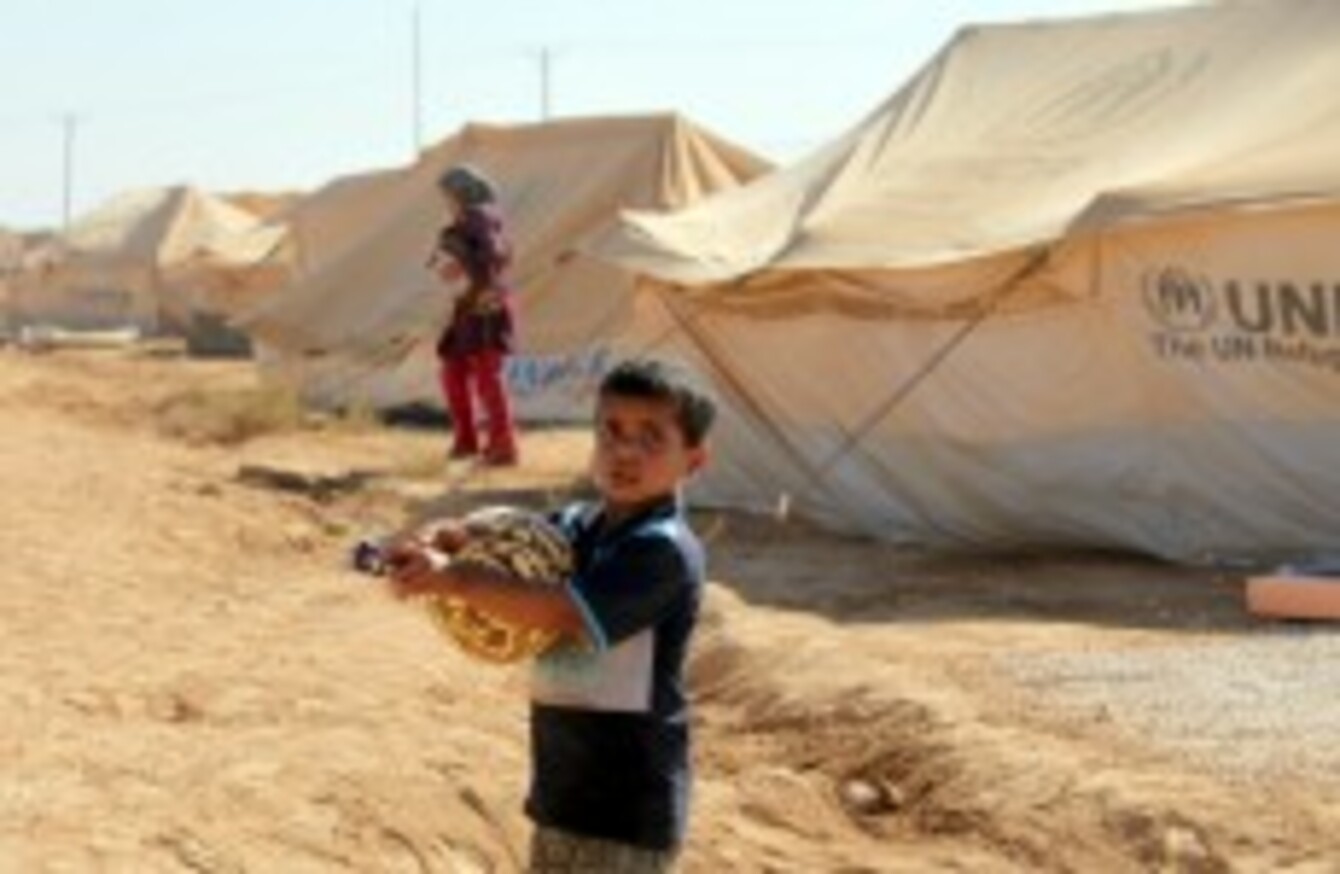 A boy at the Za'atari refugee camp in Jordan recently
Image: Mohammad Hannon/AP/Press Association Images
A boy at the Za'atari refugee camp in Jordan recently
Image: Mohammad Hannon/AP/Press Association Images
JUNIOR FOREIGN MINISTER Joe Costello is travelling to Jordan tomorrow and is expected to announce a significant increase in the amount of humanitarian aid for people affected by the conflict in Syria.
The Minister of State for Trade and Development will visit the Za'atri refugee camp in the north of the country, near the border with Syria to assess the situation. It follows a recent meeting with the Syrian Irish Humanitarian Aid organisation.
TheJournal.ie understands that he will likely announce a significant increase in the amount of aid being provided to aid agencies working in the region with Ireland having already provided €500,000 for those affected by the conflict in Syria.
Costello, who has been keen to travel to the region, will visit a refugee camp that was built in July of this year to accommodate the thousands of refugees fleeing the conflict in Syria which has so far claimed the lives of more than 17,000 since March of last year.
The camp provides shelter to more than 7,000 refugees, primarily women and children but is being seeing hundreds more arrive every day and conditions are tough in the desert environment where temperatures reach 45 degrees Celsius.
Prior to the visit, Costello said: "The purpose of my visit is to assess the humanitarian situation and needs on the ground and to demonstrate Ireland's solidarity with those most affected by the devastating conflict in Syria.
"I have already approved the provision of €500,000 in Irish Aid funding for the International Committee of the Red Cross, the UN High Commissioner for Refugees, and the UN World Food Programme . This funding is being used to provide immediate relief within Syria and to assist those forced to flee.
"Given the intensification of the refugee crisis, I will be meeting with the United Nations and other partners on the ground to identify further ways to help."
The conflict in Syria involves a rebellion against the long rule of President Bashar Assad who has fought to retain control of the country in the face of growing condemnation for his forces' actions in repelling Syrian rebel attacks.
Assad's forces continue to control many of the country's major cities but rebels have made significant ground in the countryside and continue to push for the overthrowing of Assad.
The United Nations has been attempting to forge a resolution to the bloody conflict but has so far been unsuccessful.
Costello continued: "Humanitarian access and the security of aid workers is a serious concern.  All parties to the conflict must fully respect international humanitarian law and ensure that humanitarian organisations agencies are granted immediate and safe access to those most in need."
He added that Ireland supports the "full and immediate" implementation of the UN's six-point peace plan which calls for both sides to come together to end the civil war and establish a political solution based on the "legitimate aspirations and concerns of the Syrian people".