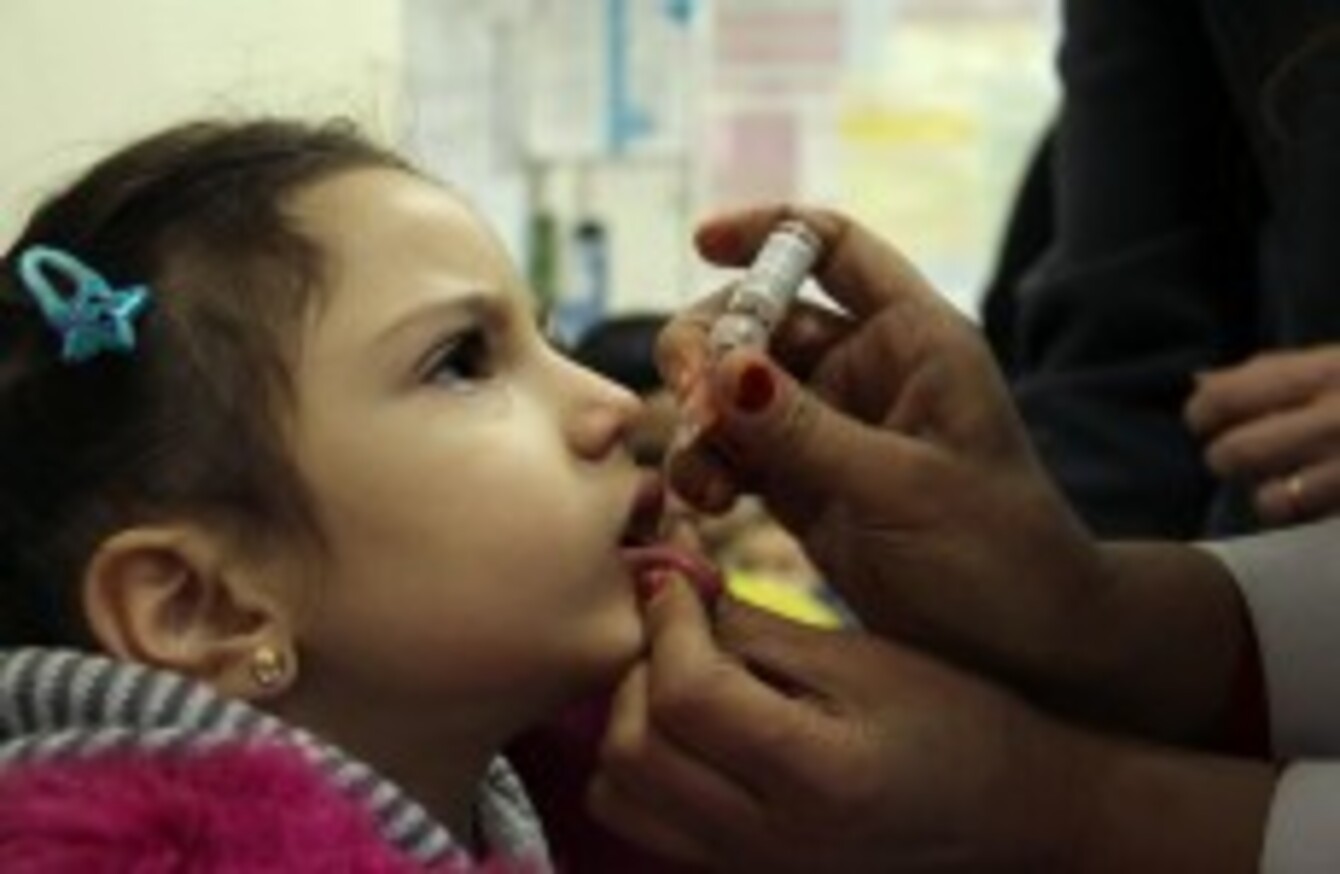 A girl receives a dose of oral polio vaccine at a health centre in Damascus
Image: UNICEF/Halabi
A girl receives a dose of oral polio vaccine at a health centre in Damascus
Image: UNICEF/Halabi
THE UNITED NATIONS Health Agency (WHO) says it has received reports of a polio outbreak in the war-torn country in recent weeks.
The organisation received reports on 17 October of a cluster of what's termed 'acute flaccid paralysis (AFP)' cases, indicating a sudden onset of the disease.
Syria is already considered at high-risk for this and other vaccine-preventable diseases, but has not experienced a case of polio since 1999.
According to WHO, the Syrian Ministry of Health has confirmed it's treating the outbreak as a cluster of "hot" AFP cases, pending final laboratory confirmation.
Initial results from a polio laboratory in Damascus indicate that two of the cases, detected earlier this month in Deir Al Zour province, could be positive, but final results are being awaited from a WHO lab.
The Ministry said an alert had been issued for the region to actively search for additional potential cases.
Geneva
Meanwhile, Syrian President Bashar al-Assad has dealt a blow to efforts for a peace conference on the ongoing conflict, saying the time is not ripe. It comes as Western and Arab powers prepare to meet today with the Syrian opposition.
"No time has been set, and the factors are not yet in place if we want [the Geneva peace conference] to succeed," Assad told a Lebanon-based TV channel.
In the lengthy interview, Assad also said he was willing to run for re-election in 2014 — in remarks that came soon after US Secretary of State John Kerry said that if he were to win, Syria's civil war would be extended.
Kerry said after talks with Arab League officials in Paris such a scenario would never be accepted by the international community.
"He has bombed and gassed people in his country… How can that man claim to rule under any legitimacy in the future?"
Kerry's comments came before Tuesday's meeting in London, which groups the so-called 'London 11′, the core group of the 'Friends of Syria' that consists of Britain, Egypt, France, Germany, Italy, Jordan, Qatar, Saudi Arabia, Turkey, the United Arab Emirates and the United States, together with opposition leaders.
The meeting hopes to persuade the fractured opposition to have a "united position" for the planned Geneva conference next month, British Foreign Secretary William Hague said ahead of the talks.
Additional reporting by AFP.