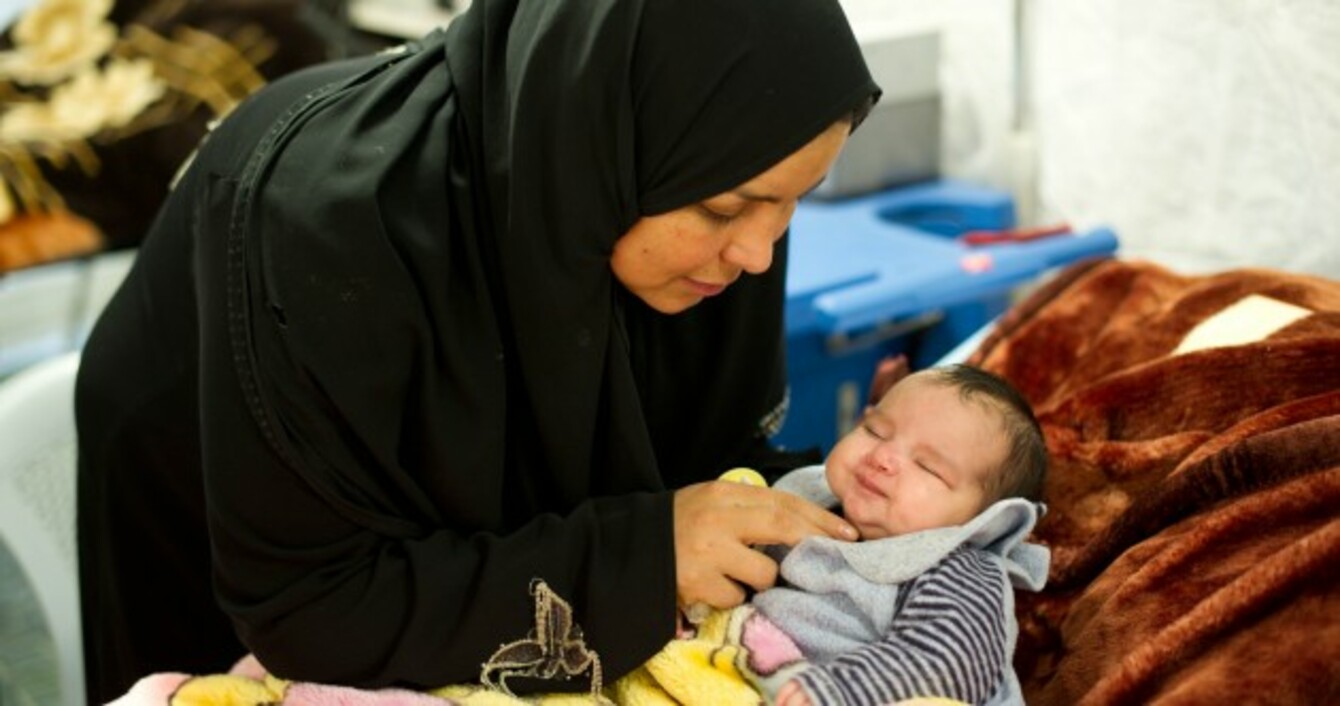 A mother cares for her child at a Red Cross Red Crescent field hospital in Mafraq, Jordan
Image: Kenneth O'Halloran, Irish Red Cross
A mother cares for her child at a Red Cross Red Crescent field hospital in Mafraq, Jordan
Image: Kenneth O'Halloran, Irish Red Cross
APPROXIMATELY 300,000 REFUGEES have crossed the border from Syria into Jordan, with more than 10,000 having fled there in the last week alone.
One of the groups on the ground is the Red Cross. Secretary General of the Irish Red Cross Donal Forde has recently returned from the Zaatri Refugee Camp on Jordan's border with Syria, and is stressing the need for continued support for families forced from their homes and country by the ongoing conflict in Syria.
The Cyber City Transit Camp for Syrian Refugees in Jordan is home to thousands of refugees. One woman, Ms Saeydi, told the Red Cross her story. She said that after witnessing the death of her close neighbour and seeing her community attacked,  she felt it was unsafe to stay in Syria.
A heavily pregnant Saeydi brought her children over the border into Jordan, and is pictured in the slideshow below with her son, Abdullah (now 4 months old), who was born in a refugee camp near Mafraq, where the family now live.
Refugees
Along with other humanitarian agencies, Red Cross Red Crescent teams are actively responding to the constant flow of refugees entering the country.
Donal Forde explained to TheJournal.ie that there are 2 – 3 million people displaced from Syria, while 1 million have left the country and are being housed in refugee camps or in communities.
Typically people have arrived in Lebanon, Turkey, and Jordan, with Jordan – which has a population similar to Ireland – seeing about 300,000 people having crossed over. "It's a poor country so it's trying to cope with that," said Forde.
In many cases [Syrians] are coming incomplete as a family; members have been shot or killed, husbands are on the run. You get mothers coming across with big families.
The Irish Red Cross does not have a team on the ground, but members visited the Jordan camp from Ireland to see how resources can be best used. The Jordan camps hold around 80,000 people and the rest are being looked after in local communities. "It's putting quite a strain on every public service," said Forde. "They are organising as best they can but generally they are being overwhelmed."
With around 2,000 people crossing the border from Syria every night, and no end in sight to the current conflict, the strain on resources is only going to grow larger.
When you go the places like this, your sense is the immediate need of food and shelter. The bit that strikes you is everyone you talk to has a very harrowing story to tell. The despair they feel sitting here… there is no sense of how they get reconnected with home, or relatives missing. There is no sense of how long this is going to continue.
#Open journalism No news is bad news Support The Journal

Your contributions will help us continue to deliver the stories that are important to you

Support us now
"For now, those that is the most striking aspect of any engagement with people over there," said Forde. "The awful sense of hopelessness, despair, uncertainty."
Pressing issues include medical facilities, connecting people there with people back in Syria, helping those in the community, and counselling.
People can donate to the Red Cross via the Irish Red Cross website. "We are very grateful to those who have supported us thus far," said Forde.
Refugee camps

Refugee camps

Refugee camps

Refugee camps

Refugee camps

Refugee camps

Refugee camps