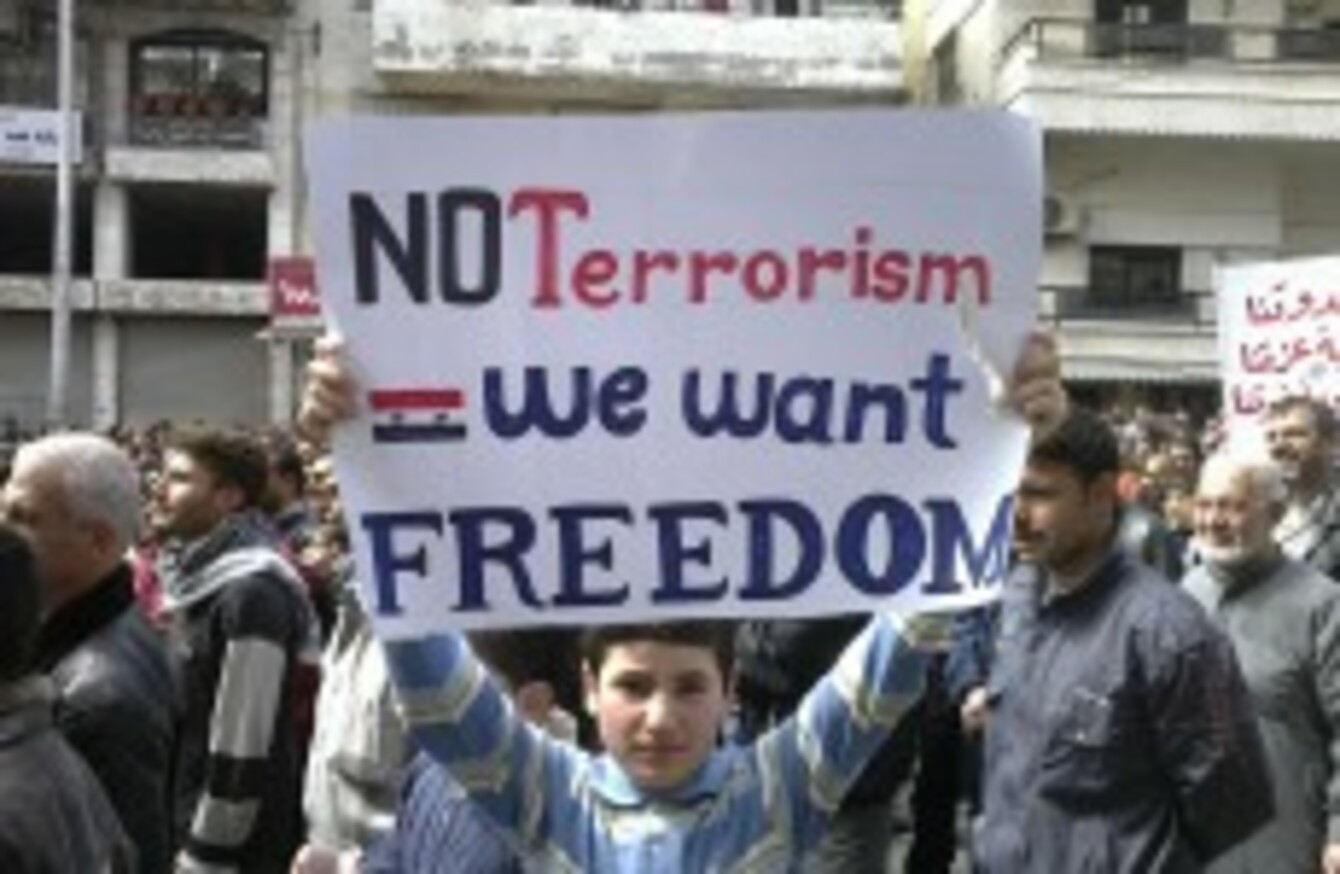 A Syrian boy carries a banner during an anti-government demonstration in the coastal city of Banias, Syria on Friday.
Image: AP Photo
A Syrian boy carries a banner during an anti-government demonstration in the coastal city of Banias, Syria on Friday.
Image: AP Photo
PROTESTERS IN SYRIA claim that 60 people have been killed by security forces following massive demonstrations held across the country today.
Syrian security forces fired live bullets and tear gas Friday on pro-democracy demonstrations across the country in one of the bloodiest days of the uprising against President Bashar Assad's authoritarian regime, witnesses said.
Demonstrators were shot when they gathered following Friday prayers, a day after the country's decades-long state of emergency was lifted, BBC reported, adding that the death toll stood at 60 according to protesters.
This could not be independently verified. State media would only say that security forces had used tear gas and water canons and that "some" people had been injured.
Many of the deaths reportedly occurred in the village of Ezra and in the Douma suburb of the capital Damascus.
Protesters flooded into the streets in at least nine major areas across the country, a sign that Assad's attempts to quell the monthlong protests with a deadly crackdown and promises of reform have all but failed.
One witness told AP:
Bullets started flying over our heads like heavy rain.
The protest movement has been the gravest challenge against the autocratic regime led by Assad, who inherited power from his father 11 years ago in one of the most rigidly controlled countries in the Middle East.
The uprising in Syria, which has a population of 20 million people, takes its inspiration from the popular revolts sweeping the Arab world. But there are significant differences in Syria that make the protest movement there all the more unpredictable.
The country's military structure is one key difference — unlike the armies of Tunisia and Egypt, Syria's military and security apparatus will almost certainly stand by Assad, at least for the time being.
On Friday, tens of thousands of people were protesting in the Damascus suburb of Douma, the central cities of Hama and Homs, Latakia and Banias on the coast, the northern cities of Raqqa and Idlib, the northeastern Kurdish region, and the southern province of Daraa, where the uprising kicked off in mid-March.
They chanted for for the "overthrow of the regime," reflecting the hardening of demands which initially focussed on reforms and greater freedoms, Reuters reports.
As the protesters dispersed, the scope of the bloodshed began to emerge.
The protest movement has crossed a significant threshold in recent days, with increasing numbers now seeking the downfall of the regime, not just reforms.
The security crackdown has only emboldened protesters, who are enraged over the deaths of more than 200 people over five weeks.
- with additional reporting from AP