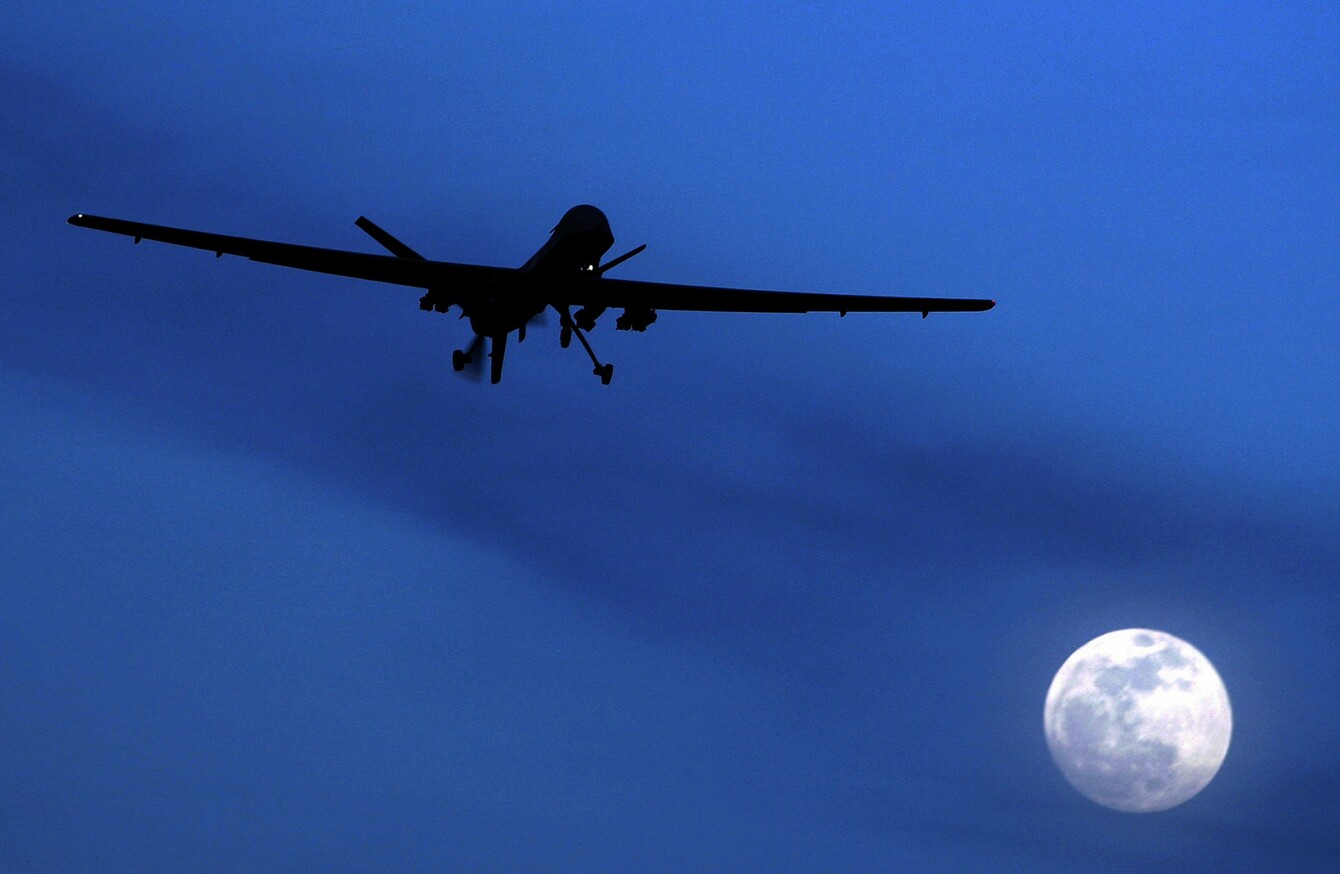 An unmanned US Predator drone flies over Afghanistan.
Image: AP/Press Association Images
An unmanned US Predator drone flies over Afghanistan.
Image: AP/Press Association Images
A SENIOR COMMANDER with the Afghan Taliban says the militant group's leader Mullah Akhtar Mansour has been killed in a US drone strike.
Mullah Abdul Rauf told The Associated Press that Mansour died in the strike late on Friday night.
He says the strike took place "in the Afghanistan-Pakistan border area."
The office of Afghan President Ashraf Ghani confirmed the strike but could not confirm Mansour's death.
Chief Executive Abdullah Abdullah, however, says that Mansour is "more than likely" dead.
Mansour formally led the Taliban after the death of the movement's founder, Mullah Mohammad Omar, was announced last summer.
Mansour, Mullah Omar's deputy, concealed Mullah Omar's death for more than two years, and ran the Taliban in his name until the death was revealed by the Afghan government.
Reports
In a statement, Pentagon spokesman Peter Cook said the US military was still assessing whether Mansour had in fact been killed. The deaths of Taliban leaders have often been falsely reported, and Mansour himself was rumoured to have been killed in December.
The United States informed both Pakistan and Afghanistan shortly after the strike, a senior White House official said.
Michael O'Hanlon of the Brookings Institution think-tank said Mansour's death may only "modestly" help the US effort in Afghanistan.
"The war has been going on for so long, the Taliban has so many leaders and so much ability to function at the local level even without strong central guidance, that we would be well advised to keep expectations in check," he said.

Leader
Born in the southern Afghan province of Kandahar sometime in the early 1960s, Mansour was part of the Taliban movement from its start in the 1990s and has effectively been in charge since 2013, according to Taliban sources.
He has shunned public appearances. The few pictures believed to be of him show a thickset man with the dark beard and turban that are virtually the uniform for senior Taliban cadres.
Mansour spent part of his life in Pakistan, like millions of Afghans who fled the Soviet occupation.
He succeeded Omar, the one-eyed warrior-cleric who led the Taliban from its rise in the chaos of the Afghan civil war of the 1990s.
With AFP reporting