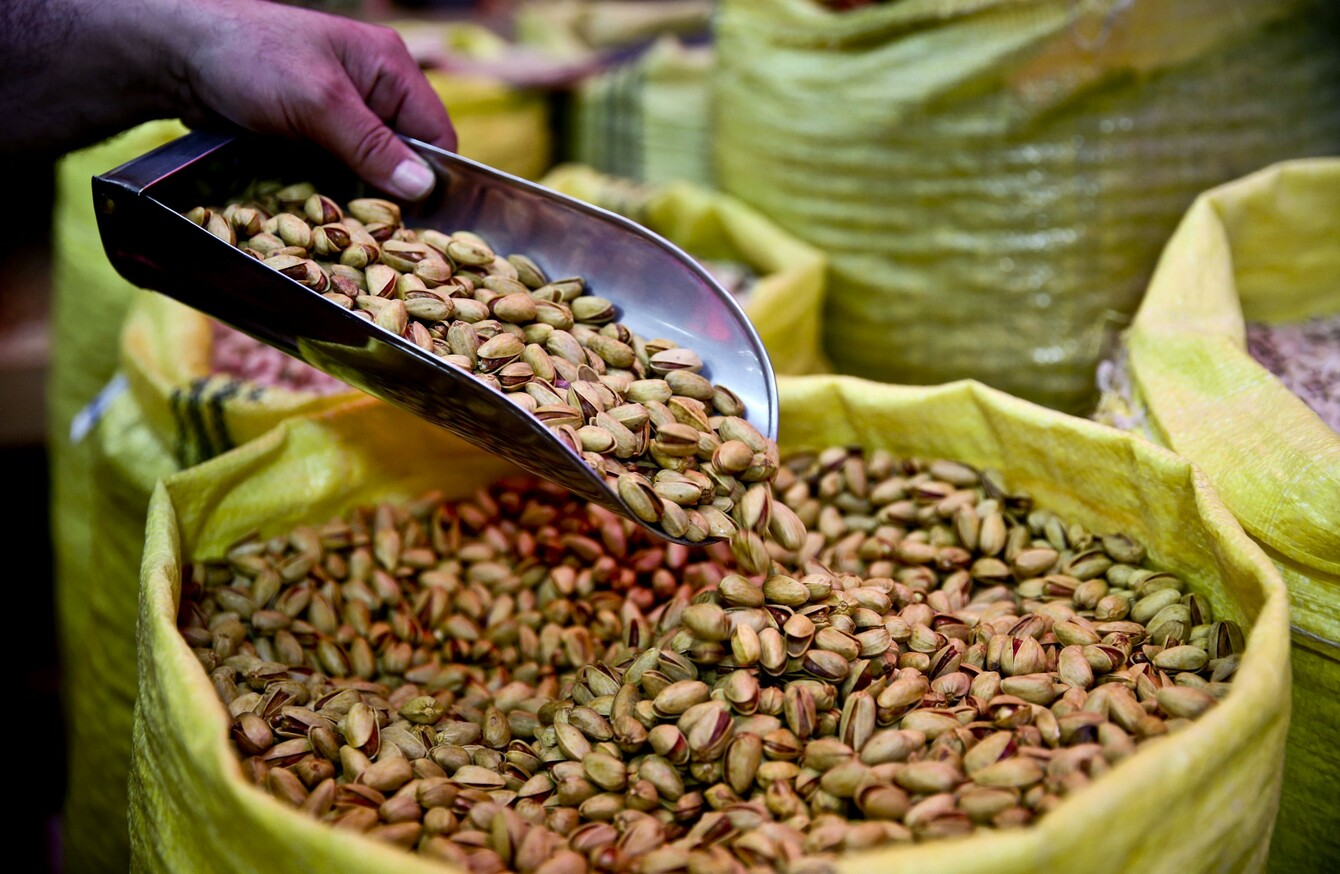 Image: AP/Press Association Images
Image: AP/Press Association Images
PISTACHIO EXPORTS FROM Afghanistan were worth €3.8 million in 2014.
While this is nowhere near the €145 million a year from opium, it's still an attractive haul to the Taliban and local strongmen, some of whom are among Afghanistan's poorest people.
Raiders rushed the pistachio forests earlier this month and illegally harvested up to 40% of the country's still-green crop. Pistachios are not ripe until late July.
Security forces rushed to the scene and arrested many of the raiders but the damage was done.
Similar scenes were repeated all along the "pistachio belt" that runs from Badakhshan in northeast Afghanistan to Kunduz in the north and Herat in the west.
Fears are growing that the Taliban are depriving the war-battered country of much-needed export income.
"Government forces have no authority over the pistachio forests in Badghis province because they lie in Taliban-controlled areas," says Hafizullah Benish, agriculture director in the western province.
Still raw
The Taliban and local strongmen collected the crops too early, Shafi says.
I can tell you, these pistachios will not be sold because they are raw, not ripe.
If they had waited, agriculture director Benish adds, the crop could have sold for an estimated 35 million Afghanis (€460,000).
In Badghis province, he says, a "seer" ( a Central Asian unit equivalent to about seven kilos) of pistachios stolen while still green can sell for about 400 Afghanis, instead of the 1,500 to 2,000 Afghanis it can sell for when they are fully ripe.
Poverty
To try and stop theft, for the past few years the government has banned access to the pistachio forests near harvest time. Defiance of the ban constitutes a crime, but that is not enough of a deterrent because many militants and the strongmen are desperately poor.
"Collecting pistachios from the forest is a golden opportunity for them to save a bit of money for themselves," says 32-year-old Shafi, an agricultural labourer in Samangan who uses only one name.
"If the government forces and powerful individuals do not stop the people, they can collect enough pistachios to make around 1,000 to 2,000 Afghanis (€13 to €26) every day," he tells AFP – enough to feed a family for a week.
Deforestation
Pistachios are targeted more than any other nut because they grow without cultivation in natural state forests, unlike a cash crop like peanuts which are better protected by their owners.
Nearly four decades ago, before the near continuous wars that have since ravaged Afghanistan, the country was carpeted with up to 450,000 hectares of pistachio forest.
Now, after violence and misery, 40-50% of the trees are gone for firewood or are victims of climate change and drought.
According to the Food and Agriculture Organization (FAO) and USAID, forest density across the country has considerably thinned, from an average of 40-100 trees per hectare before the war to 20-40 trees today.
For the past dozen years, efforts to green the country saw 9,700 hectares of pistachio replanted.
With additional reporting from Elizabeth O'Malley.