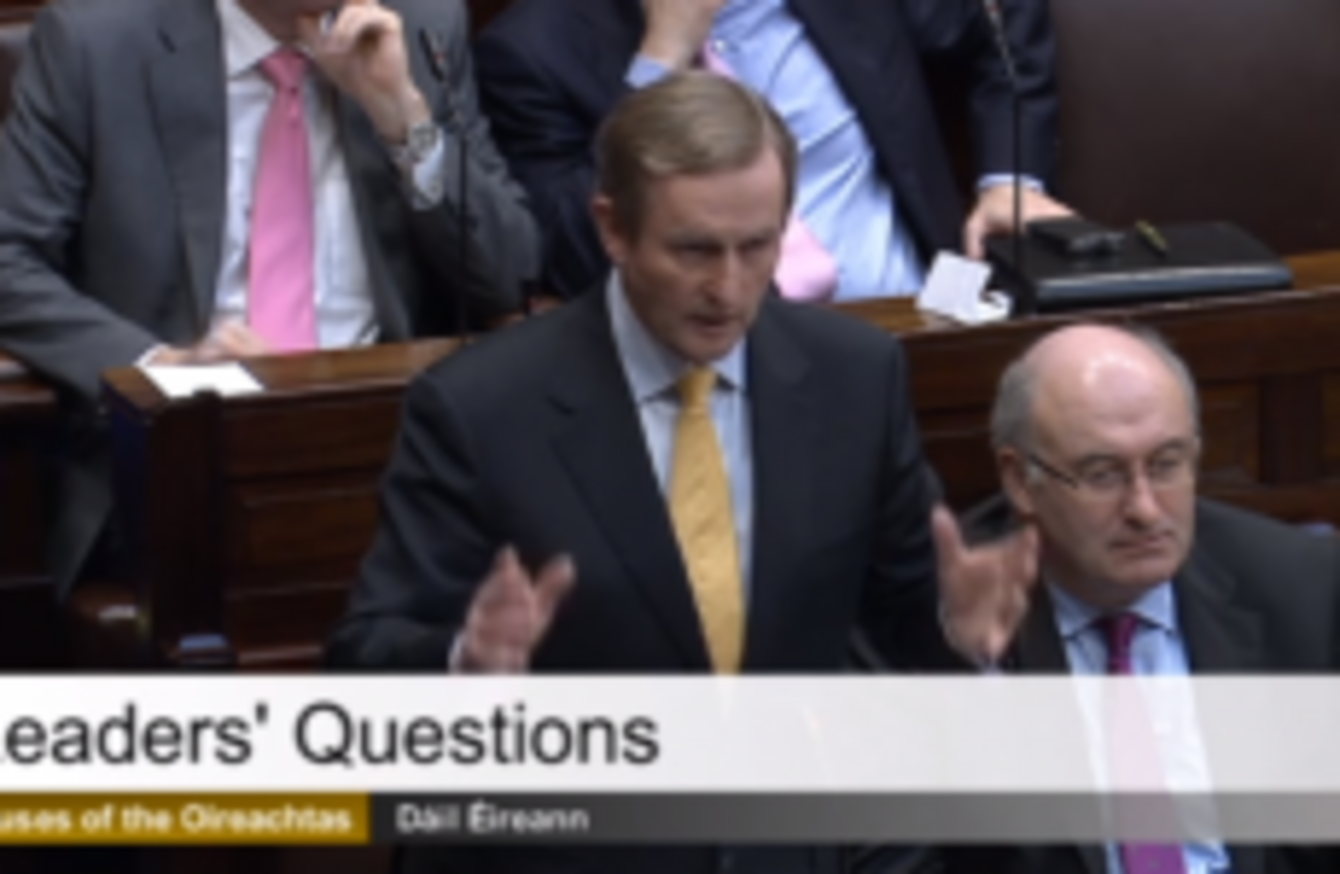 Enda Kenny at Leaders' Questions this afternoon
Image: Screengrab via Oireachtas TV
Enda Kenny at Leaders' Questions this afternoon
Image: Screengrab via Oireachtas TV
TAOISEACH ENDA KENNY has ruled out any restoration of the Christmas bonus in the Dáil this afternoon.
Kenny faced calls from the independent TD Seamus Healy to restore the bonus, a once-off end of year payment for elderly people, carers and long-term social welfare recipients, which would cost the Exchequer around €261 million.
Speaking during Leaders' Questions in the Dáil this morning, Healy suggested that it could be funded through a wealth tax and cited CSO statistics which show that almost a quarter of the country's population don't have money to afford at least two goods or services that are considered the norm.
"The Christmas bonus made Christmas for many of these families," Healy told Kenny this morning.
But Kenny, who faced shouts of "Scrooge" from across the chamber, ruled out any restoration of the bonus, which was abolished by the previous government in 2009, saying that "the money is not there".
"It would be a lovely thing, from a political point of view, to stand up and say 'We'll pay this'. The money is not there," he said.
The Taoiseach said that the entire social welfare system is being reformed so that instead of "passive payments" there will be a system where "work will pay".
He also said the government has maintained core social welfare rates.
Pylons and HSE
Earlier, the Taoiseach was asked to set up an independent, international assessment of the possibility of placing electricity cables underground, in light of Eirgrid's plans to update the State' energy infrastructure with overhead pylons.
Fianna Fáil's Micheál Martin said that 1,300 pylons are being erected across the country and that this is being "rammed down people's throats". He that "no one is questioning the need to modernise in terms of energy" but called for more scrutiny of the process.
Kenny said the project was necessary in order to have "power for infrastructure so that we can have jobs in Donegal and West Kerry and everywhere else". He said there needed to be an "open and accountable" consultation process.
"People say to me: 'Well, you're the Taoiseach, so why can't you provide jobs all over the country?'" Kenny said, later adding that this is not "a case of government diktat, it's a case of what kind of country we want in the next 20 years."
Sinn Féin's Caoimhghín Ó Caoláin raised the HSE Service Plan for 2014 and the fact that it has not yet come before the Oireachtas Health Committee.
Kenny said that the Minister for Health James Reilly is considering the plan and will respond to the HSE with his approval or amendments to draft plan.
He said he expects "the result of his deliberations" next week and added the Minister's focus is "on the provision of the excellent frontline services that are being provided".