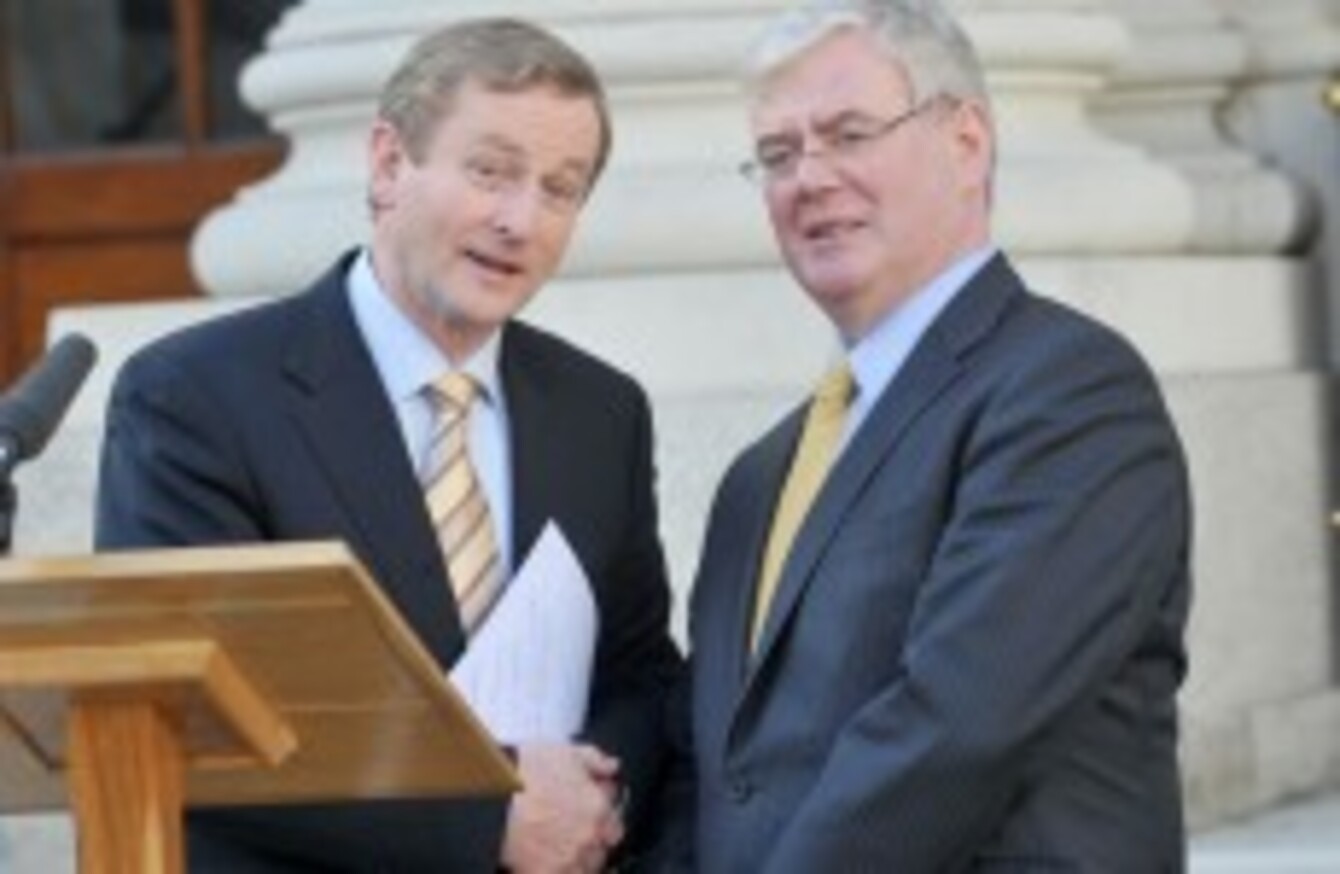 Enda Kenny and Eamon Gilmore launching the progress report this afternoon
Image: Laura Hutton/Photocall Ireland
Enda Kenny and Eamon Gilmore launching the progress report this afternoon
Image: Laura Hutton/Photocall Ireland
THE TAOISEACH AND Tánaiste have said that the government has achieved much of what it had planned for its first year in office – but still has a long way to go.
Enda Kenny and Eamon Gilmore this afternoon launched the annual report on the Programme for Government, which was agreed exactly one year ago this week.
Enda Kenny said that the government's priority had been to rebuild the international reputation of the country and said that he believed that the report reflected that priority.
The report found that the government had stabilised the banking system, stabilised the live register figures and improved confidence in the long-term sustainability of the country's public finances.
It also found that the government had exceeded deficit reduction targets while managing to protect the most vulnerable by maintaining primary social welfare rates.
The Taoiseach said the government recognised that the burden on taxpayers was "onerous" and that there were still challenges ahead, saying:
We have to deliver for those who are stuck on the dole queues or heading to the airports
Tánaiste Eamon Gilmore said that the focus of the past year has been on stabilising the country and the focus of the next twelve months will be on recovery.
"We are no longer on the edge of the cliff. We have pulled the country back", said the Tánaiste, adding that the government had stabilised the country politically, financially, economically and diplomatically.
Gilmore singled out distressed mortgages as the single issue which has not seen enough progress in the past year.
The Taoiseach said he has met with all ministers, junior ministers, and secretary generals of all government departments to talk about progress in the Programme for Government.
He described today's progress report as an "honest appraisal" of what the government has achieved in its first year in office.
The government's priorities for the next year include:
Further enhancements to the IMF-EU bailout to reduce the legacy cost of the bank bailouts
Meeting deficit reduction targets
Protecting front-line services
Aggressively implementing the Action Plan for Jobs
Supporting debt-distressed families through targeted additional mortgage interest relief and reforming personal insolvency law
Reforming the HSE
Establishing the Constitutional Convention and holding referenda on Children's Rights and the abolition of the Seanad
The Taoiseach reiterated the government plan for Ireland to be the best small country in the world in which to do business, to raise a family, and to grow old in, by 2016.